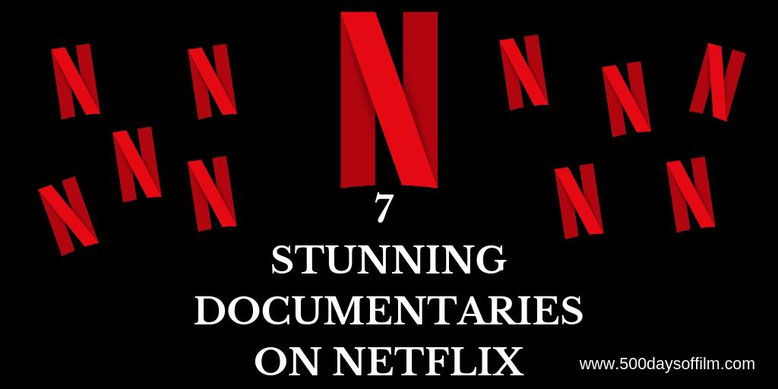 Netflix has strong documentary game. Every month, the platform adds a range of powerful and gripping non-fiction films to its list. However, few of these movies receive the fanfare that they deserve. 
When researching Doc 7, Netflix is one of the first places I look to find must-watch documentaries (both feature length and documentary shorts). As a result, I decided to make a list of seven stunning docs on Netflix.
Like all such lists, the rather arbitrary number seven became something of a straitjacket… more than once I considered breaking my own rules and adding more films to my collection. However, this list soon numbered over 30 films and I did not want an overwhelming amount of documentary recommendations (for those of you who don't mind being overwhelmed, I will share this list at the end).
Long story short, here are seven incredible documentaries that you can find on Netflix. Give them a watch - they are all well worth your time.
Virunga
In the forests of eastern Congo lies Virunga National Park, one of the most bio-diverse places on Earth and home to the planet's last remaining mountain gorillas. 
Here, a small and embattled team of park rangers - including an ex-child soldier turned ranger, a caretaker of orphan gorillas and a dedicated conservationist - protect this UNESCO world heritage site from armed militia, poachers and those who are struggling to control Congo's rich natural resources. 
When the newly formed M23 rebel group declares war, a new conflict threatens the lives and stability of everyone and everything they've worked so hard to protect, putting the documentary filmmakers and the film's participants in the crossfire.
Directed by Orlando von Einsiedel, Virunga is a stunning, shocking and incredibly powerful documentary. 
American Factory
In 2014, a Chinese billionaire opened a Fuyao factory in a shuttered General Motors plant in Dayton, Ohio. For thousands of locals, the arrival of this multinational car-glass manufacturer meant regaining their jobs - and dignity - after the recession left them high and dry. 
Steven Bognar and Julia Reichert's documentary, American Factory, takes us inside the facility to observe what happens when workers from profoundly different cultures collide.
At first, the culture clash is humorous. Transplanted Chinese workers attend trainings on dealing with their peculiarly casual and "chatty" American counterparts. But tensions mount. Slack safety standards and meager wages ignite serious doubts among the American rank and file. Low productivity and talk of unionisation trigger a cascade of controls from Chinese management. Meanwhile, something ominous - the specter of job loss from automation - looms.
The story of American Factory could very easily have been told from the point of view of the American workers at the Fuyao factory. However, Bognar and Reichert give everyone involved a voice and American Factory is all the more powerful and moving as a result.
Cartel Land
In Cartel Land, documentary director Matthew Heineman tells the story of the people who live on either side of the Mexican/US border. They have reached breaking point. They no longer believe in their government and feel that their only choice - for their own safety and for the safety of their country - is to take arms and fight back.
With truly breathtaking access, Cartel Land follows two vigilante groups: Arizona Border Recon (AZBR) and Mexico's Autodefensas, who are rising up to fight the cartels.
Click here for my full Cartel Land review...
13th
Documentary director, Ava DuVernay, hopes that every American citizen will see her film, 13th. She admits that this is, perhaps, "a tall order, but a girl can dream". I would like to go even further. I think everyone should see this Netflix documentary. The story that it tells is unbelievably powerful.
13th starts by addressing a devastating statistic. The US - often called the land of the free - has the highest incarceration rate in the world. Even more shocking is the fact that one in three black males in America will go to prison at some point during their lives. That's compared to one in 17 white men.  
DuVernay's documentary looks at what lies behind this discrepancy. A series of fascinating experts and academics explain how, after years of fighting for freedom and equality, black communities are still waiting for change.
Click here for my full review of 13th...
Notes On Blindness
In the early 1980s, theologian, John Hull, lost his sight. He knew that if he didn't try to understand his blindness it would destroy him. In 1983, Hull started an audio diary. Over three years, Hull recorded over 16 hours of material - creating a story of loss, rebirth and transformation. 
In their first feature film, writer/directors Peter Middleton and James Spinney have taken these original recordings and combined them with interviews with John and his wife Marilyn. Actors lip-synch to the voices of the family alongside stunning cinematography (by Gerry Floyd) and wonderful sound design. 
Notes On Blindness is a beautiful and inspirational film. A wonderful tribute to John Hull's remarkable journey.
Click here for my review on Notes On Blindness...
Restrepo
Restrepo follows a US platoon into the Korengal Valley - a location considered to be one of the most dangerous places in Afghanistan. Over the course of 15 months filmmakers, Tim Hetherington and Sebastian Junger (author of The Perfect Storm), lived with the unit and shadowed their every move. As a result, Restrepo features some truly extraordinary footage.
The soldiers are ordered to protect the Korengal Valley from a barrage of attacks that occur every day. They manage to move further into 'enemy' territory and establish a new outpost. They call this outpost Restrepo after a popular member of their platoon (Juan 'Doc' Restrepo) who was killed at the beginning of their time in the Korengal.
Hetherington and Junger's film has been described as being as close as it gets to seeing what life as a soldier is really like. It certainly feels distressingly authentic.  Of course, however, I don't know if that claim is true... and I am just so thankful for that.  
Click here to read my in-depth review of Restrepo...
Audrie & Daisy
When Daisy Coleman was just 14 years old, she and her friend Paige were invited to a house party by a friend of her older brother. Both girls had been drinking and were encouraged by the boys (aged between 15 and 18) to consume yet more alcohol. Paige was then taken into a bedroom and raped. Daisy blacked out and was sexually assaulted.
After the attack, the three boys dumped an unconscious Daisy outside her home in Maryville, Missouri. Daisy's mother, Melinda, found her daughter the next morning - her hair had frozen to the ground.  
However, the horror had only just begun for Daisy and her family. There was a video of the assault, her attacker denied rape (claiming that they had consensual sex) and Daisy became a victim all over again - this time of cyber-bullying and public shaming.
Meanwhile, nine months later, in Saratoga, California, 15-year old Audrie Pott drank too much at a party and blacked out. Two boys that she had known for years carried her upstairs where they proceeded to undress her, cover her in obscene words and drawings (using a permanent marker pen) and sexually assault her.
The boys then took photos of Audrie - photos that were then shared around her school. When Audrie realised just what had happened to her she fell into a state of despair.
Eight days later, she committed suicide. 
Directed by Bonni Cohen and Jon Shenk, Netflix documentary, Audrie & Daisy, is shocking, heartbreaking, enraging and yet also remarkably inspiring. It is a tough watch but an essential one. These are voices that need to be heard, stories that need to be told.
Click here to read my review of Audrie & Daisy...
More Unmissable Netflix Docs...
It was so hard to limit my list of stunning Netflix documentaries to just seven films. So, here is my long list of docs on the streaming platform. Each could easily have made it to my original list… 
Strong Island
Life Animated
Fahrenheit 11/9
Weiner
Faces Places
Reversing Roe
City Of Joy
What Happened, Miss Simone
Shirkers
Finders Keepers
Into The Inferno
The Edge Of Democracy
Screwball
Icarus
McQueen
Brother's Keeper
Fyre
Blackfish
Amanda Knoxx
The Fear Of 13
Whitney: Can I Be Me?
Knock Down The House
Last Breath
Rolling Thunder Revue
Are there any Netflix documentaries that you would add to this list? Let me know your thoughts in the comments section below. Alternatively, come find me on Twitter @500DaysOfFilm!