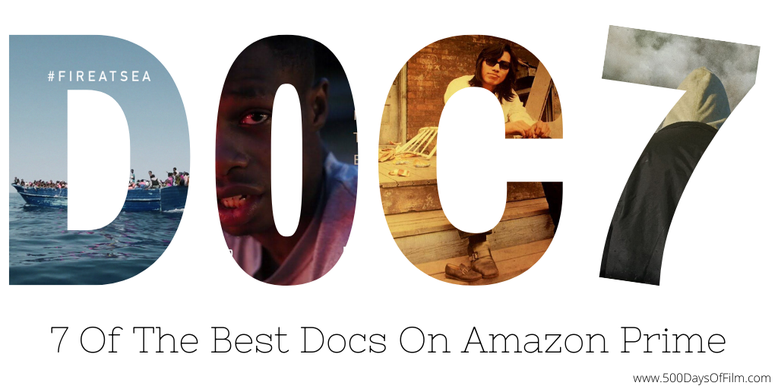 Where do you watch documentaries? While I would always prefer to see films on the "big screen", I mostly watch documentaries online thanks to the ever growing number of available streaming services.
Amazon Prime has a strong documentary offering. Here are seven superb documentaries to watch on this platform...
City Of Ghosts
Matthew Heineman's powerful documentary, City of Ghosts, follows "Raqqa is Being Slaughtered Silently" - a small group of anonymous activists who banded together after their homeland was taken over by ISIS in 2014. 
With stunning, deeply personal access, City Of Ghosts tells the story of these brave citizen journalists as they face the realities of life undercover, on the run, and in exile, risking their lives to stand up against one of the greatest evils in the world today.
Click here to read more about City Of Ghosts
Burden Of Dreams
Les Blank's 1982 documentary, Burden Of Dreams, begins with helicopter footage of a formidable jungle. The shots display the jungle's overwhelming size, incredible beauty and oppressive remoteness. 
Who would dare to make a film in such a dense and inhospitable place?
Werner Herzog - who else?
It is the German director's voice that we hear first. You want to know the story of the filming of Fitzcarraldo, he asks. Well, he replies, it's a strange story. A sisyphus-like story - a story about the "challenge of the impossible".
What better way to start this examination of the making of one of Herzog's most controversial films? What better way to describe both the film itself and its creation? From these very opening minutes, Burden Of Dreams grabs its audience and begins what is a stunning filmmaking tale.
Click here to read more about Burden Of Dreams
No Stone Unturned
Alex Gibney's urgent and powerful documentary examines the brutal and unsolved murders of six men in a bar in Northern Ireland during the 1994 World Cup. What Gibney uncovers is both shocking and deeply unsettling.
Hale County This Morning, This Evening
RaMell Ross's Oscar nominated Hale County This Morning, This Evening is a beautiful and atmospheric look at the lives of Africa Americans living in Hale County, Alabama. Featuring a wonderful soundscape, this is an intimate and moving film comprised of the key - often overlooked - moments of life. 
Searching For Sugarman
If you have never heard of Rodriguez or Malik Bendjelloul's documentary Searching For Sugar Man - good. Don't Google him, don't ask about him, don't read anything about him. Just watch this film. That is really the only way to get the most enjoyment out of what is a fascinating, poignant and ultimately uplifting movie experience.
Searching For Sugar Man is not really about the artist Rodriguez. Well it is but, mainly, this film is about his impact in South Africa and the amazing story behind the search for the truth. 
Click here to read more about Searching For Sugarman
Fire At Sea
Shot on the Sicilian island of Lampedusa during the European migrant crisis, Gianfranco Rosi's remarkable documentary tells the story of the migrants' dangerous Mediterranean crossing, while also exploring the lives of the islanders. 
Finders Keepers
When the mummified leg of amputee John Wood was found in a barbecue grill purchased at an auction by flea marketer Shannon Whisnant, no one could guess just how bizarre events were about to become. 
Who could have imagined that Whisnant would sue John in a custody battle over the leg? Who could have thought that this would be just the start of the story?
Some Honourable Mentions...
There are, of course, many more brilliant documentaries on Amazon Prime. Some honourable mentions include Petra Costa's Elena, K2: Siren of the Himalayas, Generation Wealth, Project Nim, Nuts, Room 237, Do I Sound Gay? and The Tillman Story.
What would you add to this list? Let me know in the comments section below or over on Twitter. You can find me @500DaysOfFilm.