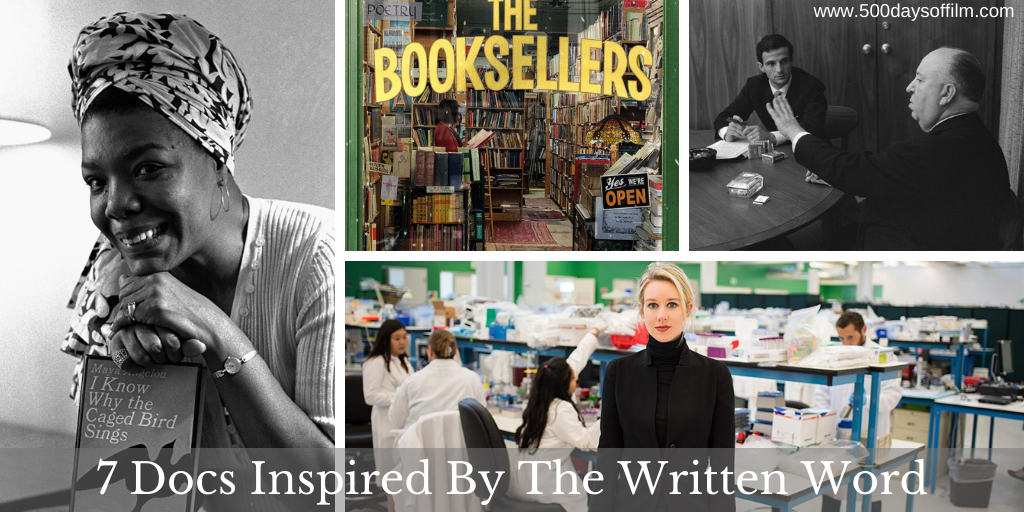 Words often inspire documentaries. A novel, a poem, a magazine article, a blog post - all can provide the spark that leads to a gripping non-fiction film. There are, of course, many examples. Here are seven of my favourites:
I Am Not Your Negro
In 1979, James Baldwin wrote a letter to his literary agent describing his next project, Remember This House. The book was to be a revolutionary and personal account of the lives and successive assassinations of three of his close friends - Medgar Evers, Malcolm X and Martin Luther King, Jr. 
However, when Baldwin died in 1987 he left behind only thirty completed pages of his manuscript. In this powerful, thought-provoking documentary, director Raoul Peck envisions the book that James Baldwin never finished.
Click here to read more about I Am Not Your Negro
Maya Angelou: And Still I Rise
Rita Coburn Whack and Bob Hercules' documentary, Maya Angelou: And Still I Rise, tells the powerful story of iconic dancer, singer, writer, poet, actress and activist Maya Angelou - whose life intersected with some of the most significant moments in recent US history. 
Dr Angelou was one of the world's very best storytellers, I could listen to her all day. A joy to watch, this documentary honours her life, her legacy and her incredible words.
The Inventor: Out For Blood In Silicon Valley
Deception and self deception. The meteoric rise and catastrophic fall of a billion dollar corporation. The dangers of entrepreneurship and the cult of personality. The manipulative power of storytelling. 
All of these elements form part of the complicated story of Elizabeth Holmes and Theranos - the health technology company that she created aged just 19 years old. In 2015, Theranos was worth an estimated $9 billion. Just one year later, the company was worthless and Holmes was left facing accusations of serious fraud.
Alex Gibney follows Holmes' rise and fall in his documentary, The Inventor: Out For Blood In Silicon Valley. In the film, we discover that the Theranos scandal was uncovered John Carreyrou. Carreyrou's The Wall Street Journal report helped to expose Holmes. He went on to write a gripping book called Bad Blood: Secrets and Lies in a Silicon Valley Startup. 
Click here to read more about The Inventor: Out For Blood In Silicon Valley
The Booksellers
If you have even the slightest appreciation of books (or collecting in general), you will find D.W. Young's documentary, The Booksellers, an absolute joy. Full of fascinating, often wonderfully eccentric characters, the film explores the world of antiquarian booksellers and asks questions about the importance and value of the books that they sell.
Click here to read more about The Booksellers
Hitchcock/Truffaut
In 1962, Francois Truffaut persuaded Alfred Hitchcock to sit with him for a week-long interview in which the iconic British director would share the secrets of his filmmaking process.
Truffaut then published a fascinating book - called Hitchcock/Truffaut - based on the transcripts of this meeting. Long viewed as a bible of cinema (it contains some truly remarkable insights), the book not only became a reference for future filmmakers but it also cememented the director's role as an artist. 
In 2016, director Kent Jones released his documentary about the meeting. The film explores the impact that the book has had and features fascinating interviews with ten directors: Martin Scorsese, Arnaud Desplechin, David Fincher, Richard Linklater, Wes Anderson, James Gray, Olivier Assayas, Kiyoshi Kurosawa, Peter Bogdanovich and Paul Schrader.
Click here to read more about Hitchcock/Truffaut
Author: The JT LeRoy Story
Gatsby in Connecticut: The Untold Story
Few books are as intriguing and bewitching as F. Scott Fitzgerald's literary masterpiece, The Great Gatsby. Published in 1925, the book tells the story of one eventful summer in the fictional towns of West Egg and East Egg.
The Great Gatsby, of course, features one of the most iconic characters in literature - the mysterious millionaire, Jay Gatsby. For years, fans and academics have speculated about the man behind Fitzgerald's creation.
Meanwhile, the real location behind The Great Gatsby's West and East Egg setting was largely accepted as Great Neck, Long Island in New York. After all, F. Scott Fitzgerald and his wife  Zelda Fitzgerald lived there for two years.
However, this view was thrown into question when celebrated author, Barbara Probst Solomon, wrote an article in The New Yorker in 1996. She suggested that Westport Connecticut could have been Fitzgerald's inspiration.
Inspired by Solomon's article, Robert Steven Williams' documentary, Gatsby in Connecticut: The Untold Story, investigates Westport's influence on The Great Gatsby.
Click here to read more about Gatsby in Connecticut: The Untold Story
Over to you…
What do you think of this list? Are there any documentaries that you would add?
Let me know in the comments section below or over on Twitter. You can find me @500DaysOfFilm.