500 Days Of Film Reviews Oscar-Nominated Documentary, I Am Not Your Negro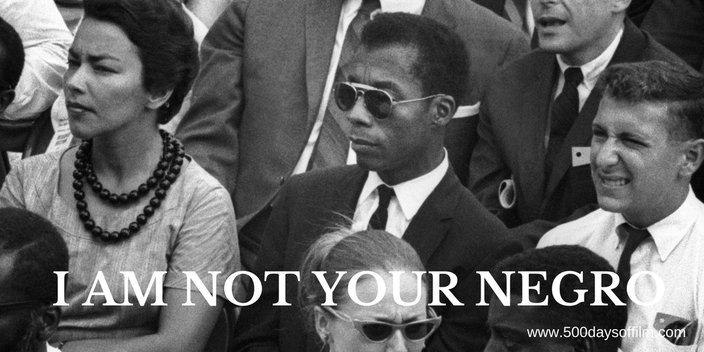 In 1979, James Baldwin wrote a letter to his literary agent describing his next project, Remember This House. The book was to be a revolutionary, personal account of the lives and successive assassinations of three of his close friends - Medgar Evers, Malcolm X and Martin Luther King, Jr. 
However, at the time of Baldwin's death in 1987, he left behind only thirty completed pages of his manuscript. In this documentary, director Raoul Peck envisions the book James Baldwin never finished.
Is It Any Good?
I Am Not Your Negro is a powerful, thought-provoking examination of race in America - from the Civil Rights movement to the present day. It is fascinating to listen to James Baldwin's original words - both from archive footage and also via Samuel L. Jackson's narration. He is an extremely impressive speaker - endlessly eloquent and utterly passionate.
Baldwin was remarkably placed to offer social commentary on racial issues and the lasting impact of the lives and untimely deaths of Medgar Evers, Malcolm X and Martin Luther King, Jr as he knew all three men well. His insight is challenging and compelling, his conclusions still so (heartbreakingly) relevant today. 
There is real poetry within James Baldwin, whether in his written words or in the delivery of his speeches. Peck mirrors this poeticism - using still photographs, narration, film clips and archival footage to explore Baldwin's legacy and reveal a number of still startling truths.
"James Baldwin was one of the few authors that I could call 'my own'. Authors who were speaking of a world I knew, in which I was not just a footnote," Peck explains. "They were telling stories describing history and defining structure and human relationships which matched what I was seeing around me. I could relate to them."
Peck also shares Baldwin's desire to expose 'the system' and deconstruct the stories (told via politicians, the media and the movie industry) that have prevented America from addressing its ongoing racial conflict. Both director and author unite - calling on their audience to ask challenging, uncomfortable questions in a quest for meaningful change. 
Random Observations
Medgar Evers died on 12 June, 1963.
Malcolm X died on 21 February, 1965.
Martin Luther King Jr. died on 4 April, 1968.
I Am Not Your Negro was nominated for an Oscar. However, it lost out to OJ: Made In America.
Have you seen I Am Not Your Negro? If you have, what did you think about this documentary? Let me know what you think in the comments section below or get in touch via Twitter or Facebook.