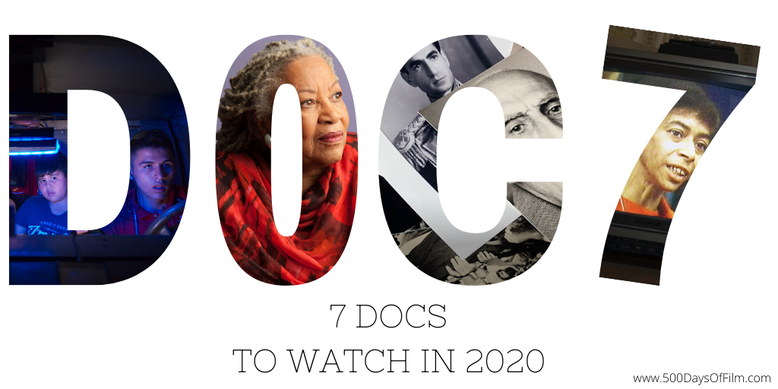 The past year has seen the release of an incredible number of must-watch documentaries. With films such as For Sama, (Oscar-winning) American Factory, Maiden, Honeyland, Hail Satan?, The Edge Of Democracy, One Child Nation and Apollo 11, we really have been spoilt for choice.
Thankfully, the documentary industry's winning streak looks set to continue this year with a host of powerful new films on the horizon. For example, we have already seen the release of such superb docs as Midnight Traveller, Advocate and Talking About Trees.
The next few months also look really exciting in terms of documentary releases. Here are seven forthcoming must-watch docs (UK releases)...
Midnight Family
Did you know that in Mexico City the government operates fewer than 45 emergency ambulances for a population of nine million? 
I did not before watching Midnight Family. This tense and gripping documentary explores the underground industry of for-profit ambulances - often run by people with little or no training or certification.
We join the Ochoa family who face a daily struggle with a heartbreaking moral dilemma. They need money to survive and to run their ambulance service. Battling corruption and fierce competition, the family often loses money when a passenger cannot or will not pay for their care and transport.
As a result, it is hard to blame them when they decide to travel further and take a patient to a private hospital where they will get financial compensation. 
Midnight Family tells an astonishing story. Intimate access to the lives of the Ochoa family shows us just how complicated this problem is and how a solution is literally a matter of life or death.
Toni Morrison: The Pieces I Am
Throughout her remarkable life, Toni Morrison had an intense love of language and storytelling. She began her career in teaching, became an editor at Random House and then wrote such iconic novels as The Bluest Eye, Song of Solomon and Beloved. Morrison received the Nobel Prize in Literature in 1993.
In Timothy Greenfield-Sanders' film, Morrison talks about her life and her writing process. Meanwhile, her powerful legacy is explored via interviews with Oprah, Angela Davis and Walter Mosley.
Cunningham
Influential dancer and choreographer, Merce Cunningham, saw dance as "people moving around in various ways". He believed that the interpretation of this movement should be left to the viewer. 
However, this did not stop Cunningham from innovating and exploring the full potential of dance throughout his incredible 70-year career. In Alla Kovgan's documentary, Cunningham's life and work is assessed via words, images and the recollections of Cunningham's partner, composer John Cage.
The Australian Dream
Adam Goodes was a national sports hero in Australia. On two occasions, he received the Brownlow Medal, an annual award for the fairest and best player in Australian rules football. 
However, when a 13-year-old female fan called him an ape and he had her removed from the stadium, his popularity rapidly declined. So much so that he faced open hostility when he was named Australian of the Year in 2014.
The booing Goodes suffered during games became a national controversy. Daniel Gordon's film not only follows Goodes's personal story, but also examines the history of Aboriginal Australians, exploring race and identity in Australia.
Recorder: The Marion Stokes Project
Matt Wolf's documentary about Marion Stokes was one of my favourite docs of the 2019 London Film Festival. This is a gem of a film and I cannot wait to watch it again.
Stokes was an African-American activist who recorded 30 years of TV news - non-stop. Wolf's  film about her begins as a story about a fascinating and rather eccentric life. However, it soon becomes a gripping and surprisingly moving exploration of the media and how history's key events are framed.
Sunless Shadows
In an Iranian juvenile detention centre, a group of adolescent girls serve a sentence for the crime of murdering their father, their husband or another male family member. Mehrdad Oskouei's film looks at the consequences of and reasons for their actions.
Early reviews of this documentary describe the atmosphere in the centre as being surprisingly positive - a sign that as well as being a prison, this all-female environment also offers the girls a welcome shelter from an aggressive, male-dominated society.
Coup 53
Ten years in the making, Coup 53 tells the story of the 1953 Anglo-American coup d'état that overthrew Iran's government of Prime Minister Mohammad Mossadegh and reinstalled the Shah.
Coup 53 argues that the CIA/MI6 covert action, called Operation Ajax, was all about controlling Iran's oil. 
Shot in seven countries, featuring participants and first-hand witnesses and unearthing never seen before archive material, Coup 53 aims to expose secrets that have been buried for over sixty-six years.
Over To You...
I cannot wait to watch (or in some cases rewatch) these documentaries. Are any of these films on your radar? What would you add to this list?
Let me know in the comments section below or over on Twitter. You can find me @500DaysOfFilm.