500 Days Of Film looks at cinema's most kick-ass female action heroes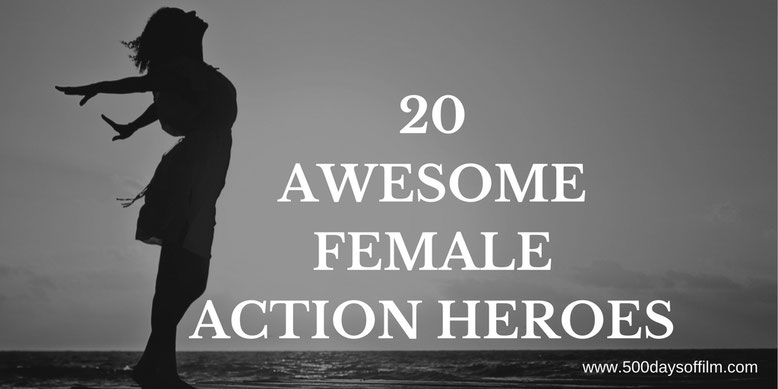 The theatrical release of Wonder Woman felt like a watershed moment. Finally, finally, finally, here was a comic book adaptation with a female superhero front and centre. Even better, this big budget franchise blockbuster was directed by a woman. 
Of course, Patty Jenkins's creation is far from the only film to feature a kick-ass female action hero...
20 Awesome Female Action Heroes
20. Ilsa Faust - Mission Impossible: Rogue Nation
Is it just me or was Rebecca Ferguson's Ilsa Faust by far the most interesting character in Mission Impossible: Rogue Nation? I love the way that we are never quite sure of her intentions and that she more than holds her own - even while wearing a ridiculously long dress and crazy heels (that wardrobe choice still annoys me).
I would love to see a spin off movie about Faust - her backstory, what she did next and how she learned to ride a bike like such a ninja. Meanwhile, I look forward to her return in Mission: Impossible - Fallout.
Click here for my review of Mission Impossible: Rogue Nation.
19. Rita Vrataski - Live. Die. Repeat
In Edge Of Tomorrow: Live. Die. Repeat, Emily Blunt kicks some serious A as uber soldier, Rita Vrataski. Not only is she far tougher than Tom Cruise's Cage, but she gets to kill him over and over again - for the good of all humanity, of course. Blunt really shows her range in this movie. Indeed, she can morph into any role from spiky fashionista in The Devil Wears Prada to idealistic FBI agent in Sicario. I'm Mary Poppins y'all!
18. Mako Mori - Pacific Rim
Guillermo del Toro's 2013 action movie, Pacific Rim, was criticized following its release. The problem? The film's lack of female characters. However, defenders of the movie point to Rinko Kikuchi's Mako Mori as evidence that this is, in fact, a film that feminists can get behind. 
Indeed, Mori has become a film test of her own. The Mako Mori Test asks three key questions of a movie. Does it have at least one female character? Does that character get her own narrative arc? And, finally, is that narrative arc separate from (ie not supporting) a man's story?
Personally, I love Pacific Rim and believe that Mori is its strongest, most interesting character.
Click here for my review of Pacific Rim
17. Valkyrie - Thor Ragnarok
As soon as I watched Tessa Thompson's Valkyrie stumble down the steps of her spacecraft in Thor: Ragnarok, I knew that she would become one of my favourite female action heroes.
Thanks to Thompson's brilliant performance, Valkyrie is a powerful and fascinating character with so much potential. I can't wait to see how her story develops.
Click Here For My Review Of Thor: Ragnarok
16. Gamora - Guardians Of The Galaxy
I love Gamora. You don't get much tougher than her, which really shouldn't come as any surprise - just look at her childhood. She hardly had the happiest start in life... or the best role model / father figure. 
Of course, that Gamora has serious skills in the action department is without question. However, what I love most about this brilliant Marvel character is not her interaction with Peter Quill but the (shall we say complicated?) relationship she has with her sister, Nebula.
Click Here To Read My Review Of Guardians Of The Galaxy Vol 2
15. Laura - Logan
Logan was my favourite superhero movie of 2017. The character of Laura (brilliantly played by Dafne Keen) is a wonderfully feisty character. She is all scowls and claws and director James Mangold explores her action potential to the max. I would love to see more from this character.
Click Here For My Review Of Logan
14. Lara Croft - Tomb Raider
I have to admit that I went into Roar Uthaug's Tomb Raider reboot with low expectations. However, I emerged feeling pleasantly surprised. I really enjoyed this film. In the wake of Wonder Woman (and also Katniss Everdeen), Lara Croft is an exciting new female action hero - largely thanks to Alicia Vikander's intelligent and compelling performance. It's not perfect... but it is a fun and pretty satisfying video game adaptation and that is a rare beast.
Click Here For My Full Review Of Tomb Raider 
13. Hanna - Hanna
Hanna has been raised by her father to be the perfect assassin. She may be young but underestimate her at your peril. She is an action hero that will stop at nothing until her mission is complete. Joe Wright's film is, of course, also notable for featuring an impressive early performance from Saoirse Ronan.
12. Natasha Romanoff - The Avengers
Scarlett Johansson's Black Widow (aka Natasha Romanoff) is one of my favourite characters in the Marvel Universe. She never ceases to impress both in her innovative fight scenes and in her ability (particularly in Captain America: Winter Soldier and The Avengers) to manage the many male egos that surround her. 
I do hope that in her stand alone film she is finally allowed room to explore her character (with its truly heartbreaking backstory) in more depth. I think this is way past due, don't you?
Click here for my review of Avengers: Age Of Ultron
Click here for my review of Captain America: Civil War
11. Imperator Furiosa - Mad Max: Fury Road
George Miller's 2015 action epic may be called Mad Max: Fury Road, but it is, in fact, Furiosa's story that lies at the heart of this action packed film. Charlize Theron is superb in this powerful and iconic role. In any apocalyptic battle for survival, you certainly want Furiosa on your side.
Click here for my review of Mad Max: Fury Road
10. Rey - Star Wars: The Force Awakens / The Last Jedi
One of the most impressive things about Star Wars: The Force Awakens is how perfectly director J.J. Abrams mixed his new heroes with the franchise's older, beloved cast. The new characters could easily have become overshadowed by the old. Thankfully, this was far from the case. 
Rey is a wonderful new addition to the Star Wars universe - a fact emphasised by her journey in Star Wars: The Last Jedi (I can't stop watching that fight scene in the Throne Room). She is a great role model for girls (and, of course, boys) being, as she is, a strong, capable and independent young women.
Click here for my review of Star Wars: The Force Awakens
Click here for my review of Star Wars: The Last Jedi
9. Katniss Everdeen - The Hunger Games
8. Juno - The Descent
Okay, so I may be cheating slightly here - The Descent is not an action movie as such. However, Juno and the women in Neil Marshall's brilliant horror film are all action heroes to me.
According to reports, the initial plan for the film was to have a mix of both genders. However, the filmmakers decided to break with convention.
Thank goodness they did and that they did it for the right reasons. In an interview with Film4, Marshall explains that "The fact that they're all women isn't an issue. The film isn't a chick flick, it isn't about girl issues, it's about survival issues." 
Click here to see why The Descent is my favourite horror movie.
7. Trinity - The Matrix
In The Matrix series, Trinity (brilliantly played by Carrie-Anne Moss) is a computer programmer and hacker who has escaped from the Matrix - a computer program that has imprisoned most of the human race. Trinity has many impressive skills both inside the Matrix and out (and let's face it, no one jumps quite like her). She is definitely a woman you want on your team.    
6. Okoye - Black Panther
I love the character of Okoye in Ryan Coogler's Black Panther. Superbly portrayed by Danai Gurira, she is an incredibly powerful, intelligent and formidable action hero. I am very much looking forward to seeing how this character develops going forward. 
Click Here To Read My Review Of Black Panther
5. Diana - Wonder Woman
As I mentioned above, the theatrical release of Wonder Woman felt like a hugely important cultural moment in cinema. So many expectations rested on the shoulders of Patty Jenkins's film. Thank goodness that she (more than) delivered.
Apart from being an all round entertaining movie, it is just so satisfying to watch Diana defy all gender conventions. She needs the permission of no man to do what she believes to be right and her belief in the power of love is exactly what we all need right now.   
Let's hope that the phenomenal success of Wonder Woman will pave the way for many more female led action movies. 
4. Mallory Kane - Haywire
As soon as Steven Soderbergh saw mixed martial artist Gina Carano fight he knew that he had to build a story around her. Thus action movie, Haywire, was born. Carano plays Mallory Kane, an ex-marine and a very dangerous woman to betray. She is mesmerizing to watch -incredibly athletic and more than a match for the men (including Ewan McGregor, Channing Tatum, Micheal Fassbender, Antonio Banderas and Michael Douglas) that dare to cross her.
Click here for my review of Haywire
3. The Bride - Kill Bill
The Bride, codename Black Mamba, is a woman on a brutal revenge mission. Trained in martial arts and a dab hand with a blade, she spends both parts of Quentin Tarantino's Kill Bill (1 and 2) tracking down her boss and former lover, Bill (David Carradine). 
Uma Thurman portrays an utterly formidable fighting phenomenon in these movies. Tarantino has described her character as "the deadliest woman in the world" and you can certainly see why.
2. Sarah Connor - The Terminator / T2
In The Terminator, Sarah Connor is a vulnerable college student and waitress who is being pursued by a seemingly unstoppable machine - the Terminator played, of course, by Arnold Schwarzenegger. In this film, Sarah is protected by time-travelling soldier, Kyle Reese (Michael Biehn).
When we meet Sarah in Terminator 2: Judgement Day, she is a totally different person - a warrior hellbent on protecting her son and preventing the destruction of the world. She is flawed - tramatized by the past and her knowledge of the future. However, she is also smart, selfless and incredibly powerful - an awesome action hero.
1. Ellen Ripley - Alien / Aliens
If Ridley Scott's 1979 horror, Alien, introduced us to Ellen Ripley (Sigourney Weaver), James Cameron's 1986 sequel, Aliens, cemented her as an icon in the action movie genre. She is my favourite female action movie character - indeed, she is one of my favourite action heroes regardless of gender. It is hard to see how anyone could top her.
However, isn't that beside the point? We don't need anyone to beat Ripley, we want more female action heroes to join her.
Over To You!
What do you think of this list? Who would you add?
Do let me know by leaving a comment in the box below!