500 Days Of Film Reviews Thor Ragnarok Starring Chris Hemsworth, Cate Blanchett, Tom Hiddleston, Idris Elba, Jeff Goldblum, Tessa Thompson And Mark Ruffalo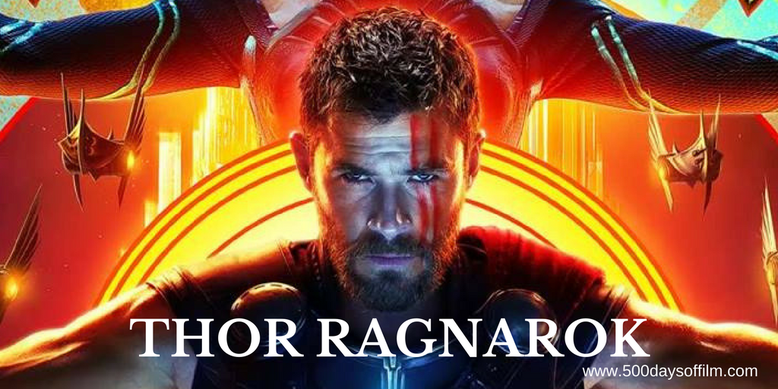 When Thor (Chris Hemsworth) is imprisoned on the other side of the universe without his mighty hammer, he finds himself in a race against time to get back to Asgard to stop Ragnarok - the destruction of his homeworld and the end of Asgardian civilization - at the hands of an all-powerful new threat, the ruthless Hela (Cate Blanchett). However, before he can escape, he must first survive a deadly gladiatorial contest that pits him against his former ally and fellow Avenger - the Incredible Hulk (Mark Ruffalo).
Is It Any Good?
I'm finding it hard to be critically objective about Thor Ragnarok. Sure I could find flaws in Taika Waititi's film, but I just don't want to - not when I've had so much fun. Indeed, I don't think that I have flat out enjoyed a movie more than Thor Ragnarok this entire year.
Full disclosure, I spent the entire film with a huge goofy grin on my face and, after two hours and ten minutes (following the customary end credit scenes - there are two of these), left the cinema buzzing, reliving the film's eminently quotable lines and just wanting more. 
What more do you need to know?
Well, Thor Ragnarok is noteworthy for its wonderful ensemble cast (watch out for some brilliant cameos!) all of whom appear to be having as much crazy fun as we are. Once again, Chris Hemsworth displays perfectly timed, self deprecating humour and Tom Hiddleston is superb - effortlessly stealing scenes as the mischievous Loki.   
Of course, any film is made better for the presence of Jeff Goldblum. He gets some hilarious lines and delivers them as only Jeff Goldblum can. Surely the Grandmaster deserves his own spin off movie (and while we're at it… can we have an Idris Elba Heimdall spin off too?).
I also loved Tessa Thompson's Valkyrie. She is funny, tough, smart and so utterly cool - a perfect addition to the franchise (particularly in the absence of other powerful Asgardian female characters).  

Talking of strong females, while plot is, let's face it, a secondary consideration to the brilliantly funny action sequences, Cate Blanchett has a powerful story to tell. She makes for an awesome and formidable villain and is so much fun to watch. Indeed, I wanted more of her delicious darkness.
Meanwhile, one of big reveals of the trailer for Thor Ragnarok was the Incredible Hulk's speaking role. Played for smashy laughs, the Hulk is perhaps the weakest element of the film. While he is still a welcome watch, on balance I preferred Korg (brilliantly voiced by Waititi) who, alongside Rachel House's Topaz, brought the director's superb Hunt For The Wilderpeople very much to mind. 
So, in conclusion, Thor Ragnarok is a blast of fun, colour (the movie is certainly a feast for the eyes and the ears) and craziness in a similar vein to Guardians Of The Galaxy 2. However, this trip feels far more satisfying.
The key to this film's success is the fact that, despite belonging to the behemoth that is the Marvel Cinematic Universe, Thor Ragnarok is still very much a Taika Waititi film. More of those please.
Random Observations
Have you seen Thor Ragnarok? 
If you have, what did you think of this movie? Let me know in the comments section below or via Facebook or Twitter (@500DaysOfFilm).