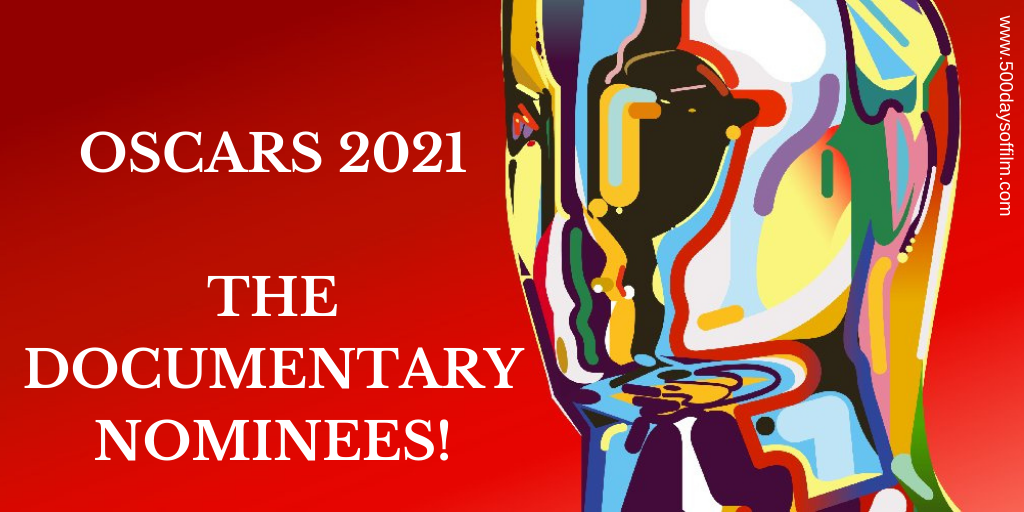 The nominees for the 93rd Academy Awards have been announced! 
Congratulations to all the nominees for best documentary feature and best documentary short subject. These are all incredibly powerful films - the documentary genre never ceases to impress. 
The nominees were selected from a fantastic Oscar shortlist. All of these films are well worth your time. My honourable doc feature mentions (because the Academy really should increase the number of nominees in this category from five to ten) are Dick Johnson Is Dead, The Truffle Hunters, All In: The Fight For Democracy, Welcome To Chechnya and 76 Days. 
The Academy Awards take place on 25 April 2021. Meanwhile, let's take a look at all the documentary nominees…
Oscars Nominees - Documentary Feature
Collective
Collective is a gripping, real-time docu-thriller that follows a heroic team of journalists as they expose shocking corruption in the Romanian national health-care system. Collective was also nominated for Best International Feature Film (Romania). 
Watch on Dogwoof On Demand and on BBC iPlayer from 29th March 2021.
Crip Camp
Down the road from Woodstock, a revolution blossomed in a ramshackle summer camp for teenagers with disabilities, transforming their lives and igniting a landmark movement. 
Watch on Netflix
My Octopus Teacher
My Octopus Teacher is more than just a documentary about cephalopods. The film is a beautiful story about love, nature and the healing power of connection. 
Watch on Netflix
Time
In this intimate yet epic love story filmed over two decades, indomitable matriarch Fox Rich raises her six sons and keeps her family together as she fights for her husband's release from the Louisiana State Penitentiary. 
Watch on Amazon
The Mole Agent
Part charming film noir, part heartbreaking portrait of loneliness and old age, The Mole Agent is a tender and deeply moving film that expands he boundaries of traditional documentary storytelling. The Mole Agent also made the Oscar shortlist for Best International Feature Film (Chile).
Watch on Dogwoof On Demand
Oscar Shortlist - Documentary Short Subject
Colette
On the anniversary of the start of the Nuremberg trials, 90 year old Colette Marin-Catherine confronts her past by visiting the Nazi concentration camp in Germany where her brother was killed. 
Watch via The Guardian documentaries 
A Concerto Is A Conversation
A virtuoso jazz pianist and film composer tracks his family's lineage through his 91 year old grandfather from Jim Crow Florida to the Walt Disney Concert Hall.
Do Not Split
In 2019, a proposed bill allowing the Chinese government to extradite criminal suspects to mainland China sparked protests throughout Hong Kong. Told over the course of a year, Do Not Split captures the determination and sacrifices of the protesters, the government's backlash and the passage of the new Beijing-backed national security law.
Hunger Ward
Hunger Ward follows two inspiring medical professionals as they work tirelessly, and often in vain, to treat Yemen's starving children.
Hunger Ward is available to watch via the Pluto TV Documentaries Channel in over 20 countries. For more information, visit hungerward.org. 
A Love Song For Latasha
Who was Latasha Harlins? Nearly three decades after her death (after being fatally shot in 1991 by Soon Ja Du, the owner of a South Central Los Angeles convenience store), director Sophia Nahli Allison's brilliant documentary short, A Love Song for Latasha, explores Harlins' story and builds a powerful and moving archive of the promising life that was lost. 
Watch on Netflix