500 Days Of Film Reviews 2017's Best Animated Films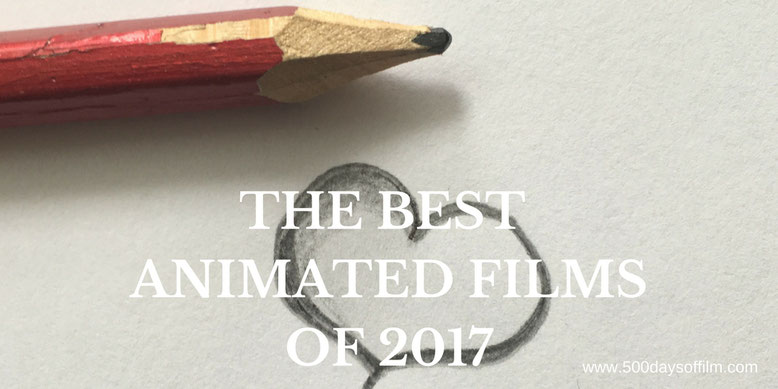 The world of animation goes from strength to strength and 2017 was no exception. Here are my top five favourite animated films of this year...  
5. Captain Underpants
Synopsis: 
Two overly imaginative pranksters, George (Kevin Hart) and Harold (Thomas Middleditch), hypnotize their principal (Ed Helms) into thinking he's an enthusiastic, yet dimwitted superhero named Captain Underpants.
What I Said:
Very silly and surprisingly funny... 
4. Sing
Synopsis: 
Set in a world like ours but entirely inhabited by animals, Sing stars Buster Moon (Matthew McConaughey), a dapper koala who presides over a once-grand theater that has fallen on hard times. Buster is an eternal—some might even say delusional—optimist who loves his theater above all and will do anything to preserve it. Now faced with the crumbling of his life's ambition, he has one final chance to restore his fading jewel to its former glory by producing the world's greatest singing competition.  
What I Said:
It was with wary expectations that I went to watch Sing… and I loved every minute. I couldn't help but fell in love with plucky koala, Buster Moon, and his endearing, Muppet-like attempt to save his beloved theatre. 
3. The Lego Batman Movie
Synopsis: 
Major changes are happening within Gotham City. There is a new Commissioner in town and she has big plans to fight crime - plans that don't just involve pressing the Bat button. To the horror of our favourite caped crusader, Commissioner Barbara Gordon (Rosario Dawson) wants to work in partnership with Batman (Will Arnett).
Meanwhile, The Joker (Zach Galifianakis) has plans of his own and this time they might just succeed in tearing Gotham City apart. Can Batman put his fear of relationships aside and, working with his friends, save the day? 
What I Said:
Director Chris McKay understood what was needed from his film and The Lego Batman Movie more than delivers. It is wonderfully irreverent fun - a worthy addition to (what is hopefully) a burgeoning mini figure series. 
2. The Red Turtle
Synopsis: 
After a man finds himself shipwrecked on a tropical island inhabited by turtles, crabs and birds, he has to find a way to survive. Through his story, The Red Turtle recounts the milestones in the life of a human being.
What I Said:
The Red Turtle has deeper universal matters to explore - themes concerning man's relationship with nature and the circle of life. Dudok de Wit depicts the stages of the man's existence and reflects this journey in the animals surrounding him. His film portrays a life that is beautiful and cruel, joyous and heartbreaking. Life begins and ends, there is mystery and understanding. 
1. My Life As A Courgette
Synopsis: 
Icare is nine years old. He prefers to be called Courgette, the nickname his mother gave him. After her sudden death, Courgette meets a policeman called Raymond who takes him to a foster home. There, Courgette meets a group of children who, like him, believe they have nobody left to love them.
Together they form a strong bond, supporting each other - becoming a family. 
What I Said:
This is a movie with huge emotional power. I left the cinema deeply moved by My Life As A Courgette. However, while he does not shy away from many difficult issues, Barras aims to capture your heart not your tears.  
What Is Your Favourite Animated Film Of 2017?
2017 has been a great year for animated films. I should also mention that (as this piece goes 'to press') I haven't seen Loving Vincent... I am confident that this remarkable movie will make my top five once I do.
What were your favourite animated films of 2017? Let me know in the comments section below or via Facebook or Twitter (@500DaysOfFilm).