500 Days Of Film Reviews Horror, February (AKA The Blackcoat's Daughter), Starring Emma Roberts, Lucy Boynton and Kiernan Shipka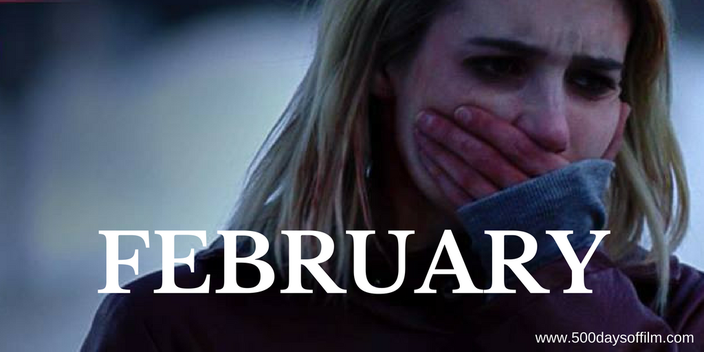 Left alone at prep school, Bramford, over winter break, Kat (Kiernan Shipka) and Rose (Lucy Boynton) start to experience increasingly strange and decidedly creepy occurrences. Is there unseen evil lurking in their midst or will terror come from within? 
Meanwhile troubled young girl, Joan (Emma Roberts), makes her way to Bramford carrying horrifying secrets of her own. 
Is It Any Good?
February (or The Blackcoat's Daughter as the movie has been renamed for its US release) is director Oz Perkins' debut feature. It is an unsettling, atmospheric addition to the horror genre - a technically impressive film that demands (and often rewards) the patience of its audience. 
Indeed, your enjoyment of February will very much depend on whether you can tolerate its slow (slow) burn. Don't come to this movie expecting jump scares. Like Robert Eggers' (albeit far superior) The Witch, February is more concerned with brooding tension and suspense.  
While this may test the endurance of some viewers, I found it rather effective overall - particularly when combined with Julie Kirkwood's stunning cinematography and powerful performances from the film's cast (Sing Street's Lucy Boynton is a standout).
There is much potential for horror in February's depiction of a vulnerable, abandoned child. It is all too easy to imagine how such a child could fall victim to something truly evil.
However, despite a promising start and a genuinely nasty third act, Perkins' film falls some way short of achieving its full potential. February also suffers from bewildering plot holes as the director fails to pull his story threads together.
Despite this, and on a more technical level, February is an impressive feature debut. It is an undeniably tense and unsettling watch. Given stronger material to work with, Perkins is certainly a filmmaker to watch out for in the future.
Random Observations
Oz Perkins is Anthony Perkins' son.
Elvis Perkins (Oz's brother) creates an impressive score, reminding me of The Shining's use of music. This is quite possibly a deliberate style choice given February's Kubrick-esque use of labyrinthine corridors. 
In addition, I loved the way Elvis Perkins has used everyday, ordinary sounds - notably the opening and closing of doors - to build the film's growing sense of a horror to come. However, I did find his score somewhat distracting at times.
Have you seen February/The Blackcoat's Daughter?
If you have, what did you think of Oz Perkins' debut feature? Let me know by leaving me your thoughts in the section below or get in touch via Twitter (@500daysoffilm) or Facebook!