500 Days Of Film Reviews Bio-Pic Drama, The End Of The Tour, Starring Jason Segel and Jesse Eisenberg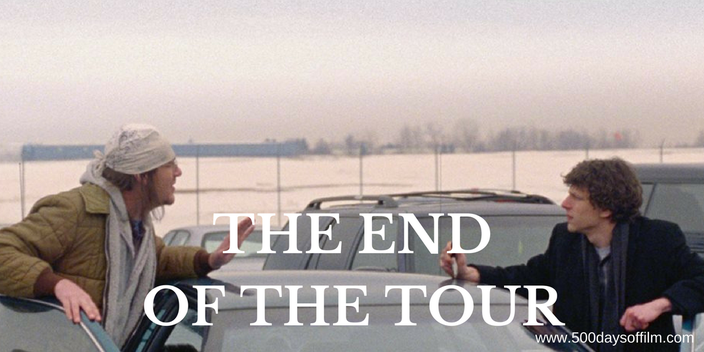 In 1996, Rolling Stone reporter David Lipsky (Jesse Eisenberg) spent five days with acclaimed novelist David Foster Wallace (Jason Segel) at the end of the book tour for his acclaimed novel, Infinite Jest. 
Despite feeling wary of each other's true motivations, the two writers formed a bond during their intense time together discussing life, literature and the consequence of success.
Is It Any Good?
James Ponsoldt is a director renowned for making intelligent and (often brutally) honest character driven films. 2012's Smashed (starring Mary Elizabeth Winstead and Aaron Paul) and 2013's The Spectacular Now (featuring Miles Teller and Shailene Woodley) both tell moving stories about complicated and painful life experiences.
The End Of The Tour, based on David Lipsky's memoir Although Of Course You End Up Becoming Yourself: A Road Trip with David Foster Wallace, is no different. This is an entertaining, moving and thoughtful film. It examines themes of genius and depression, perception and reality and explores the murky moral waters of success.
Segel and Eisenberg give superb, nuanced performances. Eisenberg's Lipsky is both in awe of Wallace and (burdened by the threat of competition) also deeply resentful of his fame. He wants that same affirmation for himself. As a result, The End Of The Tour feels like a film as much about David Lipsky as David Foster Wallace.
Meanwhile, Segel gives a career best performance as Wallace. He portrays a man well aware of his status but also wary, insecure and increasingly anxious about how he is being perceived.
The End Of The Tour's examination of this incredibly talented, perceptive and yet deeply troubled man is made all the more moving for reminding us (from the start) how tragically his story ends.
I really enjoyed The End Of The Tour. I loved its low key tone, its poignant humour and its reverence for words. I was impressed by Eisenberg and Segel's gripping performances and wanted to learn more about David Foster Wallace once the credits had rolled.
However, because I am in no way a David Foster Wallace expert, I do feel troubled by the negative reactions to The End Of The Tour from the author's friends and family. "David would have howled the idea for it out of the room had it been suggested while he was living," wrote Wallace's long-time editor, Michael Pietsch, in an email to the LA Times. 
"The fact that it can go ahead because he's dead makes me very, very sad… Anyone who has read David's writing knows how tormented he felt about being a public figure and his overwhelming anxiety about being on the wrong side of the screen. The existence of a mythification of this brief passage of his life strikes me as an affront to him and to people who love his writing."
Perhaps the best way to reconcile this negative reaction with my positive enjoyment and appreciation of Ponsoldt's film is to frame it as David Lipsky's story - his recollection of Wallace based on five days in his company.
Lipsky wouldn't, in this short space of time, understand Wallace as well as his closest friends and family and, of course, there is far more to explore about this exceptionally talented and influential author.
With that being noted, I feel reassured in my assessment of The End Of The Tour and confident in recommending this moving and thought provoking film.
Random Observations