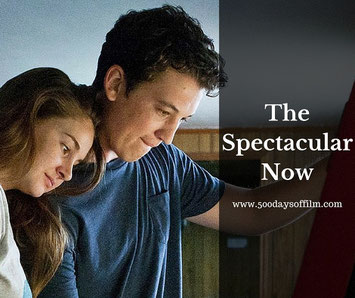 500 Days Of Film Reviews Coming Of Age Romance, The Spectacular Now Starring Miles Teller And Shailene Woodley
High school senior, Sutter Keely (Miles Teller), is always the life and soul of any party. He lives for the moment and gets by on his seemingly effortless charm.
However, Sutter's life changes when he meets "nice girl" Aimee Fineky (Shailene Woodley).
He is drawn to her - and she to him.
Aimee plans for the future, Sutter only wants to focus on the now. Their relationship shouldn't work and yet, despite the messiness in their lives, Sutter and Aimee fall in love.
Is It Any Good?
I loved The Spectacular Now. What could have been a bland, run of the mill coming of age / bad boy falls for nice girl movie is actually powerful, compelling and ultimately moving. 
Sutter is no two dimensional bad boy. Before long, I understood his desperation and fear. On the surface, he is the fun loving party boy. However, underneath there lies something darker and messier.
Sutter is rarely seen without a drink in his hand. He cannot face his 'now' without the mask of alcohol - let alone plan for his future. It is easy to see why he would fall for the optimism and beautiful openness of Aimee. 
I have to admit that I was surprised by The Spectacular Now. I just didn't expect this film to be so smart, powerful and moving. It is honest and authentic throughout, wonderfully romantic and is remarkably thought provoking. 
Woodley and Teller are superb as Aimee and Sutter. Both prove here what talented actors they are and how they can bring depth and poignancy to a role if given the chance. 
Meanwhile, the film also features a powerful supporting cast with Kyle Chandler giving a scene stealing performance as Sutter's alcoholic father and his own potential future, Jennifer Jason Leigh typically brilliant as his mother and Brie Larson perfect as Sutter's ex-girlfriend, Cassidy.
I would really recommend The Spectacular Now. It is a gorgeous, surprising and powerfully poignant movie.
Random Observations
The Spectacular Now is adapted from a book of the same name by Tim Tharp. 
Sutter's older sister is played by Mary Elizabeth Winstead who I just loved in 10 Cloverfield Lane.
Have you seen The Spectacular Now? If so, what  did you think of this movie? Do let me know by leaving me a comment in the box below!