500 Days Of Film Reviews Comedy, Mindhorn, Starring Julian Barratt, Essie Davis and Simon Farnaby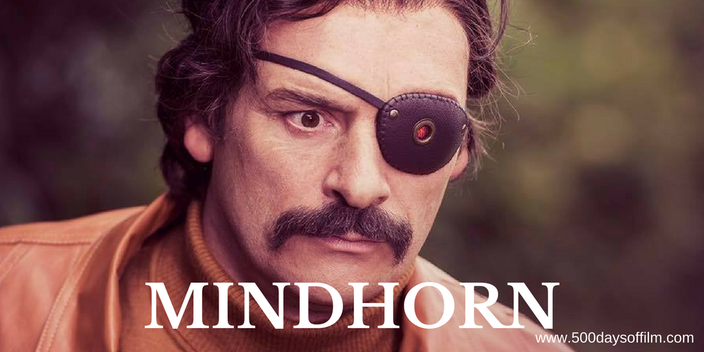 Washed-up actor, Richard Thorncroft (Julian Barratt), is struggling to replicate the success of his detective show, Mindhorn. In the hit 1980s series, set in the Isle Of Man, his character has a very special power - an optical lie detector, allowing him to literally see the truth. 
25 years later, a delusional criminal suspected of murder, declares that he will only speak to Mindhorn. When the police ask for Thorncroft's help, the actor spies a chance to return to the limelight and reunite his romance with former co-star Patricia Deville (Essie Davis).
Is It Any Good?
Your enjoyment of director Sean Foley's Mindhorn depends on two key factors. First, do you like comedy in the vein of Alan Partridge and The Mighty Boosh? Second, are you willing to give yourself over to 89 minutes of utterly bonkers, ridiculous silliness? 
If you answered yes to one or both of these questions, you will have a great time watching Richard Thorncroft's crazy capers. You will likely laugh all the way through this film and may even find yourself quoting several of his key phrases ("It's truth time"). 
However, if you answered no, Mindhorn is probably not the film for you.
Now, despite being no great fan of Alan Partridge or The Mighty Boosh, I enjoyed Mindhorn. While the comedy is broad and does dwindle in the second half, this film made me laugh (out loud at times) pretty consistently from start to finish. 
Julian Barratt's committed portrayal of Richard Thorncroft is cult comedy gold. Mindhorn is just so wonderfully reminiscent of many cheesy 1980s crime show characters. He is incredibly seedy and narcissistic. However, Barratt also adds a welcome note of poignancy to his performance.
Meanwhile, I also enjoyed Mindhorn's (obligatory) cameos and loved Simon Farnaby's portrayal of Thorncroft's ex-stuntman, Clive Parnevik. Meanwhile, it is great to see Essie Davis back on the big screen.
Ultimately, Mindhorn is 89 entertaining minutes of silly, largely forgettable fun. 
Random Observations
I watched Mindhorn via Odeon Screen Unseen. It certainly made a marked difference from the previous films in this series (Moonlight, Manchester By The Sea, Hidden Figures to name but three). However, I enjoyed watching Mindhorn. This is a movie that I might not have chosen to watch - and this is just what Screen Unseen is all about.
Have you seen Mindhorn?
If you have, what did you think of Sean Foley's film? Let me know by leaving me a comment in the section below. Alternatively, come find me on Twitter or Facebook!