If you haven't heard of or attended an Odeon Screen Unseen event, you are missing a brilliant cinema experience. In short, you pay half the typical ticket price to see a movie at the cinema often weeks before its general release.
The unseen part refers to the fact that you do not know what that movie is until the BBFC rating certificate appears. Recent Odeon Screen Unseen films have included Manchester By The Sea, Hidden Figures, Room, Inside Out, Selma, The Revenant, Nightcrawler, Whiplash and The Big Short.
I love these film screenings for so many reasons - here are ten of them:
10 Reasons To Love Odeon Screen Unseen
1. It's Cheap
Let's face it, a trip to the cinema is no cheap evening out these days. A full price adult ticket can cost between £10-13 - and that's before you sidle up to Ben & Jerry. So, the Screen Unseen £5 ticket price is a pretty attractive prospect. 
2. It's All Pretty Mysterious
There is something mysterious about these screenings. I don't think that they would be anything like as much fun if we knew what we were in for. And you don't get much notice either, which all adds to the excitement.
3. It's Super Fun
The fun starts well before you take your seat in the cinema. When you receive the 
email about the next event, you are also given the first clue as to what movie Odeon is going to screen. Further clues are then dropped (via social media) in the days leading up to the event.
Now, I have to admit that these clues vary from being pretty easy to utterly inscrutable. At any rate, they all add to the exciting experience - just don't let them drive you mad!
4. It's Really Social
As I mentioned above, Odeon drop a trail of social media clues in the days before a Screen Unseen event. These can be found on the cinema chain's Facebook and Twitter accounts. I love to read the predictions from fellow cinema goers - you can have a lot of fun guessing (and hoping) along with fellow film fans.
5. It's Popular
One thing that I have learned since attending these events is that you have to book your tickets early (this applies to my local Odeon - is it the same with yours?). If I leave my booking until a couple of days before the screening, I know I will be in the worst seats in the cinema. And that really bothers me.
On the flip side, I love the fact that Screen Unseen is so popular. How often do you get to see a film in a packed cinema? It can really make a difference to your movie experience.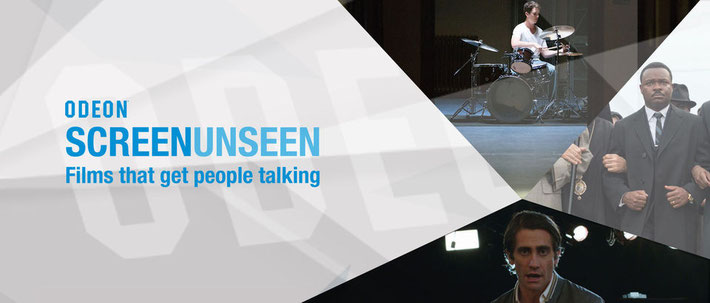 6. It's All Very Tense
My favourite moment of the entire Screen Unseen event has to be the seconds before the BBFC certificate comes on screen. I am literally squirming in my seat and I can feel the anticipation build all around me. It is so tense! I am sure that they hold that certificate for longer than in a normal film screening.
Then, finally, we know what we are about see and there is a buzz around the cinema (or a ripple of applause in the case of The Revenant) as the audience comes to terms with the movie that they are about to watch.
7. It's Quality
As tense as I feel before the BBFC certificate is shown, I am never really worried. Odeon has proved trustworthy in its selection of Screen Unseen movies. I now feel sure that, whatever film is selected, the movie will be of a very high quality and certainly one worth seeing.
8. It's All New
As well as being critically acclaimed, Odeon's Screen Unseen films are also pre-releases. I have seen several films weeks before they appear on general release. Apart from being useful from a film review perspective, there is also something satisfying about being the first to watch a new movie.
9. It's Controversial
Not everyone is happy once the film is revealed. One of my guilty pleasures is counting the number of walkouts after the film has been revealed. You would be surprised at how many people leave. About ten people scarpered at the screening of Inside Out for goodness sake!
10. It's A Community
I love Odeon's Screen Unseen events because they make me feel part of a community. As I take my seat, I know that the people all around me love cinema (okay there's also the cheap ticket price, but still) and are willing to watch anything.
Meanwhile, these events also build communities online as people predict the films and then dissect them afterwards.
What Do You Think Of Odeon Screen Unseen?
For all of these 10 reasons (and probably many more), I love Odeon's Screen Unseen films. Here's to many, many more! 
Have you been to one of these movie events? 
If you have, what did you think of the screening? I'd love to know. Do feel free to leave me a comment in the box below.