500 Days Of Film Reviews 2017's Most Creative And Original Films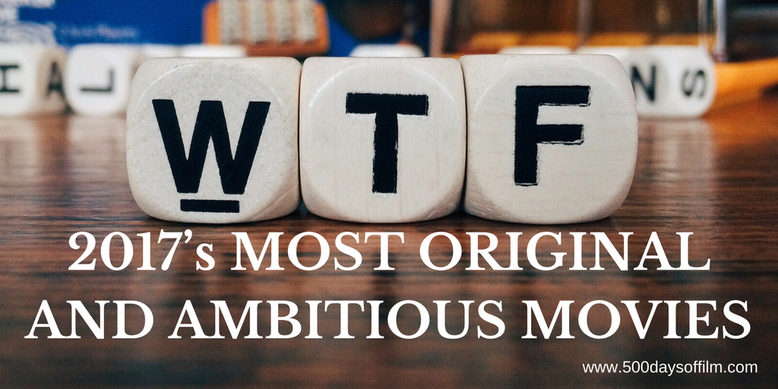 The movie industry has often (and particularly in recent years) been criticised for lacking originality. In a sea of remakes, reboots and franchise films, where are the fresh and innovative stories? Give us something new, we cry.
However, when a filmmaker dares to make something different or unexpected, something that plays with genre and goes against the grain - well, it seems that many audiences cannot cope.
Anne Hathaway as a drunken Kaiju (Colossal)? Well that's absurd. Daniel Radcliffe as a flatulent corpse (Swiss Army Man)? Ridiculous. Casey Affleck wearing a ghostly sheet with eye holes (A Ghost Story)? Preposterous. 
Darren Aronofsky's mother! is another example of our conflict with cinema pioneers. Of course, this film was always going to be divisive. But to gain an F grade from CinemaScore (the lowest score from this influential pollster of opening night movie audiences) seems bizarre. 
According to The Guardian's great film critic, Peter Bradshaw, "cineplex audiences don't like surprises... As a critic, I sometimes get into trouble for spoilerism, but really most movie trailers are pure spoiler: the customers have to be reassured that they know what they're getting. Even horror trailers give you a taste of the jump scare. 
"Yet for obvious reasons, the trailer for mother! doesn't want to give away the freaky crescendo. So audiences are shocked and upset in ways they didn't sign up for. Some unspoken, unacknowledged consumer contract has been violated." 
In the rush to criticise films for breaking this contract or giving us something that we just did not expect, we risk missing something special. We may not love every film that we see (and that really is okay) but do we really want to condemn filmmakers for being brave enough to try something new? 
That result may well prove flawed and may not always translate into a movie masterpiece but, surely, at the very least we can keep an open mind and admire the effort and ambition? If we don't, we stand to miss some really thought-provoking films. 
For example, in 2017 alone, some wonderfully creative and original films have been released. Here are some of my favourites:
A Ghost Story
Written And Directed By: David Lowery
Synopsis: Recently deceased and now a white-sheeted ghost, C (Casey Affleck) returns home to his grieving wife M (Rooney Mara) only to find that, in this spectral state, he has become unstuck in time. Watching passively as his life and the woman he loves slowly slip away, C desperately searches for the meaning of his existence. 
Click Here For My Full Review!
Raw
Written And Directed By: Julia Ducournau
Synopsis: Everyone in Justine (Garance Marillier)'s family is a vet - and a vegetarian. At 16, she is a brilliant and promising student. However, when she starts at veterinary school, she enters a decadent, merciless and dangerously seductive world. 
During the first week of horrific hazing rituals, desperate to fit in whatever the cost, Justine strays from her family principles and eats raw meat for the first time. The consequences of her actions are shocking as her true self begins to emerge.
Click Here For My Full Review!
The Red Turtle
Written And Directed By: Michael Dudok de Wit
Synopsis: After a man finds himself shipwrecked on a tropical island inhabited by turtles, crabs and birds, he has to find a way to survive. Through his story, The Red Turtle recounts the milestones in the life of a human being.
Click Here For My Full Review!
mother!
Written And Directed By: Darren Aronofsky
Synopsis: A couple's relationship is tested when uninvited guests arrive at their home, disrupting their tranquil existence. 
Click Here For My Full Review!
Okja
Written And Directed By: Joon-ho Bong
Synopsis: Young Korean girl, Mija (An Seo Hyun), risks everything to prevent Lucy Mirando (Tilda Swinton)'s powerful multi-national company, The Mirando Corporation, from kidnapping her best friend - a super pig named Okja.
Click Here For My Full Review!
Toni Erdmann
Written And Directed By: Maren Ade
Synopsis: Winfried (Peter Simonischek) doesn't see much of his working daughter Ines (Sandra Hüller). Concerned that she is leading a joyless, corporate life, he travels to Bucharest, where she's working as a consultant, to pay her a surprise visit. However, his spontaneous decision doesn't help their relationship. Winfried is a practical joker and annoys his daughter with silly pranks and jokes about her lifestyle.
Reaching an impasse, Winfried agrees to go home to Germany. Enter Toni Erdmann - Winfried's flashy alter ego. Disguised in a cheap suit, crazy wig and fake teeth, Toni barrels into Ines' professional life, claiming to be her CEO's life coach. As Toni, Winfried doesn't hold back and Ines soon begins to meet the challenge and the harder they push, the closer they become. 
Click Here For My Full Review!
Prevenge
Written And Directed By: Alice Lowe
Synopsis: Ruth is a pregnant woman on a killing spree. Manipulated by the voice of her misanthropic unborn child, Ruth seeks bloody vengeance for the absence of her baby's father.
Struggling with her conscience, loneliness, and a strange strain of prepartum madness, Ruth must ultimately choose between redemption and destruction at the moment of motherhood.
Click Here For My Full Review!
Personal Shopper
Written And Directed By: Olivier Assayas
Synopsis: By day, Maureen (Kristen Stewart) works as a personal shopper, biking around Paris buying exquisite couture for her jet-setting celebrity client. However, by night, she attempts to channel the spirits of the dead, hoping to make contact with her recently deceased twin brother. 
When Maureen begins receiving a series of chilling text messages, it seems she may have made contact - but with whom? And what do they want? 
Click Here For My Full Review!
It Comes At Night
Written And Directed By: Trey Edward Shults
Synopsis: Traumatised in the aftermath of an apocalyptic virus, 17 year-old Travis (Kelvin Harrison Jr.) exists in a state of grief and fear in a remote home with his vigilant, protective and heavily armed parents, Paul and Sarah (Joel Edgerton and Carmen Ejogo). 
When desperate young couple, Will and Kim (Christopher Abbott and Riley Keough), come seeking refuge with their young child, Travis and his parents - believing that there is strength in numbers - let them into their home.  
Despite the best intentions of both families, panic and mistrust boil over as the horrors of the outside world creep ever closer. However, Travis discovers that the horrors within are far worse and that his father's commitment to protecting the family may cost him his soul.
Click Here For My Full Review!
Colossal
Written And Directed By: Nacho Vigalondo
Synopsis: Gloria (Anne Hathaway) is an out-of-work party girl who, after the breakdown of her relationship with boyfriend Tim (Dan Stevens), is forced to leave her life in New York and move back to her hometown.
There, she reconnects with childhood friend Oscar (Jason Sudeikis), meets his drinking buddies (played by Tim Blake Nelson and Austin Stowell) and resumes her excessive drinking lifestyle.
However, on the other side of the world, a giant monster begins attacking Seoul, South Korea - a monster with a strange and disturbing connection to Gloria.
Click Here For My Full Review!
What Do You Think?
What do you think about the reactions to cinema's most original and ambitious stories? What have been your favourites? Let me know in the comments section below or let's discuss over on Facebook or Twitter (@500DaysOfFilm).