500 Days Of Film Reviews Psychological Horror, It Comes  At Night, Starring Joel Edgerton, Carmen Ejogo, Kelvin Harrison Jr., Christopher Abbott And Riley Keough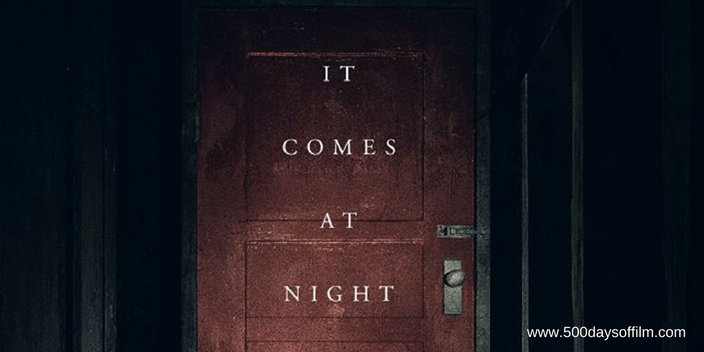 Traumatised in the aftermath of an apocalyptic virus, 17 year-old Travis (Kelvin Harrison Jr.) exists in a state of grief and fear in a remote home with his vigilant, protective and heavily armed parents, Paul and Sarah (Joel Edgerton and Carmen Ejogo). 
When desperate young couple, Will and Kim (Christopher Abbott and Riley Keough), come seeking refuge with their young child, Travis and his parents - believing that there is strength in numbers - let them into their home.  
Despite the best intentions of both families, panic and mistrust boil over as the horrors of the outside world creep ever closer. However, Travis discovers that the horrors within are far worse and that his father's commitment to protecting the family may cost him his soul.
Is It Any Good?
Much like Trey Edward Shults' brilliant debut feature, Krisha, It Comes At Night focuses on a family in crisis. The film's disturbing opening reveals an infected family member - a situation that forces Paul (a superb performance from Joel Edgerton) into committing a horrific act, further traumatising his son.
In these initial moments, we understand the threat of disease and the terrible toll of survival. We also understand that Paul is willing to do whatever it takes to protect his family.
As a result, the arrival of Will, Kim and their son, Andrew, throws the family's rigidly ordered life into chaos. Should they trust them? Could their presence make the house a safer place or will this act of kindness endanger them all? 
With his masterly use of light and shadow alongside his film's extremely unsettling sound design, Shults builds tension and suspense - creating almost unbearable levels of heart-pounding intensity. 
While Paul is the film's ticking time bomb, It Comes At Night centres on Travis (a powerful portrayal from Harrison). His feverish nightmares are used to great effect - blurring the line between fantasy and reality as the teenager desperately attempts to process the chaos around him. 
"Travis is trying to find his place in the world," Shults reveals. "He's discovering the kind of person he wants to be. But this is also a cautionary tale about losing one's humanity - how fear and uncertainty can destroy someone from within. This can be a fate worse than death."
At this point, it should be noted that It Comes At Night is not a horror in the familiar sense. There are no cheap jump scares or predictable thrills (although several scenes did give me quite a jolt). Meanwhile, the film offers few details about the horrific virus and its wider impact on the world.
"We don't know what's out there, some kind of epidemic has spread," Shults explains. "The only clue you get is the Brueghel painting in Travis' room. How bad things get in our microcosm - inside this house - suggests how bad they might be in the rest of the world.
"I feel like it's inevitable that we're going to destroy ourselves, so I was more interested in the people experiencing this kind of event than the world-building itself - placing people in tense situations and watching what happens."
As with Robert Egger's The Witch, It Comes At Night is an atmospheric slow burner - a bleak survival story fueled by paranoia and claustrophobia. A horror-inflected tale that feels uncomfortably real (leaving you wondering what you would do in Paul's shoes). 
Largely thanks to its rather misleading trailer, Shults' film may well leave some horror-seekers frustrated and disappointed. It did not, however, disappoint me - I loved every tension-fueled minute of It Comes At Night. This is an intelligent, thought provoking movie - a film that leaves you with a lingering sense of unease. 
Random Observations
If you enjoyed It Comes At Night, do watch Shults' first film, Krisha. The film won both the Grand Jury and Audience Awards at the 2015 South by Southwest Film Festival as well as an official selection of Critics' Week at the Cannes Film Festival
Have you seen It Comes At Night? 
If you have, what did you think of this film? Let me know in the comments section below or let's chat over on Twitter or Facebook!