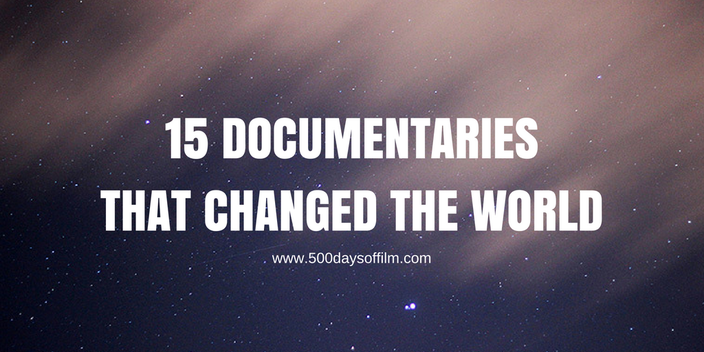 Films exist for a variety of different reasons. They can shock, thrill and entertain. However, every now and then, a film comes along that changes the world.
Documentaries often achieve this lasting impact and, in this article, I explore 15 documentary films that have made a significant difference in our society.
Black Fish
I am utterly gripped every time I watch Gabriela Cowperthwaite's moving documentary about the plight of Killer Whales in theme parks and zoos. Through a series of interviews with Orca experts and ex-SeaWorld trainers, the director displays the beauty and majesty of these creatures - as well as the potential dangers and cruelty of their captivity. 
Blackfish has had a significant impact on how we view Killer Whales. In addition, just three years after the film's release, SeaWorld announced that the end of its Orca breeding programme. The theme park also cancelled its Shamu shows. 
Click here for my review of Blackfish
13th
Ava DuVernay's superb documentary, 13th, challenges the way we look at incarceration and questions whether slavery was ever really abolished in the US.
13th does not offer solutions to the issues that it raises - there are, of course, no easy answers. Instead, the film raises awareness, giving its audience plenty of
(extremely sobering) information and many shocking statistics. The next step is up to us - all of us.
Click here for my review of 13th 
Citizen Four
Laura Poitras' Oscar-winning documentary film, CitizenFour, features
unprecedented access to Edward Snowden as he hands over the classified documents that will provide evidence of mass, indiscriminate and illegal invasions of privacy by the US National Security Agency (NSA).
The film highlights the importance of privacy in our digital world. On hearing that CitizenFour had won the Oscar, Snowden released a statement stating that CitizenFour "is a brave and brilliant film that deserves the honor and recognition it has received. My hope is that this award will encourage more people to see the film and be inspired by its message that ordinary citizens, working together, can change the world."
Click here for my review of CitizenFour
The Thin Blue Line
Errol Morris' The Thin Blue Line examines the murder conviction of Randall Dale Adams. Convinced that Adams was innocent, Morris set out to make a film that would force the case to be reopened. As a result of the filmmaker's investigative work, Adams was acquitted and subsequently released.    
The Thin Blue Line has also had a significant impact on the documentary genre itself - inspiring many films based on true crime investigations.  
Click here for my review of The Thin Blue Line
The Act Of Killing
The Act Of Killing is a stunning documentary that investigates the murders of 500,000 people in Indonesia during the 1950s and 1960s. The film shows former Indonesian death squad leaders boasting about their hideous crimes, happy to reenact the murders in fantastical and deeply disturbing scenes.  
Joshua Oppenheimer's film is an undeniably tough watch but, nonetheless, this is a story that needs to be told. In an article in The Guardian, the director explains "I was filming perpetrators of genocide who won, who built a regime of terror founded on the celebration of genocide, and who remain in power...
"The film has had exactly the impact the survivors hoped for. It has been screened thousands of times in Indonesia, and is available for free online. This has helped catalyse a transformation in how Indonesia understands its past. The media and public alike are now able, for the first time without fear, to investigate the genocide as a genocide – and to debate the links between the moral catastrophe of the killings and the moral catastrophe of the present-day regime built, and still presided over, by the killers."
Restrepo
Restrepo, from filmmakers Tim Hetherington and Sebastian Junger, gives us real insight into the hellish reality of war. Shortly after Restrepo's release, Hetherington explained that they made the film "because we felt the experience of the soldiers needed to be seen and digested, understood, somehow honoured, as a starting point for a discussion about the war. We have a responsibility back here to to take a bit of time out to understand."
Tragically, Hetherington was killed in April 2011 during the siege of Misrata by Colonel Gaddafi's forces. He was hit by shrapnel, which cut his femoral artery. He died in the back of a truck en route to hospital.
Sebastian Junger believes that his death could have been prevented had the journalists and rebels known what to do to prolong his life. As a result, Junger has created a medical programme for freelance journalists. For more information visit: http://www.risctraining.org/  
Click here for my review of Restrepo
Nostalgia For The Light
Chile's Atacama Desert is one of the best places to observe the skies on Earth. In his stunning documentary, Nostalgia For The Light, Patricio Guzmán uses astronomy and archaeology to examine the concept of time and question why, if everything is in the past, Chile has failed to acknowledge its own painful history - the history of the disappeared.
Guzmán has been a political exile from his homeland for over half of his life. He has dedicated much of his career to raising awareness about Chile's disturbing history.
Click here to read my review of Nostalgia For The Light
Bowling For Coumbine
Micheal Moore is a divisive figure in film. However, while Bowling For Columbine may not have stopped the rise of gun crime in the US, the impact of the filmmaker's 2002 Oscar-winning documentary is undeniable. 
While he has been criticized for his delivery style and for asking more questions than he answers, Moore's Bowling For Columbine still challenges the way we view firearms and raises awareness of a critical issue in today's society.  
Cartel Land
With truly breathtaking access, Cartel Land follows two vigilante groups, the Arizona Border Recon and Mexico's Autodefensas, as they rise up to fight Mexico's drug cartels.
Cartel Land gives its audience an unvarnished, often brutal look at the impact of the drug cartels - on both sides of the border. The film offers no easy answers (there are none) but, as we watch, we start to appreciate the horrendous complexity of the situation. 
Click here to read my review of Cartel Land
Deliver Us From Evil
Ten years before Tom McCarthy's Spotlight won its best picture Oscar, writer/director, Amy Berg, released her documentary: Deliver Us From Evil.
This deeply disturbing film looks at clergy sexual abuse in the US with a particular focus on Irish priest, Father Oliver O'Grady, - perhaps the most notorious pedophile in the history of the modern Catholic Church. 
Following O'Grady's incarceration and deportation, Berg persuaded him to participate in the making of her film and describe what happened from his point of view.
However, more importantly, Berg encourages several of O'Grady's victims to speak out, shedding much-needed light on the horrifying legacy of sexual abuse. 
Notes On Blindness
In the early 1980s, theologian, John Hull, lost his sight. He became terrified that, if he didn't try to understand his blindness, it would destroy him. As a result, in 1983, Hull started an audio diary. Over three years, Hull recorded over 16 hours of material - creating a story of loss, rebirth and transformation. 
Notes On Blindness takes these original recordings and combines them with interviews with Hull and his wife, Marilyn. Actors lip-sync to the voices of the family in a film that also features stunning visuals and cinematography.
Writer/directors Peter Middleton and James Spinney (in their first feature film) have created a wonderful documentary that offers truly fascinating insights into just what it means to lose your vision. 
Click here for my review of Notes On Blindness
Fire At Sea
Immigration is a divisive issue in our society today. Amid the politics and media reports it is easy to forget the human experience at the centre of this crisis.
Gianfranco Rosi's Fire At Sea is an incisive, poignant and deeply moving portrait of the Mediterranean island of Lampedusa - and the humanitarian crisis occurring in the seas around it.
Focusing on 12 year-old Samuele, Rosi's footage is simply incredible (the director spent months living on the island). As well as being a timely call for urgent action, Fire At Sea will make you look at immigration and the plight of refugees in a new light.
Gasland
When filmmaker, Josh Fox, was asked to lease his land for drilling, he decided to investigate the safety of fracking. Gasland documents his journey across America as he uncovers a trail of secrets, lies and contamination. 
In a series of unbelievable scenes, we see residents who live near fracking operations being able to light their drinking water on fire. The contamination and environmental damage is truly shocking.
Gasland changed Fox's life. He now campaigns for the worldwide rejection of fracking. He has since released Gasland Part II and How To Let Go Of The World and Love All The Things Climate Can't Change.  
The film has also turned anti-fracking into a massive international movement. "Josh Fox's Gasland blew the doors off what was happening, raising awareness a tremendous amount. It had a big impact on growing the movement," explains Mark Schlosberg, national organising director for Food & Water Watch, in an interview with EcoWatch. 
Murder On A Sunday Morning
One Sunday morning in May 2000 in Jacksonville, Florida, Mary Ann Stephens was shot in the head at point blank range in front of her husband. Two hours later, a 15-year-old black American, Brenton Butler, was arrested while walking down a nearby street.
Director, Jean-Xavier De Lestrade's Academy Award-winning film follows Butler's trial. Everyone involved in the case, from investigators to journalists, was primed and ready to condemn Butler. Thankfully his lawyer, Patrick McGuiness, looked beyond the prejudice and he and his team discovered a slew of shocking and troubling elements about the case.
Murder On A Sunday morning is an extremely powerful documentary. The film makes you think about the criminal justice system - particularly with regards to the reliability of coerced confessions made under extreme duress. 
Winter On Fire: Ukraine's Fight For Freedom
Over 93 days in Ukraine, a peaceful student demonstration in support of European integration became a violent revolution and sparked an incredible civil rights movement. 
Featuring remarkable on the ground footage and interviews, Winter On Fire: Ukraine's Fight For Freedom is an utterly gripping film. The documentary tells the unheard and poignant human story at the heart of the protest. It is amazing to see hundreds of people from all walks of life coming together to fight for what they believe in - despite the real risk of harm.
What Documentaries Have Changed Your World?
What do you think about this list? Has a documentary film ever altered the way you think about the world? What film has shocked or inspired you to make a change? 
Do let me know - feel free to leave me a comment (and any recommendations!) in the box below.