500 Days Of Film Reviews Thriller, The Girl On The Train, Starring Emily Blunt.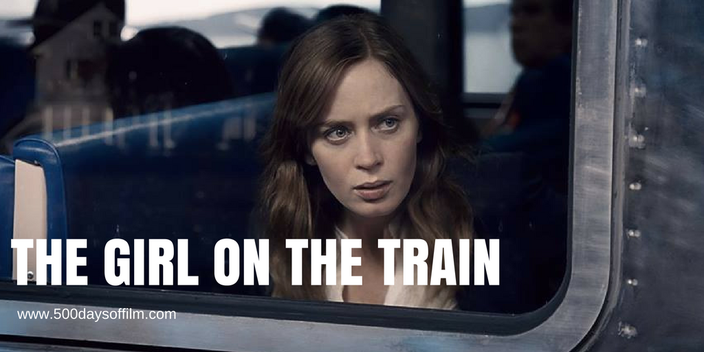 Devastated by her recent divorce, Rachel (Emily Blunt) spends her daily commute fantasizing about the seemingly perfect couple who live in a house that her train passes every day.
However, one morning, she witnesses something shocking and then finds herself entangled in the dangerous mystery that unfolds.
Is It Any Good?
The Girl On The Train is director, Tate Taylor's, cinematic adaptation of Paula Hawkins' bestselling book. Like pretty much everyone else, I read this story after its publication last year.
I must confess that I did not love this book as much as some and had forgotten much of its narrative detail. As a result, I went into the film remembering only the plot's bare bones (namely who did it).
I felt that this could work to my advantage. I could experience the story with fresh eyes and keep an open mind - despite the film's controversial casting of Emily Blunt and the bewildering change of setting from London to New York.
However, while Blunt gives a typically powerful performance, The Girl On The Train is a disappointingly baggy thriller. Unlike its adrenaline-fueled trailer, this film is frustratingly slow and its key characters are hard to care about.    
The Girl On The Train is in no way a terrible film. It is just rather underwhelming.
Mid-way through, I found myself wishing that something would actually happen. However, when the "shocking" big reveal occurred, there was a surprising lack of tension - despite the brutality on display. 
Ultimately, The Girl On The Train suffers from its relocation. Rachel's surroundings are key to the atmosphere in the book. Taylor's stylized New York strips his film of this key element leaving everything feeling flat.
The film's Rachel is also disappointing when compared to the character in the book. This is in no way the fault of Emily Blunt. The Girl On The Train hangs on to her performance like a lifeline. However, even this cannot save Taylor's film.
Random Observations
Tate Taylor is no stranger to book adaptation. He directed 2011's Oscar-winning film, The Help.
Emily Blunt's next role is somewhat different from Rachel. She will play Mary Poppins in the 2018 sequel.
Have you seen The Girl On The Train? 
If so, what did you think of this film? I would love to know - do leave me a comment in the box below.