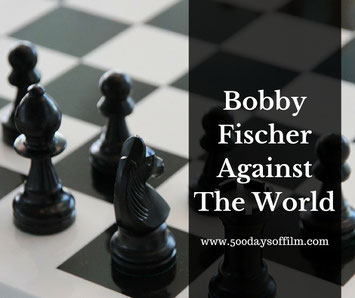 500 Days Of Film Reviews Bobby Fischer Against The World And Finds A Fascinating Insight Into A Troubled Mind
Bobby Fischer was one of the greatest chess players of all time. 
He dominated the chess scene in the 1960s and 1970s - famously winning the World Chess Championship from the USSR's Boris Spassky in 1972.
This tournament played out as an epic battle - a Cold War confrontation. It attracted worldwide attention and huge media interest. 
However, behind Fischer's phenomenal talent lay a mentally fragile and troubled man. Success brought intense attention and, tragically, Fischer's life began to implode.
Is It Any Good?
I didn't know much about Bobby Fischer before watching Liz Garbus' documentary. However, only a few minutes in and I found that I was hooked. This is a fascinating documentary about a fascinating man.
Garbus draws us into her story via the Fischer versus Spassky tournament. And this is, of course, a remarkable story.
She makes us feel the intensity and drama of the situation - both during the match itself and also in the drama taking place behind the scenes. I didn't expect a chess championship to be so exciting to watch - particularly all these years on. 
However, this aspect of the film is not what most grabbed me. What interested me was how Garbus gradually reveals the fact that Fischer's phenomenal, tactical brain was both a blessing and a curse.
Fischer was a grand-master of chess at the age of just 15. At the age of 20, he won the 1963-64 US Chess Championship with a 11/11 - the only perfect score in the history of the tournament.
Of course, it is fascinating to watch such a remarkable success story - even as we realise that all is not what it seems.
Bobby Fischer Against The World shows us through interviews with those closest to Fischer and via television footage from the time, that Fischer retreated into chess as a way to cope with his feelings of isolation.
While he found a place of refuge in the chess world - a place he felt that he could finally fit in - his incredible success only brought more stress into his life and his mental health began to deteriorate.
At the end of the documentary, we see a tragic figure - full of misplaced hatred and beset by paranoia.
Bobby Fischer Against The World is a fascinating documentary based on a remarkable life and is a film that I would highly recommend. 
Random Observations
I think it is worth adding that this is a documentary that is  enjoyable even if you are not in the slightest bit interested in chess!
In 2014, Tobey Maguire starred as Fischer in the biopic, Pawn Sacrifice. 
Have you seen Bobby Fischer Against The World? If you have, what did you think about this documentary?
Let me know in the comments section below!