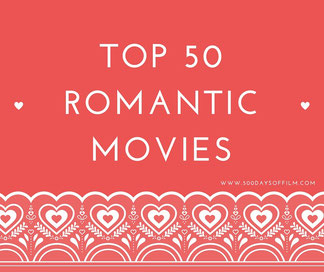 Well I've counted down my favourite romantic movies from 50-25... now it is time to look at those films that made the top 25.
But, first, what did you think of this list so far?
I'd love to know. Why not leave me a comment in the box at the end of this post?
Just to emphasise, these films were chosen from those that I have watched during my 500 Days Of Film Challenge (click here to see my movie lists).
Top Romantic Films 24-1
24. Once
A wonderful and quirky film about love, friendship and music, I just love Once. It is one of the few musical films I can tolerate and features beautiful performances from Glen Hansard and Marketa Irglova.
Click here for my full review.
23. Jane Eyre
Jane Eyre is my favourite novel. It has, of course, been adapted for film many times. I love Cary Joji Fukunaga's version. It is gorgeous to look at and Michael Fassbender and Mia Wasikowska are superb. The film is a bit restrained at times - but it is a PG after all.
22. The Way We Were
Barbara Streisand shines as Katie in Sydney Pollack's film about a couple who, despite being deeply in love, struggle to be together because of their political views. Katie's love and belief in Hubbell (Robert Redford) gets me every time. 
21. Wall.E
One of my favourite Pixar movies, Wall.E is the gorgeous story of a little recycling robot's love for Eve - a reconnaissance robot. If you are at all surprised that this film has made my list, just go and watch the space dancing scene with the fire extinguisher. 
20. Sleepless In Seattle
Although the central couple do not meet until the very end of the film, Sleepless In Seattle is still, of course, a top romantic movie. And even if they hate each other after their first date, they have still allowed themselves the possibility of true love.   
19. Punch Drunk Love
Possibly the only Adam Sandler film that I can stand, Paul Thomas Anderson's darkly romantic film shows us there is someone for everyone. Sandler is very good as the troubled Barry Egan and Emily Watson is also superb.
Click here for my full review.
18. You've Got Mail
I often find myself watching Nora Ephron's You've Got Mail. It's the movie equivalent of a mug of hot chocolate and a snug blanket. Uniting Meg Ryan and Tom Hanks, the film tells the story of two rival book store owners who fall in love online.
17. Romeo + Juliet
Can you believe that it has been 20 years since the release of Baz Luhrmann's adaptation of Shakespeare's tragic play? Scary. This certainly is a wonderfully frenetic film. The scenes between Claire Danes and Leonardo DiCaprio are full of innocent, but doomed, romance.
16. Say Anything
John Cusack looks like a baby in this 1989 Cameron Crowe film. He plays Lloyd, a high school senior who falls in love with star student Diane (Ione Sky). His love for her is so pure and good. He doesn't know what he wants from life but he know he wants to be with Diane. Sigh...
15. Love Actually
Richard Curtis' film looks at the relationships of eight couples in the run up to Christmas. Some of the stories work better than others. Strangely, for me, the film's most powerful scene is actually a heartbreaking moment - you know, that one with Emma Thompson. 
14. The Bridges Of Madison County
I recently watched Clint Eastwood's film for the first time. I was really moved by this poignant story of unexpected, impossible love. Eastwood is charming as photographer Robert Kincaid. However, it is Meryl Streep who shines as Francesca.
13. The Notebook
The final Nicholas Sparks movie on my list will come as no surprise. Allie (Rachel McAdams) and Noah (Ryan Gosling) fall in love but her family tears them apart believing that he is not good (read rich) enough for her. Is their love strong enough to survive? Pass the tissues...
12. Eternal Sunshine Of The Spotless Mind
Michel Gondry's eccentric film, featuring brilliant performances from both Jim Carey and Kate Winslet, is based on an interesting premise. Despite the angst and conflict that takes place, this is, for me, a film about the undeniable power of love.
11. True Romance
Inspired by Terrance Malik's Badlands, True Romance is a superb film. Although directed by Tony Scott, this has a distinct Tarantino feel - unsurprising since he wrote the script. It is violent and a tough watch at times but the love between Clarence and Alabama is wonderful.
10. The Princess Bride
This is one of my all time favourite films. I have watched it countless times and just love every minute. Alongside the thrilling action, the brilliant script and the wonderful cameos, is a truly romantic, fairy tale of love between Westley and Buttercup. 
9. Casablanca
Featuring the ultimate love triangle, this movie is an absolute joy. In Casablanca, at the beginning of World War 2, Rick Blaine (Humphrey Bogart) runs a popular nightclub. His world is rocked by the arrival of past love Ilsa (Ingrid Bergman). Can he forgive her for what happened in Paris?
8. Annie Hall
New York comedian, Alvy Singer (Woody Allen - who also wrote and directed this film), meets and falls in love with scatty Annie Hall (played superbly by Diane Keaton). Their relationship makes him examine himself and the idea of love in general.  
7. The Philadelphia Story
When journalists Macaulay Connor (James Stewart) and Elizabeth Imbrie (Ruth Hussey) arrive on the eve of her wedding, society girl Tracy Lord (Katherine Hepburn) has to confront who she is and what she wants from life. Luckily her ex-husband (Cary Grant) is on hand to help.
6. Roman Holiday
While on a royal visit to Rome, Princess Ann (Audrey Hepburn) escapes her stifling life of duty to spend a liberating few hours with reporter, Joe Bradley (Gregory Peck). This is such a wonderful film. Both funny and sad, it is unquestionably romantic.
5. Before Midnight
Now follows the most romantic of all film trilogies by director, Richard Linklater. This is the third film in the series. Set in Greece, it features Jesse (Ethan Hawke) and Celine (Julie Delphy) almost twenty years after they first met in Vienna.  
4. Before Sunset
The second film in this trilogy takes place nine years after the couple's first meeting. Celine surprises Jesse by turning up at his book signing event in Paris. The two walk the streets and talk about their lives and what happened after they parted in Vienna.
3. Before Sunrise
The first film in Linklater's trilogy begins with a chance meeting on board a train. Jesse persuades Celine to get off the train with him in Vienna. They spend the few precious hours before sunrise getting to know each other and falling in love. 
2. An Officer And A Gentleman
The iconic final scene isn't the only reason why An Officer And A Gentleman is (almost) at the top of my list. I love this film more for Paula (Debra Winger)'s growing love for Zack (Richard Gere). The desperation she feels at the thought  of losing him gets me every time.
1. When Harry Met Sally
My favourite romantic movie is When Harry Met Sally! I have watched this film hundreds of times. I love it and think Harry's last speech is perfect: "When you realize you want to spend the rest of your life with somebody, you want the rest of your life to start as soon as possible."
So there you have it... my top 50 favourite romantic movies.
What do you think of this list? What have I missed out? What would you remove? 
Do let me know! Leave me a comment in the section below!