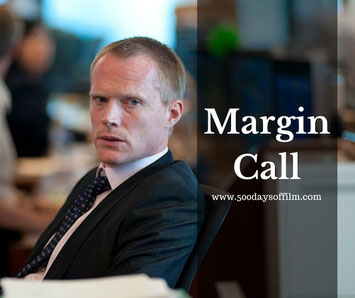 500 Days Of Film Reviews Margin Call And Finds A Tense And Thrilling Drama About The Global Financial Crisis
Could you imagine being the first person to discover the start of a global financial crisis?
This is just what happens to entry-level analyst, Peter Sullivan (Zachary Quinto), in Margin Call. 
Late one night, the former rocket scientist, puts two and two together and foresees a disaster.
Sullivan puts in a panicked call to his boss, Will Emerson (Paul Bettany), who, in turn, calls his boss Sam Rogers (Kevin Spacey). The severity of the situation soon leads to the involvement of the most senior figures in the bank.
And so begins a tense and dramatic 24 hours.
The small group of bankers have to figure out just what to do next. Before the night is over, they will have to make decisions that will bring every one of them to breaking point.
Is It Any Good?
It is hard to believe that Margin Call is director J. C. Chandor's first feature. Released in 2011, this brave and assured film holds us in its vice-like grip from start to finish.
No easy feat for a film that takes place largely in investment bank meeting rooms and steadfastly avoids the use of theatrics as a way to make its complex subject matter more accessible. 
In the end, Margin doesn't need any of that. Instead it relies on a razor sharp script and superb performances from its extremely impressive cast.
Zachary Quinto is superb in Margin Call. It is his look of dawning shock and horror that informs us of the true gravity of the situation. This look, this gradual realisation of the crisis ahead, is then mirrored by Sullivan's senior management team in a series of effective and extremely tense scenes.
Meanwhile, Paul Bettany shines in this film. He is our guide. He tells us how it is - and he doesn't sugarcoat the issue. Bettany is completely convincing and gets probably the film's only grand speech - a speech that gives us pause for thought when we consider who is to blame for this crisis.
You see, Chandor is not interested in painting bankers as pantomime villains. The real situation is, of course, so much more complex. This is something that Margin Call reflects so well.
We see Kevin Spacey's character, Sam, racked with guilt over what he has to do to ensure the firm's survival. We see the desperation in Stanley Tucci's portrayal of Eric Dale. Each character is like a rat in a trap - forced to ignore what is right in the endless fight for the survival of the bank.  
Loyalties are pushed to their limits and morals are tested. No one is left unscathed. 
I would really recommend you watch Margin Call if you haven't already - and if you have, see it again...this film more than deserves another viewing.   

Random Observations
There have been a number of films released in recent years that have tried to make sense of the global financial crisis. I think Margin Call is my favourite.
However, I have also really enjoyed The Big Short and the documentary, Enron: The Smartest Guys In The Room. Meanwhile, 99 Homes (starring Michael Shannon and Andrew Garfield) would be an excellent companion piece.
J. C. Chandor directed A Most Violent Year starring Oscar Isaac and Jessica Chastain. I watched this film recently and was absolutely gripped. Review to come soon! Chandor also directed All Is Lost starring Robert Redford.
Have you seen Margin Call? If so, what did you think of this film?
Let me know in the comments section below.