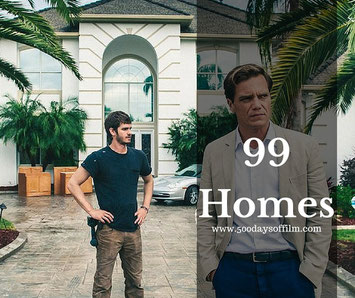 500 Days Of Film Reviews 99 Homes And Finds A Gripping Drama About The Impact Of The Global Financial Crisis
Dennis Nash (Andrew Garfield) is desperate. Struggling to find work, he, his mother and his son are about to lose their beloved family home.
When the dreaded eviction day arrives, Nash pleads with the police and real estate broker, Rick Carver (Michael Shannon). However, his pleas fall on deaf ears.
The tragic fact is that they have heard it all before. In fact, as the US housing crisis takes hold, they hear it several times a day.
Is It Any Good?
99 Homes is a tense and fascinating film.
Not only does it show us the real impact of the US mortgage crisis but it also makes us ask - what would we do if we were in Nash's shoes? 
He has lost everything and feels solely responsible for getting his family back on its feet. He needs to work and yet he can't find any means of gainful employment. So when the slimy Rick Carver offers him a cash in hand job you really can't blame him for taking it.
Where 99 Homes is really clever is in the way it presents Rick Carver.
At the beginning I couldn't stand him - for me he was the villain of the piece. He is, after all, making millions out of the misery of others.
However, just as Nash finds, the more we get to know Carver, the more we start to see his point of view. After all this is not an ideal world. Good guys don't always win and "America doesn't bale out losers".
If Nash doesn't do this work, someone else surely will. Yep this film is a sneaky one alright. I could completely understand how Nash could be seduced by the story that Carver is selling.
Having made his decision, 99 Homes follows Nash all the way to the film's tragic conclusion. And it is an intense and dark journey thanks to superb performances by both Andrew Garfield and Michael Shannon. 
I really enjoyed 99 Homes - this film is both a gripping thriller and a thought provoking cautionary tale. I would highly recommend it.
Random Observations
99 Homes came out on DVD in the same week that saw the cinema release of The Big Short (Click here to see my review of The Big Short. Having watched both films within days of each other, I feel that they complement each other very well. 
Laura Dern gives another brilliant performance in this movie. I'm really enjoying her work - even when she doesn't have much screen time she makes a lasting impact.  
Who can give a more intense glare than Michael Shannon? I simply can't think of anyone. He is a fantastic actor who, in my humble opinion, doesn't get the praise that he deserves. If you enjoyed him in 99 Homes, I would recommend Take Shelter.
Have you seen 99 Homes? 
If so, what do you think of this film? Do let me know in the comments section below!