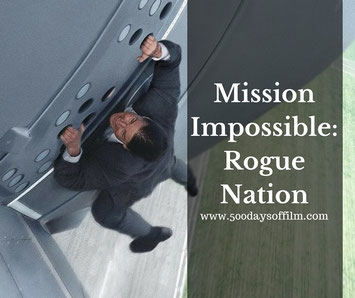 500 Days Of Film Reviews Mission Impossible: Rogue Nation And Finds A Thrilling Action Flick That Doesn't Take Itself Too Seriously
"The IMF is uniquely trained and highly motivated. Specialists without equal, immune to any counter measures. But it is an agency of chaos." 
So says Alan Hunley (Alec Baldwin). Hunley is responsible for the oversight of the IMF and he believes the organisation should be shut down.
No matter that Ethan Hunt (Tom Cruise) and his team are closing in on the sinister Syndicate - a rogue nation as highly trained as the IMF itself. No matter that this Syndicate appears to have extremely evil plans afoot.
With Ethan on the run and the IMF disbanded, our fractured team decide to risk it all for what might be their final mission - to take down the Syndicate.
Is It Any Good?
When I was reviewing Mad Max: Fury Road I started to think about the different ways we enjoy film. Depending on our mood, we may want to fall in love, to laugh, to cry or to be scared silly. And sometimes we just want to have fun.
Mission Impossible: Rogue Nation knows exactly what it is on our screens to do - it knows what we, the audience, wants it to deliver. And then it delivers.
The action set pieces in Mission Impossible: Rogue Nation are impressive. From the now famous scene where Tom Cruise… sorry, Ethan Hunt clings on to an airplane as it takes off (and I mean the outside of that airplane) to a heart stopping motorbike chase - the action never stops.
Equally impressive is Tom Cruise himself. He is, of course, an extremely charismatic screen presence. However, kudos to him for working as hard as he does on the action scenes. He goes above and beyond in this movie - but he looks like he is enjoying every minute.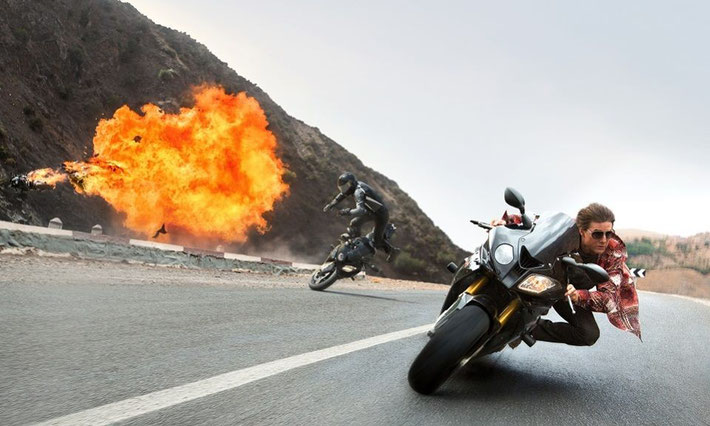 Mission Impossible: Rogue Nation is entertaining fun and, with the help of one key ingredient, all of its elements blend to create a thrilling movie experience. 
Yes of course it is nonsense. Of course the mission isn't ever going to be impossible. No one thinks the IMF team is going to be beaten. The enjoyment is in watching them figure it all out. 
Oh and that vital ingredient that I mentioned? Well that's the humour. Mission Impossible: Rogue Nation never takes itself too seriously. Beneath the action lies a comedic heart. And we have Simon Pegg's Benji to thank for that. 
If I had to criticise this film, it would be for its treatment of women. Rebecca Ferguson plays Ilsa Faust (oh yes that is actually her name). The good news is that she is as tough as Ethan - she can certainly hold her own. She is also nuanced - we are never sure what side she is on. 
All good so far… but there are two scenes that let the film down. One where Faust wears a truly ridiculous dress to an occasion where, shall we say, you don't need additional trip hazards. That just annoyed me. 
Two, there is a scene around a pool where I felt that the film slipped 1970s Bond territory. There is a reason in the plot why she is in swimwear. However, it just all felt a tad leery to me. 
Apart from that, I thoroughly enjoyed Mission Impossible: Rogue Nation. It is entertaining, funny and the action sequennes are impressive. Who could ask anything more?
Random Observations
Apparently, Tom Cruise learnt to hold his breathe for six minutes in order to film a key scene of this film. 
Have you seen Mission Impossible: Rogue Nation? What did you think of this film?
Let me know! Leave me a comment in the box below!