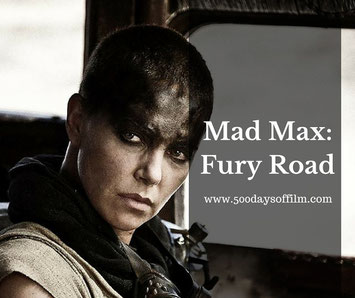 500 Days Of Film Reviews Mad Max: Fury Road And Enjoys 120 Minutes Of Thrilling Action And Utter Carnage - Marvelous...
Mad Max: Fury Road takes place in a barren, post-apocalyptic world.
Max (Tom Hardy), escapes the clutches of evil warlord, Immortan Joe (Hugh Keays-Byrne), and joins Imperator Furiosa (Charlize Theron) on a dangerous road trip.
Furiosa is attempting to rescue a group of female prisoners and take them to a promised land - a place that she remembers from her childhood.
Let the carnage commence…
Is It Any Good?
I really enjoyed Mad Max: Fury Road. It has been 30 years since director George Miller's last Mad Max installment and so probably high time for a revisit.
If you think that the plot of Mad Max: Fury Road is one long road trip inspired action set piece, you would be pretty much correct. Believe me, there is plenty fury and lots of road here. The action barely stops and it is all crazier than a box of frogs.
I enjoy films for all sorts of reasons. Sometimes it's the story, sometimes it's the characters. And sometimes it is just fun to watch non-stop bonkers action. The action in Mad Max: Fury Road is incredible.
George Miller built all of his sets for Mad Max: Fury Road so that what we see is real and not just a series of digital effects. As a result, when cars slam into each other we can feel their explosive contact. We can sense the massive weight of these vehicles - and that makes a big difference.
However, action is all well and good. But, for me, there also has to be a hook. Otherwise, why would I engage with a film? Why would I care?
In this film, the hook is not Max (although Tom Hardy gives another superb performance) it is Furiosa. She is just awesome - largely down to Charlize Theron's powerful portrayal. And Mad Max: Fury Road is her story. 
I also liked Nicholas Hoult as Nux in this movie. I didn't think I was going to enjoy his character at first, but then he won me over.
Among all the crashes and bangs and electric guitar flame throwers, are touches of heart and glimpses of an interesting story behind all the action.
I would recommend Mad Max: Fury Road if you are in the mood for a gripping, non-stop action movie with a brilliant female lead. Turn it up and let it go!
Random Observations
Have you seen Mad Max: Fury Road?
What did you think about this film? Do let me know by leaving a comment in the box below!