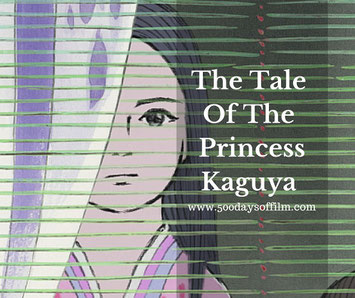 500 Days Of Film Reviews The Tale Of The Princess Kaguya And Finds Exquisite Animation And A Magical Story
One day, a bamboo cutter makes a startling discovery: he finds a tiny girl in a stalk of bamboo.
Instantly protective, he rushes back to his rural home and shows his wife.
For the bamboo cutter's wife, there is no question as to what they should do next. She decides that they should raise this little princess as their own child.
The doll-like girl then transforms into a baby. However, she does not remain small for long. She grows at an almost supernatural pace - causing the children nearby to give her a nickname: little bamboo.
Little bamboo is happy living in her family's simple countryside home. However, her father believes that she was put on this earth for a greater purpose - to become a true princess.
However, Princess Kaguya is equally determined to resist her father's wishes and to be true to herself.
Is It Any Good?
The Tale Of The Princess Kaguya is simply wonderful to watch. The film features stunning hand drawn animation - it really took my breath away. 
Animation in this style feels a world away from the CGI to which we are all well accustomed. This seems perfectly fitting as The Tale Of The Princess Kaguya also feels a world away from the animated stories that we are used to as well.
The story is based on an ancient Japanese folktale. I have not read or heard this tale but critics suggest director, Isao Takahata, stayed close to the original story.
The Tale Of The Princess Kaguya is truly magical - I was completely captivated and so were my children. We all loved the animation. 
Meanwhile, the voice acting - particularly by James Caan as the bamboo cutter, Mary Steenburgen as the bamboo cutter's wife and Chloe Grace Moretz as Princess Kaguya - is superb.
However, (as much as it pains me to criticise this beautiful movie), at 187 minutes, it did feel overlong. I could have done with less of the slapstick scenes involving the suitors if I am honest.  
The ending, when it came, felt unsatisfactory and problematic - I was left wishing that the film had finished earlier at the end of a wonderful dream sequence.

That is not to suggest that I want or expect all films to end on a 'happy ever after'. I just felt that this movie could have benefited from a more subtle conclusion - perhaps one where you could read the end in a number of ways.    
Despite these two points, I thoroughly enjoyed The Tale Of The Princess Kaguya and can't wait to watch more films from the wonderful Studio Ghibli.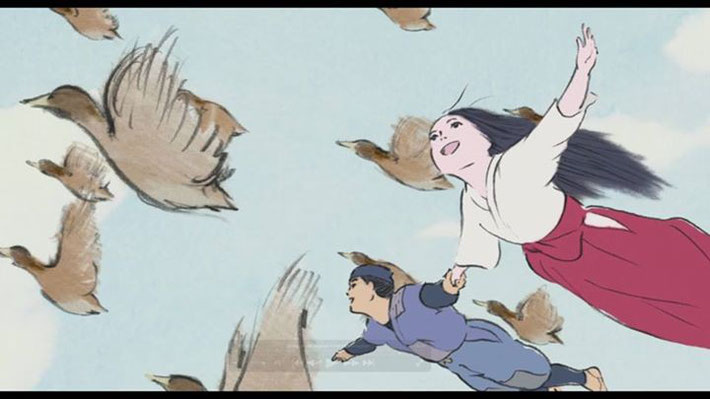 Random Observations
In 1985, Isao Takahata and his friend and fellow animator Hayao Miyazaki (who directed one of my all time favourite animated films, My Neighbour Totoro), founded a Japanese animation studio called Studio Ghibli.
This film contains a couple of scenes featuring female nudity during breastfeeding. This is entirely in context and (obviously) completely natural. The movie also contains a short scene of mild violence.
The Tale Of The Princess Kaguya was nominated for an Oscar. It lost to Big Hero 6.
Have you watched The Tale Of The Princess Kaguya? If so, what did you think of this film? Do you agree with me about the ending?
Whatever the case, let me know in the comments box below!