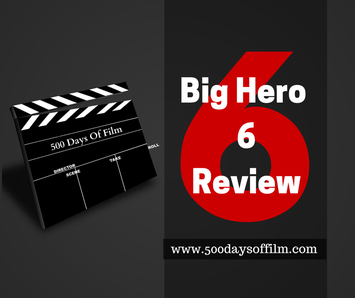 500 Days Of Film Reviews Big Hero 6 And Finds A Gorgeous Animation With Intelligence, Humour And Heart
Hiro is a young boy with huge potential in the field of science and engineering.
When his brother, Tadashi, takes him to visit his place of work, Hero becomes inspired and develops a host of amazing microbots.
These tiny microbots can work together to build anything that a human mind can imagine.
However, the microbots attract attention from an evil figure who will stop at nothing to steal Hero's creation - with deeply tragic results.
Hiro has to form a bond with a special robot, Baymax, in order to uncover who stole his microbots before they are put to devastating use.
Is It Any Good?
I love this movie. I must have watched it five times and I could easily sit and watch it again now.
The filmmakers have just ticked all the boxes necessary for a great animated family movie.
Great story told with humour and intelligence - tick. Characters that you care about - tick. Action and adventure - tick. A robot that you desperately want to be real and in your home like stat - tick, tick, tick.
Apart from the brilliant characters and the wonderful storytelling, Big Hero 6 also looks gorgeous.
The film is set in the fictional city of San Fransokyo and I just want to go there. Really - can't someone turn this into some sort of virtual reality? I want to wander those streets and take a good look around.
It is just so rare to find a movie that I can watch with the kids and enjoy as much (and arguably more) as they do. Every time I watch Big Hero 6 I laugh - a lot.
Oh and I also cry a bit too. But as we all now know (thanks Pixar) sadness is okay. 
I am always so impressed by how Big Hero 6 deals with its more emotionally difficult themes.
Things are what they are - no one tries to sugar coat anything or even tell you how to feel. The film is tinged with sadness but, in the end, that is okay.   
Random Observations
I want Baymax - how awesome would that be? 

Have you seen Big Hero 6?
Do you love it as much as I do? Whatever the case, let me know in the comments section below.