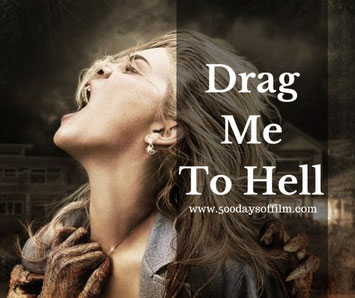 500 Days Of Film Reviews Drag Me To Hell And Finds That You Should Always Give Spooky Old Women Loan Extensions...
Christine Brown (Alison Lohman) is a loan officer in a small Los Angeles bank.
She is up for a promotion. However, her scheming colleague, Stu, is also in contention for the job. 
The trouble is that Christine is just too nice and her boss is unsure that she can make tough decisions.
Thinking that she needs to act tough if she is to make progress in her career, Christine refuses an old gypsy lady (Lorna Raver) an extension on her home loan. 
Big mistake. Huge.
The gypsy woman puts a curse on Christine - a curse that will, if she can't stop it, see her dragged to hell in just three short days.
Is It Any Good?
Boy did I enjoy October this year. I watched so many horror films and had so much fun. Some of these films I had seen before and some were all new to me.
The more that I talk to people about my 500 Days Of Film Challenge, the more I realise that horror fans are brilliant. Just ask for a scary movie recommendation and you will be overwhelmed with scores of great suggestions. The excitable glee in sharing film titles is infectious.
This month one horror film kept getting recommended to me - Sam Rami's Drag Me To Hell. 
So many people love this film and they just couldn't wait for me to watch it. Who am I to refuse? 
As a result, last Friday, I sat down to watch Drag Me To Hell. And I loved every exhilarating minute. This film is pure scary fun!
The film's success relies heavily on the superb performance by Alison Lohman as Christine. She is a nice girl, with a nice life and a nice boyfriend (Justin Long). She is a girl who plays by the rules - until she realises that those rules are getting her nowhere. 
Unfortunately, this quickly backfires - and in the most severely scary way imaginable.
However, Christine isn't just a scream queen. She rises to the challenge (of her life) in a remarkable way - she is really strong and proactive. I don't think I would have enjoyed this film anywhere near as much if she had been just a passive victim of circumstance. 
There are plenty of jump scares and the tension is builds steadily as she has only three days in which to beat the curse.
There isn't much gore but Christine is certainly put through a lot - and much of that involves some pretty icky stuff. I have to admit that, on top of feeling jumpy and scared, Drag Me To Hell made me feel quite squirmy too.
However, Rami manages to make that discomfort more over the top fun (albeit repulsive and grotesque) than unpleasant torture porn and the film's adrenaline fueled pace means that no situation is dwelt on for longer than a few seconds.
In addition, for all the scenes in Drag Me To Hell that are jumpy and scary, there are just as many that are really very funny. I won't give anything away but I laughed out loud several times.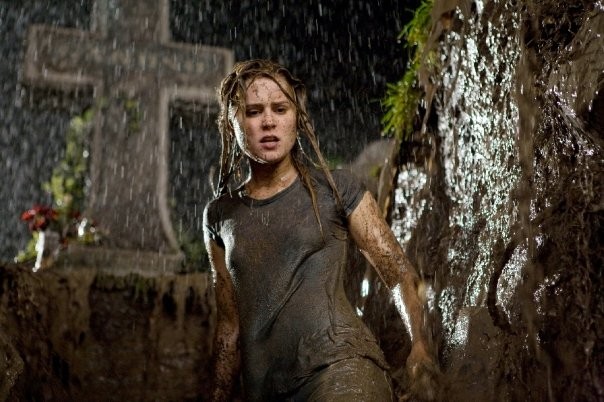 I had such fun watching Drag Me To Hell. Yes, you could argue that some of the gross out scenes were a bit repetitive and yes, you could argue that the ending is a bit troubling.
Also, I am not sure what to make of the fact that it didn't frighten me (save for the few jump scares) or even make me feel uneasy afterwards. However, I had such a fun time watching Drag Me To Hell that I think I am going to have to come up with a new sub-genre in my 20 awesome horror films list! 
Random Observations
I love Justin Long in this film - he is the perfect supportive boyfriend - pretty much.
Have you seen Drag Me To Hell? Let me know what you thought about this movie in the comments section below!