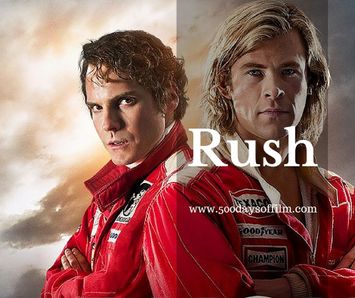 500 Days Of Film Reviews Rush And Finds That The True Star Of Rush Is Its Cinematographer
Rush is Ron Howard's 2013 film about the fierce rivalry between Formula One race drivers Niki Lauder and James Hunt.
This is a fabulous film and (much like Asif Kapadia's Senna) is well worth watching whether you are a motor racing fan or not.
Chris Hemsworth is impressive as James Hunt and Daniel Brühl turns in a haunting performance as Lauder. Howard's direction is superb and Hans Zimmer's soundtrack is brilliant.
However, the real star of the show (for me) is its cinematographer, Antony Dod Mantle. I was left astounded by the look and feel of Rush. I left the film desperate to find out more about how this film created such realistic and gripping F1 racing scenes.
The Cinematography Of Rush
Born in England and now a permanent resident of Denmark, Anthony Dod Mantle started his cinematography career by working on three Dogme 95 films (the film making movement started in 1995 by the Danish directors Lars von Trier and Thomas Vinterberg).
One of these films was von Trier's controversial movie, Antichrist.
In 2009, Dod Mantle won an Oscar for Best Achievement In Cinematography for his work on Danny Boyle's Slumdog Millionaire. 
He was then attracted to Ron Howard's vision of Rush - primarily because of the film's focus on the drama between Hunt and Lauder. He was also interested in convincing Howard to shoot digitally for the first time.
However, Rush was a tricky proposition. In an interview with Ideas Tap, Dod Mantle recalls that: "Rush was incredibly complicated because I had to make a period film set in the 70s, shot on an assortment of equipment and combined with archive film. The flagstones of the film weren't scenes that we created with modern techniques and expensive post-production; the flagstones were historic races. 
"We had to take the historic film of races, adjust it in post-production and make it look the way I wanted it. I had to then design the rest of the film around that."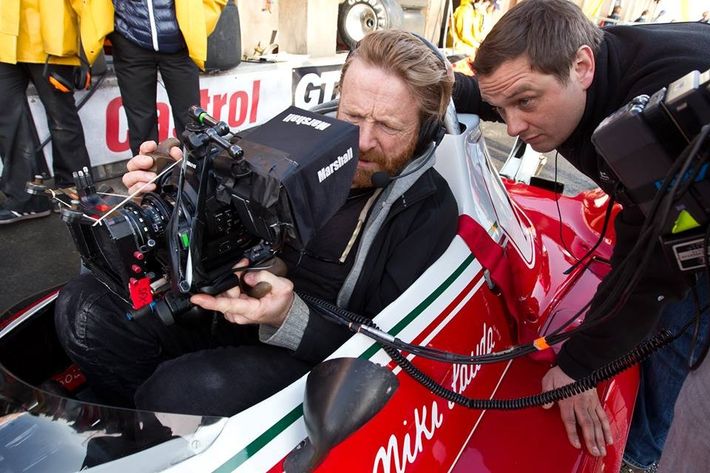 It is truly fascinating to read about Dod Mantle's preparation for Rush. For example, he had to match his film with the archive footage from 1976 (the film features shots of the actual crowds and racetracks). There was no chance of recreating everything within the film's under $40m budget.
In an interview with Screendaily, Dod Mantle explains that "What we were shooting had to marry with the archive so the footage didn't 'bump'. Aesthetically I didn't want it to bump - just like I didn't want the cars to bump."  
Dod Mantle was meticulous in creating Rush's authentic look and feel. He searched everywhere to find camera lenses made in the 1960s in order to capture the spirit of the time. He then attached those lenses to his modern day equipment to achieve the best of both worlds.
One of the most impressive things about Rush is its ability to make you feel as if you are actually in the cars with the racing drivers. To achieve this Dod Mantle used a camera (the IndieCam GS2K) small enough to fit into tiny spaces. He got to know F1 racing cars pretty intimately as he drilled holes all over them (including exhaust pipes!) in order to position his cameras. 
He also developed a slider system for this film that saw remote controlled camera set-ups fixed onto the race cars. In the article, Dod Mantle explains that he "would be driven in front of the car at 100mph, looking at a monitor and then try to make camera moves via remote control in the thick of the race."
Both Howard and Dod Mantle knew that they had to get Lauder's tragic crash spot on.
Dod Mantle studied the real footage on YouTube. (This footage was apparently taken by a young child using a Super 8 camera.) 
Filming at exactly the same place on the Nurburing circuit where the crash happened, Howard used a real racing car for some of the spin and to create a fireball. He then used CGI to portray the detail of the crash. 
However, this was not enough for Dod Mantle. He knew how crucial this scene would be in terms of the film's wider narrative. For it is at this point that the film's story pivots and becomes more about Lauder and his phenomenal determination.
As a result, Dod Mantle, donned a burn suit and got into the burning car in order to shoot through the flames - all the time imagining the horror that Lauder must have lived through.  
Is it just me or is that just awesome? Feel like I am geeking out here a bit!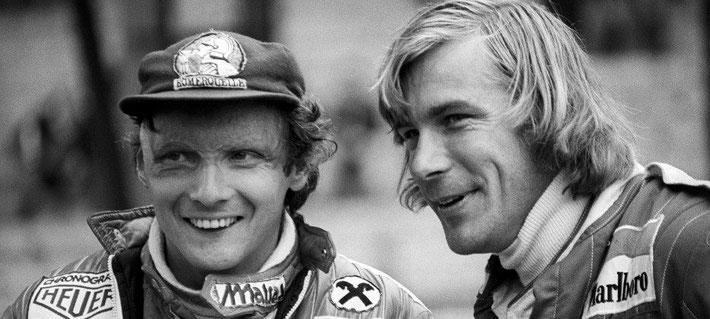 Despite this painstaking and often frustrating work, Dod Mantle also found that the aesthetic of the footage was "a very painterly and, what I thought, an inspiring, visceral, sexy, color palette, and not the desaturated, golf ball grain, sadness of '70s. 
"In Monaco, I was particularly struck by the yellow, cyan, and red. It's not pristine -- it has grit. The drivers were eccentric and raggedy; they had dirty underwear and bad hair, in comparison to multi-millionaire motor racing drivers now and their entourage."
Random Observations
I have really enjoyed researching Anthony Dod Mantle's work on Rush. Goodness me, we hear so much from the actors when often it is the people behind the scenes that are most fascinating. 
Have you watched Rush? What did you think of this movie. Were you as blown away by the cinematography as me? Do let me know in the comments section below!
Oh and if you did enjoy Rush, have you also seen Senna? If not, I would highly recommend that you do...