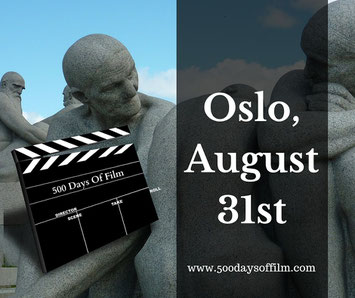 500 Days Of Film Reviews Oslo, August 31st And Goes On A Bleak Journey With A Recovering Drug Addict 
Two weeks before his release from a drug rehabilitation centre, Anders (Anders Danielsen) is allowed out for the day to attend a job interview in Oslo, Norway.
He takes this time to drop in on old friends, attempt to have lunch with his sister and to visit his old haunts.
He needs to discover if, post recovery, he has a place in the world.
Is It Any Good?
I found Oslo, August 31st to be an almost unbearably bleak film. Did I enjoy it? Well, my honest answer really has to be no. Was I meant to enjoy it? Again, I think not.
I can see that this is an impressive movie. I appreciate its beautiful cinematography and wonderful, truthful storytelling. Both kept me gripped to the very end. 
I also so admire the performances in the movie. Anders Danielsen is superb in his role as Anders. He was completely true to his character and I believed him and felt his pain. 
The other people that we meet in Oslo, August 31st also feel real and their actions seem natural. However, they are shown to us through Anders' filter of depression and despair. 
As a result, all of their lives are paired down to meaninglessness. And that was tough for me to watch and comprehend.    
Of course, not all films are rainbows and unicorns and I certainly wouldn't want that to be the case. I have watched many movies that have not been enjoyable to watch in the conventional sense (am thinking of Shame here, which I watched a few days before this film). However, they did not leave me with the sense of hopelessness that this film did.
I  know that this is a good film, a powerful film. It is just that, for all of its important observations and performances, Oslo, August 31st left me feeling hollow. 
Random Observations
Have you seen Oslo, August 31st? If you have, I'd love to know your thoughts. Leave me a comment in the box below!