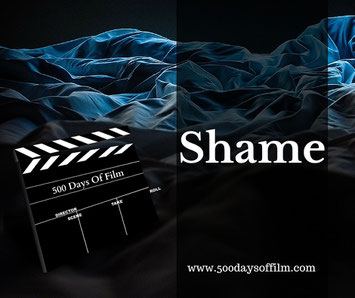 500 Days Of Film Reviews Shame And Finds A Powerful, Heartbreaking Film About Addiction
Brandon (Michael Fassbender) appears to have it all.
He is charismatic, handsome and successful in his job. 
However, beneath the surface, there lies a very different person. 
Someone in great pain. Someone so damaged by his past that he cannot love or allow himself to be loved. 
Someone struggling to cope with the shame of sex addiction. 
When his sister Sissy (Carey Mulligan) comes to stay, everything that Brandon has tried so hard to hide begins to unravel and he starts to lose control.
Is It Any Good?
I did not enjoy Shame. 
I don't think I was meant to enjoy Shame. 
However, this is one of the most powerful and affecting films that I have watched during my 500 Days Of Film Challenge.
And, while I first watched this movie two days ago, I know that it will stay with me for a long, long time.
Director, Steve McQueen, is a master storyteller. No exposition needed, he lets his camera tell the tragic tale. We are witness to Brandon's addiction in scene upon scene - each more extreme than the last and each creating an overwhelming sense of dread.
There is no enjoyment in the sex, no intimacy, no love. Instead, Brandon uses sex to escape from his troubled life and, then, as a means to self harm. His mental and emotional breakdown is truly horrifying.
We are not told why Brandon has this form of addiction. There is a hint that Brandon and Sissy have been damaged by their childhood. However, the film does not elaborate - leaving us to imagine what could have left both brother and sister so traumatised. 
Shame is a stunning film that confronts a difficult subject. In the wrong hands, it could have been sleazy and exploitative. Thankfully, it manages to avoid these pitfalls both as a result of McQueen's brilliant direction and also because of its truly courageous performances. 
Michael Fassbender is incredible. His performance is astoundingly brave. From the start, he allows us to see every distressing and unsettling aspect of his addiction - both physically and emotionally. 
I was just so impressed by how Fassbender portrays Brandon's story. He is, of course, very handsome and this is more than apparent when Brandon is out socialising with work colleagues. However, you are all too aware that this is only a mask.
The only time Brandon's face lights up is when he makes a brief connection whilst out on a "normal" date.
However, as he starts to self destruct, his face becomes contorted. He is almost unrecognisable. When he succumbs to his addiction, he seems monstrous, afterwards his face appears shattered, broken. 
This film is not just about Brandon's addiction. It is also about how he attempts to live with his shame. He knows that the way he views sex is destroying his life and any chance of future happiness. The question is, can he stop before it is too late? 
Brandon's sister, Sissy, is the catalyst that forces him to address his lifestyle. Carey Mulligan is superb (and also so brave) in this role. You sense her desperation, her pain and, of course, her own shame. 
One scene stands out in particular- where Sissy sings New York, New York. This must be the saddest, most poignant version of this song that I have ever heard. 
Shame is an amazing film featuring some incredible performances - a thought provoking, challenging movie that left me heartbroken for its central characters.
Random Observations
I still feel blown away by Michael Fassbender's performance. 
Have you seen Shame?
I'd love to know what you thought of this film. Let me know by leaving me a comment in the box below!