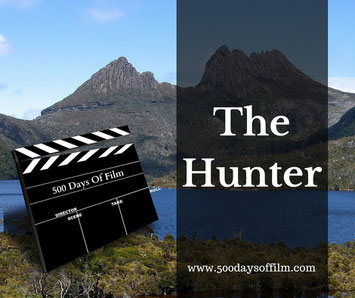 500 Days Of Film Reviews The Hunter And Finds An Atmospheric Thriller With A Powerful Performance From Willem Dafoe
Martin (Willem Dafoe) is an animal hunter and he works alone. 
When asked by shady biotech company, Red Leaf, to track down and capture a Tasmanian Tiger, thought by many to be extinct, he accepts the job without question. 
Martin excels in his work by detaching himself from the moral implications of his job and also from the rest of society.
Little does Martin realise that this will prove his greatest challenge yet and will force him to question both his life and work.
Is It Any Good?
I am ashamed to admit that The Hunter had completely passed me by. I wasn't aware of it or what it was about. 
I do believe that this is often the best position to be in for movie watching - one that is pretty rare really. I didn't have any preconceived opinions about The Hunter and I wasn't feeling swayed by the thoughts of others.
And?
Well, The Hunter it was brilliant. I thoroughly enjoyed this film. It was surprising, shocking and really rather moving.
So what, you might ask, elevated The Hunter from being just a run of the mill thriller? Two words: Willem Dafoe.
He is superb in this film. All of the performances are strong but his is mesmerising.
Martin begins the story out happy to be alone. He has a job to do - everything else is irrelevant. He is quite like George Clooney's character in The American now that I come to think.
However, after he moves into his lodgings (a base from which to set out on his expeditions) he encounters two young children, Sass and Bike, who also live there. Their father has gone missing and their mother, beset by grief, is unable to care for them.
Sass and Bike (not their real names) force Martin to engage with them. He tries to remain detached but his resistance weakens so obvious is their need for care and attention.
Meanwhile, he sets off on several hunting trips in order to track down the elusive/extinct Tasmanian Tiger. These trips are fascinating and wonderfully atmospheric as Martin uses his skills and expertise to survive in the Tasmanian wilderness. 
The Hunter is as much about the capture of a rare animal as it is about the transformation of Martin's character. Deep down he needs to make a connection - before it is too late. 
Random Observations
Unlike with The American, I felt engaged with this story. I really cared about Martin and the family he stays with during his hunt. The film has stayed with me.
I did think the bath scene was a little odd - I would have felt mortified in the circumstances!
Need to watch more from Willem Dafoe. Much more.
Have you seen The Hunter? What did you think? Did you enjoy it as much as me? If so (or, of course, even if not) let me know in the comments section below!