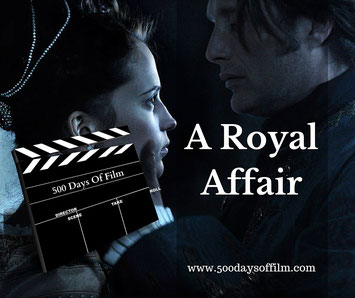 500 Days Of Film Reviews A Royal Affair And Finds A Fascinating True Story With Passion And Depth
A Royal Affair tells the true story of Princess Caroline (Alicia Vikander) who is unhappily married to the mentally troubled King Christian VII of Denmark (Mikkel Boe Følsgaard). 
Increasingly isolated, she finds herself attracted to Johann Struensee (superbly portrayed by Mads Mikkelsen), the King's physician and confident.
The two embark on a passionate affair and endeavour to use their influence with the King to bring enlightenment and freedom to their people. 
Is It Any Good?
I am not a big fan of period films. There is something about the costumes and wigs that feels rather off putting. As a result, I wasn't really looking forward to watching A Royal Affair.
I couldn't have been more wrong. I loved this film so much - it is brilliant.
So, why would I recommend that you watch this Danish film?
Well, for a start. this true story is a fascinating one. It is also supremely well told - I couldn't believe how tense I felt while watching the events unfold. 
I didn't know anything about this love triangle and wasn't aware of how it all ended. Well, suffice to say that the drama of this film is so gripping that I had to keep reminding myself that it was all based on historical fact. 
All of the performances in A Royal Affair are fantastic - particularly from Alicia Vikander and Mads Mikkelsen. Both are just superb.
In addition, A Royal Affair looks stunning. The costumes are beautiful and the location shots are gorgeously cinematic.
In short, I loved this movie. And thank goodness once again for my 500 Days Of Film Challenge.
Do see A Royal Affair if you have a chance. It is well worth your time.
Random Observations
Have you seen A Royal Affair? Do you, like me, love this movie? If so, let's gush together in the comments section below. If not, let me know why I have this all wrong!

Photo courtesy of Magnolia Pictures.