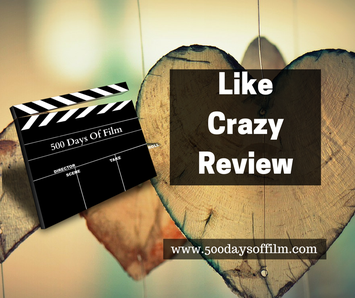 500 Days Of Film Reviews Like Crazy And Finds A Sweet, Romantic Film About The Promise Of Love
Anna meets Jacob at college in Los Angeles. The two start a relationship and are soon inseparable.
However, Anna's visa is due to expire and she will have to return to England.
The two cannot stand the idea of being apart and so Anna decides to overstay.
This decision will have a major impact on both of their lives.
Is It Any Good?
You couldn't get two more different films than the two that I have just watched. The last film that I reviewed, Haywire, was full of action and revenge.
Like Crazy is full of - well - stillness and long looks into the far distance. Ah, I do love my film challenge!
I enjoyed Like Crazy - it is sweet and is driven not by action but by the development of the characters.
Director, Drake Doremus is true to his story and to his characters. I loved the way the film made me feel as if I was watching a real relationship blossom - and then be severely tested.
The element of realism in Like Crazy is boosted by the fact that much of the dialogue is improvised.
In addition, the love story is given added intensity by being shot by a handheld camera.
I do have to admit, that there were moments in the film when I felt like shouting at both characters to stop moping around and get on with their lives. It was all rather annoying and frustrating at times. 
However, I really liked the way the film ended - there was no neat bow to the story and no real final happily ever after ending.  And this felt brave and true.
Random Observations
Felicity Jones is superb in her role of Anna. 
Is it me or was Jacob's chair pretty ordinary looking?
Simon has to be one of the creepiest boyfriends ever… discuss! 
Have you seen Like Crazy? Do you agree with my review? Whatever the case, I'd love to know your thought… why not leave me a comment in the section below!