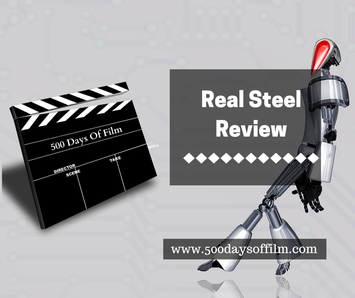 500 Days Of Film Reviews Real Steel And Finds A Fun And Enjoyable Family Film. Plus Some Exciting Robot Fighting - Yes Really!
In the near future, robots have replaced humans in the boxing ring.
Ex-fighter, Charlie Kenton (Hugh Jackman) struggles to earn a living by promoting and controlling these robots.
However, he is down on his luck and in debt with all the wrong people.
During a custody hearing for his estranged son Max (Dakota Goyo), Charlie spies a way to get the money he needs to buy a new robot. He makes an arrangement with Max's uncle Marvin to relinquish his parental rights - for a fee. 
However, Marvin has one condition. Max has to spend the summer with his father.   
Is It Any Good?
Over the past couple of weeks, my film viewing has been pretty intense. While I have enjoyed most of the movies that I have watched it has been no barrel of laughs!

As a result, I was delighted to find Real Steel on my list (at number 63 but who's counting!). I felt that an action movie would give me a much needed break from all the emotional angst.
I was also pleased to see Real Steel because I could watch it with my kids and involve them in my 500 Days Of Film challenge. They do love a good movie night and I love watching films with them.
Now, I didn't really expect much from Real Steel. What I did expect to find was a bunch of cliques wrapped up in a well worn story. And I wasn't disappointed - the plot holds few surprises.
Despite all this, I really, really enjoyed this film. 
Hugh Jackman is brilliant as Charlie and Dakota Goyo engages as Max. I found myself getting into the robot fights and getting caught up in the story as Max trains new robot (and underdog - obvs) Atom.   
Yes, the film does have its problems. It ignores the grief Max must feel over the loss of his mother and glosses over the abandonment issues he surely must feel towards his father. 
In addition, the plot contrivance that pushes Max and Charlie together (while allowing Charlie to get the funding he needs) also seemed a little too convenient once I started to think about it more deeply.
However, this is not a film to think deeply about. It is a movie to sit back and enjoy for all its fun and enjoyable action. 
What pushed it over and above other recent robot/action fare was that it didn't feel sleazy or overly violent. In fact, this film has a big heart and a whole lot of feel good fun.
As a result, I would happily watch Real Steel again and (more than likely) again.
Random Observations
Evangeline Lilly is also very good in her role.

Turns out I am pretty good at the (of course there is one) Real Steel Xbox game. Quite therapeutic all in all.