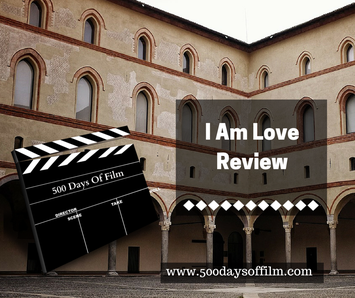 500 Days Of Film Reviews I Am Love And Finds High Drama And Tragedy Within A Wealthy Italian Family
Emma (an ever amazing Tilda Swinton) is wife and mother to a wealthy family based in Milan.
She lives to serve her husband and three children - and everything in the household runs perfectly.
However, a revelation from her daughter and a chance meeting with her son's friend changes everything in Emma's life.
She starts to explore her own needs and the possibility of her own happiness - sadly, with tragic results. 
Is It Any Good?
I really enjoyed I Am Love. 
It is a tense and gripping family drama featuring an outstanding performance by Tilda Swinton. She really is incredible in the role of Emma.
Swinton has to portray so many complex emotions in this film - her character goes on such a dramatic (and also tragic) journey. All this and she has to speak in fluent Italian that is, at times, also inflected by a Russian accent.  
I Am Love is a wonderfully good looking film. All of the locations - from Emma's home to Antonio's proposed restaurant - are beautifully shot. Every dining table is a work of art.
However, behind the designer labels and gorgeousness, Emma lives a half life. She exists on the outside preferring to organise and arrange things and then retire, alone, to her room. 
It is only when Emma's daughter, Elisabetta, decides to follow a different path in her life, that Emma starts to reassess her own existence. She realises that she has repressed her own personality, her own wants and needs.
When circumstances offer Emma a chance at happiness, you totally understand why she risks everything and takes that chance. However, the film also makes you feel nervous for her - her happy ending feels increasingly unlikely.
Random Observations
Call me a big kid but did anyone think of Pixar's Ratatouille when Emma tasted Antonio's food?
I had a slight issue with the sex scene - I just thought that the symbolism was perhaps a bit much.
I felt that this film ended all rather abruptly. However, this wasn't a real problem for me.