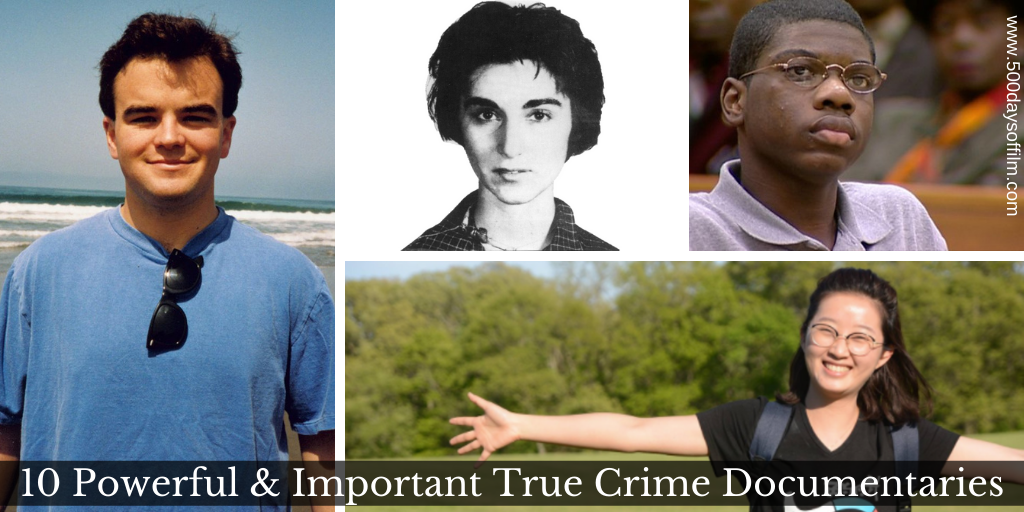 True crime documentaries draw audiences and headlines. The very best examples of this compelling genre seek not just to entertain but to raise awareness of injustice and to highlight some of the most troubling issues in society.
My favourite true crime documentaries do far more than gawk at the misfortune of others. They honour victims and survivors. They seek to understand and perhaps, therefore, prevent future criminal behaviour. They uncover miscarriages of justice and, as a result, educate us about the flaws inherent in the punishment of crime.
Let's take a look at ten of the most powerful and important true crime documentaries…
Dear Zachary
In many true crime documentaries, the victim or survivor of a crime is at best overlooked, at worst forgotten. As a result, we remain unaware of the life that was lost or forever damaged. This is not the case in Kurt Kuenne's devastating film, Dear Zachary.
In 2001, one of Kuenne's best friends was murdered. 28 year old Andrew Bagby was found dead in Pennsylvania. He had been shot. Within 24 hours of hearing this tragic news, Kuenne decided to make a film about his friend in order to process his grief and honour the impact that Andrew had made on him - and many others.
The criminal justice system often dehumanises the person at the centre of a crime. That person is described as a victim, a body, a piece of evidence. Dear Zachary keeps Andrew front and centre of its story - emphasising the fact that he was a much loved person. 
Meanwhile, Dear Zachary is not just a celebration of a beloved friend and son. It is not just a powerful, emotional portrait of grief. The documentary also contributed to real change in Canada's justice system. 
Click here to read more about Dear Zachary
Finding Yingying
In 2017, 26 year old Yingying Zhang came to the US to study. In her diaries, the gifted young scientist revealed her hopes and dreams. Full of optimism, she wrote about her professional ambitions as well as her plans to get married and become a mother.
However, six weeks after she arrived, on 9th June 2017, Yingying went missing from the University of Illinois' campus in Chicago.
With exclusive access, Finding Yingying follows Yingying's family's attempt to unravel the mystery of her disappearance, amid the challenges of being in a foreign country. All the while, Jiayan (Jenny) Shi's haunting and powerful film reminds us who Yingying was: a beloved and talented young woman.
The true crime genre would typically begin its coverage of Yingying's disappearance with news reports, labelling her as a missing person "case" and introducing a cast of characters (including investigators, witnesses and suspects). Yingying would be labelled once again - this time as a victim - before slowly disappearing from her own story.  
It is a relief, therefore, that Finding Yingying - like Dear Zachary - chooses a different path. Shi pushes the genre forward to a place where many (myself included) long for it to go - a place where a victim is a person, their humanity is restored and the wider implications of "true crime" are considered.
Click here to read more about Finding Yingying
The Witness
James Solomon's stunning documentary, The Witness, follows a brother's determined effort to reclaim his sister's life from her infamous death.
In the early hours of 13 March, 1964, 28 year old Catherine "Kitty" Genovese was murdered in Kew Gardens, New York.  According to media reports - including a New York Times article, 37 Who Saw Murder Didn't Call the Police; Apathy at Stabbing of Queens Woman Shocks Inspector, by Martin Gansberg - 38 people witnessed this brutally violent, ultimately fatal attack and did nothing. 
Society began to question if witnesses should be held accountable if they failed to act. Psychologists sought to understand bystander apathy (what would later become known as "Kitty Genovese syndrome") and politicians used Kitty's death as an example of moral decline and an increasingly uncaring America.
Kitty became a metaphor, her name a siren call for change. And change did come. Following her death, many safety initiatives were launched - including America's 911 emergency system.
Meanwhile, Kitty's murder was used in both fiction and non-fiction stories. Over that time, the real Kitty Genovese was lost among the theories, books, headlines, television episodes and films.
However, the story about her murder was based on a terrible lie.
Click here to read more about The Witness
Athlete A
In Athlete A, Bonni Cohen and Jon Shenk follow a group of incredibly talented and courageous athletes who, after suffering horendous sexual abuse at USA Gymnastics (USAG), stood up, told their stories and revealed USAG's attempt to cover-up a series of devastating crimes. 
This documentary is, of course, a tough watch at times. While Athlete A handles its subject matter sensitively, Cohen and Shenk do not shy away from what these gymnasts endured. These are facts that need to be faced. After informing us about the outrageous extent of the abuse, Athlete A then focuses on the powerful and inspiring journey undertaken by the survivors.
We witness the bravery of women such as Maggie Nicols, Jessica Howard, Rachael Denhollander and Jamie Dantzscher and understand what it took for them to speak out against USAG. Athelete A examines the impact this then had on so many other gymnasts - encouraging them to come forward with their own stories. 
Meanwhile, we hear from journalists at The Indianapolis Star who worked tirelessly to ensure that their story was heard. Not only did these reporters want to expose the sexual and emotional abuse, they also wanted to examine how it was handled by USAG. Who knew what… and for how long?
Click here to read more about Athlete A
Fourteen Days in May
Two murders lie at the heart of Fourteen Days In May, but no one believes the man sitting on death row is guilty. Paul Hamann's stunning and moving documentary explores the devastating impact of state sanctioned violence. 
The film follows 14 days in the life of death row inmate, Edward Earl Johnson, as he moves towards his scheduled date of execution. Johnson, a 26 year old African-American man from Mississippi, was found guilty of murder after signing a confession that he had not written. There was no other evidence and Johnson always denied the killing. He appealed against his death sentence for eight years in the US courts.
Hamann secures remarkable, intimate and powerful access to Johnson, his family, the prison's warden, prison guards, and other prisoners. Fourteen Days in May also features Johnson's lawyer, Clive Stafford Smith, who advocates for him and, in powerful scenes, highlights the catastrophic and devastating flaws inherent in the concept of capital punishment.
Murder On A Sunday Morning
Director, Jean-Xavier de Lestrade, was not looking for a murder when he visited Jacksonville, Florida. Instead, the French filmmaker was hoping to make a documentary about a US law firm. However, Brenton Butler's story proved too compelling to ignore - highlighting as it does issues of racism, false confessions and the nightmarish prospect of being in the wrong place at the wrong time.
On 7 May 2000, in the car park of a Ramada Inn in Jacksonville, 65 year old Mary Ann Stephens was walking with her husband when she was shot in the head. Her husband described her attacker as over 6ft tall, aged between 20-25 years and of a skinny build.
A couple of hours later, Brenton Butler was arrested for murder. He was just 15 years old, 5ft 10 and of a stocky build. It didn't matter that Brenton did not fit the description. All that mattered was that he was black and in a location nearby.
Despite having no evidence or motive, Butler's case - based on mistaken identity and a confession made under extreme duress - was brought to court. During the six months that it took for the case to come to trial, Butler was offered a lesser sentence - if he pleaded guilty to murder.
Lestrade's gripping and hugely suspenseful documentary, which won an Oscar at the 2002 Academy Awards, explores racism and examines the inner workings of the US criminal justice system. Murder On A Sunday Morning takes us on a fascinating and deeply disturbing journey.
Click here to read more about Murder On A Sunday Morning
Me And The Cult Leader
Some of the very best true crime stories examine the lasting impact of the crimes themselves. Me And The Cult Leader is one of the best examples of these films. Atsushi Sakahara's brilliant and fascinating documentary explores the legacy of a truly evil act.
Sakahara is a survivor of the 1995 sarin gas attack in Tokyo's subway system. We follow him as he goes on a journey with Hiroshi Araki, an executive of Aleph (formerly Aum Shinrikyo) - the attack's perpetrators. They visit their respective hometowns and the university that they both attended. 
During their travels, the unlikely pair talk about their lives, their families and their beliefs - developing a surprising and often moving bond. We see them laughing together, skipping stones and sharing headphones.
These intimate moments are surprising - even charming. However, the documentary never loses sight of its ultimate purpose - to find the human behind the mask of Aum and to expose the banality of evil. 
Click here to read more about Me And The Cult Leader
Click here to read my interview with Atsushi Sakahara.
The Central Park Five
According to documentary filmmaker Ken Burns, the case of the Central Park five is a scar on the city of New York. As a result, Burns, alongside his daughter Sarah and her husband David McMahon, decided to make a documentary about what happened and why.
In 1989, Trisha Meili, a 28 year old investment banker, was brutally attacked, raped and left for dead on a jog through New York's Central Park. Her injuries were so severe that she was in a coma for 12 days.
At the time, the police were aware of potentially criminal behaviour in the park from groups of young, predominantly black men. Under immense pressure to solve the crime, they believed that Meili's attackers would be found among this group. As a result, five teenagers were swept up and brought in for questioning. They were Raymond Santana, Kevin Richardson, Antron McCray, Yusef Salaam and Korey Wise. 
Despite having no evidence, questionable confessions and following a period of mass hysteria and blood lust (much of it fueled by the media), the four boys were wrongfully convicted of the attack.
I won't divulge what happened next as I do not want to spoil the documentary (or Ava DuVernay's brilliant Netflix series, When They See Us) if you do not know the details of this case. Suffice to say, when Sarah Burns (who had written her undergraduate thesis on racism and the media's coverage of the attack) began working in the office of one of the lawyers involved in a lawsuit against the city of New York in relation to the case, she felt compelled to make a documentary about the Central Park five. 
Click here to read more about The Central Park Five
West Of Memphis
On 6 May, 1993 the bodies of three eight year old boys - Stevie Branch, Michael Moore and Christopher Byers - were found in a watery ditch in West Memphis, Arkansas. 
Under significant pressure to solve the crime and in the midst of satanic panic, police arrested three local teenagers - Damien Echols, Jason Baldwin and Jesse Misskelley. Soon thereafter, the West Memphis Three were charged and then convicted of the brutal murders. 
The case was controversial from the start. It immediately drew the attention of the media. Joe Berlinger and Bruce Sinofsky (who also directed Brother's Keeper) made three films about the murders - the Paradise Lost trilogy.
The story would also come to the attention of another pair of filmmakers - Fran Walsh and Peter Jackson. They believed that the convictions were a devastating miscarriage of justice and felt compelled to use their resources to help free the West Memphis Three.
Time was of the essence. Echols was 18 when he was convicted and, as a result, had been given the death penalty and was on death row. In 2006, Walsh and Jackson focused on DNA evidence to support a legal argument for a new trial.
Incredibly, the judge dismissed the evidence. Walsh and Jackson were devastated. What could they do? What stronger weapon was there to prove Echols, Baldwin and Misskelley's innocence than hard science? And then they realised what they had left in their arsonal - the ability to use film to galvanise public opinion.
Click here to read more about West Of Memphis
The Thin Blue Line
No true crime documentary list would be complete without Errol Morris's classic, The Thin Blue Line. This film is widely recognised as one of the most important documentaries ever made - both in terms of the impact it had on the case in question and also how it influenced the way we view the documentary genre.
In 1985, Morris arrived in Dallas, Texas to work on a movie about Dr Death - a forensic psychiatrist called Dr James Brigson. Brigson believed that he could tell if a person was guilty of murder and if he or she would kill again - making the accused defendant eligable in Texas for the death penalty .
Over the course of his career, Brigson testified in 167 cases, nearly all of which resulted in the death penalty. His methods fascinated Morris who, as part of his research, decided to talk to some of the men who Brigson had helped put on death row. 
Morris interviewed around 30 inmates. One of those men was Randall Dale Adams. Adams had been convicted of the murder of Texas police officer Robert W. Wood. He insisted that he was innocent. Nothing surprising there perhaps. The vast majority of inmates interviewed said that they had been wrongly convicted.
In an interview with Bill Moyes for American Playhouse, Morris recalled that he didn't believe Adams at first... but he didn't disbelieve him either. However, as Morris looked deeper into Adams's case, he realised one thing. Randall Dale Adams wasn't part of the story, he was the story. Thus, The Thin Blue Line was born.