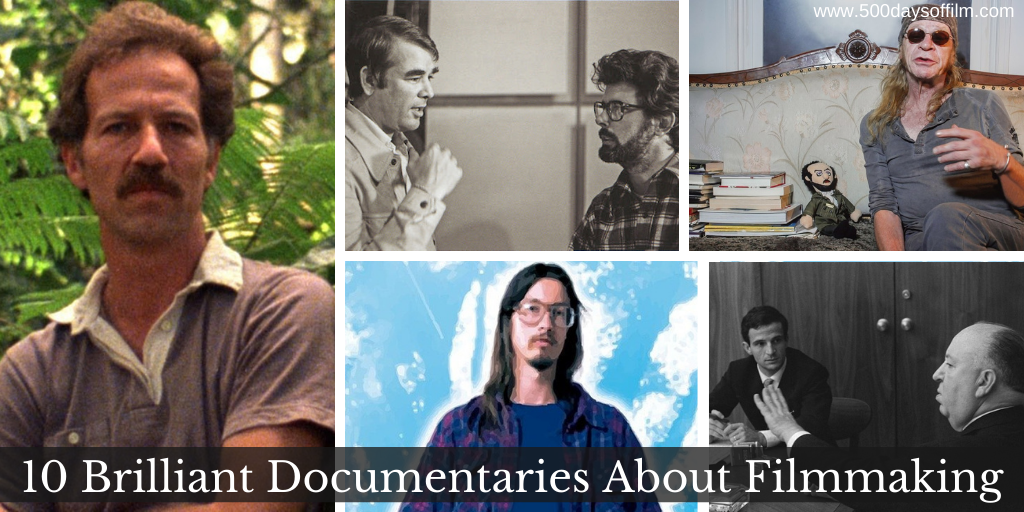 Regardless of the finished product, I am always full of admiration for anyone who manages to make a movie. The effort that filmmaking requires from both a creative and financial standpoint is overwhelming - often requiring a level of dedication that borders on (and sometimes goes beyond) obsession.
Every film has its fair share of irresistible behind the scenes stories. Many leave us with lingering questions. Why did that director choose to make that movie? How was that actor cast in this role? How was that iconic scene created? 
As a result, many of these films have inspired gripping documentaries of their own. The best examples of this sub-genre reveal fascinating insights about the filmmaking process and also about the people who work in the movie industry (both in front of and behind the camera).
In addition (for better and sometimes worse), many of these documentaries offer us a new perspective on a classic film. 
Want to know what it was like to film on location with the cast and crew of Apocalypse Now? Watch Hearts Of Darkness: A Filmmaker's Apocalypse. Interested in what it was like to work with Stanley Kubrick? Watch Filmworker. Can't believe that Werner Herzog actually pulled a steamship up a hill in Fitzcarraldo? Check out Burden Of Dreams.
Even if you have only a passing interest in film, these documentaries (and many others) will stun, entertain and reveal the incredible drama inherent in movie making - in coaxing a vision from imagination to reality.
Burden Of Dreams
Les Blank's 1982 documentary, Burden Of Dreams, begins with helicopter footage of a formidable jungle. The shots display the jungle's overwhelming size, incredible beauty and oppressive remoteness. 
Who would dare to make a film in such a dense and inhospitable place? Werner Herzog - who else? It is the German director's voice that we hear first. You want to know the story of the filming of Fitzcarraldo, he asks. Well, it's a strange story. A sisyphus-like story - a story about the "challenge of the impossible".
What better way to start this examination of the making of one of Herzog's most controversial films? What better way to describe both the film itself and its creation? From these very opening minutes, Burden Of Dreams grabs its audience and begins what is a stunning filmmaking tale.
You can rent or buy Burden Of Dreams via Amazon.
Heart Of Darkness: A Filmmaker's Apocalypse
Documentaries about filmmaking should come with a warning. Beware: the film that you are about to watch may make you feel differently about the film on which it is based. Okay, it's not a catchy caution but an important one all the same.
For example, I can never watch Fitzcarraldo in the same way having watched Burden Of Dreams. In the same way, my appreciation of many of Stanley Kubrick's films has been coloured following movies such as Filmworker (see below).
However, in these and most cases, the original films are not diminished by their documentaries. Far from it. If anything, learning more about how iconic scenes were created and the incredible effort that took place behind the scenes makes us appreciate these movies all the more. 
Case in point Hearts Of Darkness: A Filmmaker's Apocalypse - a gripping and fascinating look at the story behind the making of Francis Ford Coppola's classic film, Apocalypse Now. Featuring interviews with cast and crew members, the key strength of Hearts Of Darkness is the immersive on-set footage shot by Eleanor Coppola (Francis's wife) and the inclusion of audio recordings of intimate conversations between Eleanor and Francis as he struggled to bring his vision to cinematic life. 
You can rent or buy Hearts Of Darkness: A Filmmaker's Apocalypse online.
Hitchcock/Truffaut
Kent Jones's documentary about the week-long meeting between Francois Truffaut and Alfred Hitchcock in 1962 - and the classic book that preserved their conversations - takes us on a compelling cinematic journey. The film explores the impact that the book has had and features interviews with ten influential directors: Martin Scorsese, Arnaud Desplechin, David Fincher, Richard Linklater, Wes Anderson, James Gray, Olivier Assayas, Kiyoshi Kurosawa, Peter Bogdanovich and Paul Schrader.
These interviews are absolutely fascinating. Meanwhile, the documentary also includes some incredible original sound recordings of Hitchcock and Truffaut's conversations. Finally, Jones adds clips from some of Hitchcock's classic movies. I dare you not to geek out!
You can watch Hitchcock/Truffaut via Dogwoof On Demand.
Filmworker
It is a rare person who would give up fame and fortune to toil in obscurity for someone else's creative vision. Yet that's exactly what Leon Vitali did after his acclaimed performance as Lord Bullingdon in Stanley Kubrick's Barry Lyndon. 
The young actor surrendered his thriving career to become Kubrick's loyal right-hand man. For more than two decades, Leon played a crucial role behind-the-scenes helping Kubrick make and maintain his legendary body of work. 
The complex, interdependent relationship between Leon and Kubrick was founded on devotion, sacrifice and the grueling, joyful reality of the creative process. "As Kubrick aficionados, we were well aware of Leon Vitali: assistant to the director," explains Filmworker's director, Tony Zierra.
"When we finally met Leon through our work on another related project we were struck by his kindness, humility and the fascinating scope of his story," Zierra recalls. "Here was a man who had been a successful actor at a young age, but had given up his high-profile, glamorous life to work tirelessly behind-the-scenes for Kubrick. What compelled him to make such an unusual, self-sacrificing choice?" 
You can rent or buy Filmworker online.
De Palma
Brian De Palma's impressive career began in the 1960s and has featured such acclaimed films as Carrie, Dressed to Kill, Blow Out, Scarface, The Untouchables, Carlito's Way and Mission: Impossible. In their documentary, directors Noah Baumbach and Jake Paltrow engage in a personal and candid discussion with De Palma, exploring his life, his work and his approach to the craft of filmmaking.
The documentary also examines De Palma's remarkable experiences navigating the film business, from his early days as the bad boy of New Hollywood to his more recent years as a respected veteran of the field. Baumbach and Paltrow's documentary has no need for fancy bells and whistles. You just don't need them when you have a director as fascinating as Brian De Palma sitting in front of you talking (with remarkable candor) about his life and career.
De Palma is a funny and wonderfully engaging storyteller, drawing back the curtain to give us a fascinating insight into the movie business. It is so refreshing to hear someone talk so frankly about their experiences. De Palma is unflinchingly (and often hilariously) honest about his film successes... and failures.
You watch De Palma via Mubi and rent or buy this documentary online.
They'll Love Me When I'm Dead
Don't get me wrong… I love Alan Cumming. I would happily listen to him read the telephone directory - if one still existed. But what on earth is he doing on camera, dressed in a suit and narrating They'll Love Me When I'm Dead?
This device in Morgan Neville's documentary about Orson Welles's last movie, The Other Side Of The Wind, didn't sit well with me at first. However, by the end of the film I realised that there was more to this role than I had initially appreciated. After all, many of Welles's movies contained such narration. 
After a brief round-up of the legendary director's life and career and an even briefer introduction to the documentary's key talking heads (family, friends, cast and crew members), Neville explores whether it is possible to discover the truth about Welles and his final film. Along the way, Orson Welles is brought to life in all his enchanting and endlessly charismatic glory. 
You can watch They'll Love Me When I'm Dead on Netflix.
The Kid Stays In The Picture
Nanette Burstein and Brett Morgen's gripping documentary is not concerned about the making of one iconic film but many. The Kid Stays In The Picture charts the incredible life of legendary Hollywood producer and studio chief Robert Evans. 
Evans was the first actor to run a film studio. At Paramount Pictures, he was responsible for such films as The Godfather, Rosemary's Baby, Love Story, The Odd Couple, Harold and Maude and Chinatown. 
After such phenomenal success, a series of events - a failed marriage to Ali MacGraw, a cocaine bust and rumours about his involvement with the "Cotton Club murder" - led to a career decline and Evans faded into obscurity. However, this was not to be the end of the story… the kid rose again.
You can watch The Kid Stays In The Picture on Sky Documentaries.
Laddie: The Man Behind The Movies
Amanda Ladd-Jones's charming documentary, Laddie: The Man Behind The Movies, is a celebration of her father's incredible career and an exploration of their personal relationship. 
What does the name Alan Ladd Jr mean to you? If you are unaware of his story (and, as the documentary makes clear, you are not alone), Ladd-Jones gets straight to the point. "He's been an agent, a producer, a studio head," she explains. Ladd Jr has over 150 Academy Award nominations and 50 Academy Award wins to his name.
He produced a staggering number of classic films including Alien, Blade Runner, Chariots Of Fire, The Omen, Thelma and Louise, Young Frankenstein and Gone Baby Gone. Ladd-Jones also tells us that her father had "the guts'' to make Star Wars - he said yes to George Lucas when no one else would. This, Ladd-Jones concludes, makes her father "the most influential movie executive you've never heard of". 
You can rent or buy Laddie: The Man Behind The Movies online and via Sky Store.
You Don't Nomi
Jeffrey McHale's engaging documentary analyses the legacy of Paul Verhoeven's 1995 movie, Showgirls. A masterclass in editing, McHale's film explores the scathing critical reaction to Showgirls when it was first released and charts the film's journey to become a beloved cult classic.
You Don't Nomi features fascinating interviews with journalists, artists and Showgirls fans set to archive footage and clips from the film itself and other Verhoeven movies. Meanwhile, McHale assesses the movie's impact and how its reception affected the career of Nomi herself, Elizabeth Berkley. 
Regardless if you love Showgirls or hate Verhoeven's film (or if you are somewhere in between), this is a wonderful examination of the power of cinema and the life that some films enjoy long after their release.
You can rent or buy You Don't Nomi online. 
American Movie
Mark Borchardt felt like a failure. However, with a beer in his hand, he started thinking about the great American script and the great American movie. The time for drinking and dreaming was over. It was time to create and complete. This, Borchardt thought,  would be his ticket out of failure, out of depression. Making a film would give his life meaning.
Chris Smith's funny and poignant documentary, American Movie, follows Borchardt as he tries to finance, cast and make his independent film. Borchardt is a fascinating character. He is endlessly eloquent and incredibly passionate about his film project. He is also (we suspect unintentionally) hilarious. His interactions with his best friend (a scene stealing Mike Schank) are beyond priceless. While never cruel, Smith's film often feels more mock than doc.
However, Smith never allows us to simply laugh at Mark and Mike's adventures in filmmaking. American Movie isn't the story of two deluded friends. The documentary is an exploration of the aspirational nature of filmmaking and an examination of the lives of its endearing characters - their frustrations, hopes and dreams. 
You can rent or buy American Movie online.
Honourable Mentions
I would also like to include the following honourable mentions to this list.
They are Room 237, Lost In La Mancha, Electric Boogaloo: The Wild, Untold Story Of Cannon Films, Best Worst Movie, 78/52, Memory: The Origins Of Alien and Fear Of God... and there are, of course, many more!