500 Days Of Film Reviews 10 Brilliant Comedies On Amazon Prime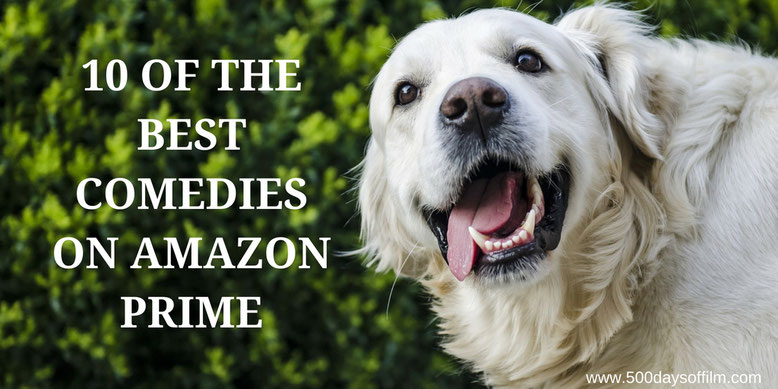 Don't get me wrong… I love dramas, thrillers and horror films. It's just that, sometimes, I feel the need for something lighter and, well, more fluffy. A movie that will make me laugh and restore (however fleetingly) my faith in the human race.
Amazon Prime Video has a number of such movies. Of the impressive selection of feel good comedies, I have picked ten of my favourites. So, in no particular order, let's take a look at the perfect movie antidotes to all things dark and twisty…
10. The Big Sick
Restoring my faith in the romantic comedy genre, The Big Sick is an utterly charming, brilliantly funny film based on the real-life courtship between Kumail Nanjiani and Emily V. Gordon. 
That The Big Sick is funny should comes as no surprise given Nanjiani's background in comedy. However, the many laugh out loud moments in Michael Showalter's film are still a delight to experience - whether in the scenes depicting Kumail and Emily's courtship, the conversations between Kumail and Emily's mother and father (hilariously played by Holly Hunter and Ray Romano) or the dinners with Kumail's family. 
A new rom com classic.
9. Bridesmaids
In 2011, Bridesmaids proved that, when it comes to comedy, girls are more than a match for boys. Paul Feig's film sees Annie (a brilliant performance from Kristen Wiig) pit herself against Rose Byrne's Helen for the affections of her soon-to-be-married best friend, Lillian (the wonderful Maya Rudolph).
Many filmmakers have tried to repeat the magic of Bridesmaids. However, many have also failed in this ambition. The reason is that this movie (co-written by Wiig and Annie Mumolo) contains a perfect balance of endearing charm, (often outrageous) humour and poignancy. As a result, Bridesmaids is a true genre great. 
8. The Death Of Stalin
You get more bees with honey than with vinegar... or so the saying goes. In much the same way, a message can be more powerful when conveyed via comedy than by a more serious method. Satire disarms us - we laugh and then we think.
This is exactly the tone found in The Death of Stalin. Director Armando Iannucci's film - about the power vacuum that emerges after the death of Stalin - is brilliantly and consistently funny. It was, perhaps, the funniest film of 2017.
7. In Bruges
In Bruge is a dark (and violent) comedy classic from writer, director Martin McDonagh (Three Billboards Outside Ebbing, Missouri). Guilt-stricken after a job gone wrong, hitman Ray (Colin Farrell) and his partner, Ken (Brendan Gleeson), await orders from their ruthless boss, Harry (Ralph Fiennes) in the last place in the world Ray wants to be - in Bruges, Belgium. 
6. Logan Lucky
While more 7-Eleven than Ocean's 11 (as the film itself concedes), Logan Lucky is an entertaining ride with an impressive and hugely likeable cast (including Adam Driver, Channing Tatum and Riley Keough). Daniel Craig steals every scene with his fabulous portrayal of Joe Bang. Almost unrecognisable with bleached blond hair and eyebrows, Craig has such fun with this eccentric (possibly psychotic) character - he is an absolute joy to watch.
5. Notting Hill
It seems hard to believe that Roger Michell's Notting Hill will be 20 years old next year. Somehow (largely thanks to Richard Curtis's script) this culture clash romantic comedy feels as fresh today as when it was released in cinemas.
This was, of course, peak Hugh Grant and he is very Hugh Grant here as bookseller, William Thacker. Grant's career has, of course, seen some ups and downs since then. However, it is great to rewatch Notting Hill in the light of his recent career renaissance - in films such as Paddington 2 and Florence Foster Jenkins.
Julia Roberts also shines as A-List actor, Anna Scott. She brings life and charm to a character that could so easily have been two dimensional. Meanwhile, who could forget Rhys Ifans's show stopping turn as Spike.
4. Moonrise Kingdom
I love Wes Anderson's quirky and hilarious Moonrise Kingdom. The film follows two young lovers who decide to run off together from their New England town - sparking a (brilliant) search party.
There are so many things to adore about this movie - from its humour to its stunning visuals. And, as with most of Anderson's films, the cast of Moonrise Kingdom is extremely impressive - featuring the likes of Bruce Willis (in one of his best performances), Edward Norton, Bill Murray, Frances McDormand and Tilda Swinton (among many, many others).
3. Son Of Rambow
During a long English summer in the early 1980s, two schoolboys from differing backgrounds - Will Proudfoot (Bill Milner) and Lee Carter (Will Poulter) - set out to make a film inspired by First Blood.
I have such a soft spot for Garth Jennings's Son Of Rambow. The antics Will and Lee get up to while making their movie are utterly hilarious ("I'm alright Lee Carter!"). However, this movie is elevated above simple physical comedy by its beautiful and heartbreaking poignancy.
2. Sightseers
Now time for something dark and twisty... but also very, very funny. Ben Wheatley's Sightseers is a rare gem of a movie - one that will make you laugh out loud one minute and wince at the scenes of brutal violence the next. Wheatley (working off a script by the film's two lead actors, Alice Lowe and Steve Oram) achieves a perfect blend of the eccentric, quirkiness of a UK caravan holiday and the psychotic intensity of a pair of reckless sociopaths. Brilliant.
1. The Kings Of Summer
Sick of living at home with their parents, Joe (Love, Simon's Nick Robinson) and Patrick (Gabriel Basso) decide to leave conventional society and build a house in the woods. Joining them is their eccentric classmate Biaggio (Moises Arias).
Like Son Of Rambow, Jordan Vogt-Roberts's The Kings Of Summer is a beautiful and poignant movie full of charm and humour. For me, Nick Offerman steals the show as Joe's father, Frank. Wonderful.
Over To You...
What do you think of this list? I have some honourable mentions to add… including Swiss Army Man, Crazy Stupid Love, Best In Show, Punch Drunk Love and Nora Ephron's charming You've Got Mail.
What films would you add?
Let me know in the comments section below or let's discuss comedies over on Twitter. You can find me @500DaysOfFilm.