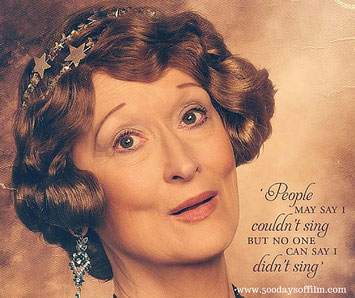 500 Days Of Film Reviews Florence Foster Jenkins And Finds A Charming And Poignant Tale Of Courage And Passion 
Director, Stephen Frears', latest film tells the true story of Florence Foster Jenkins (Meryl Streep), the legendary New York heiress and socialite who obsessively pursued her dream of becoming a great opera singer. 
The voice she heard in her head was beautiful, but to everyone else it was awful. And yet, they loved her.
Her "husband" and manager, St Clair Bayfield (Hugh Grant) an aristocratic English actor, was determined to protect his beloved Florence. 
However, when Florence decided to give a public concert at Carnegie Hall in 1944, St Clair knew that he could no longer shield her from the truth.
Is It Any Good?
So, it is now official. Meryl Streep can do no wrong.
Seriously, I wouldn't be surprised if she turned out to be an alien or superhuman or something. For how could an ordinary mortal be so consistently fabulous? She brings class and life to every role she plays and her portrayal of Florence Foster Jenkins is no exception.
If I'm honest, I went to see Florence Foster Jenkins in need of some lighthearted, comedic relief. And I certainly found what I was looking for in this charming film. I laughed all the way through and left the cinema feeling thoroughly entertained.
However, I didn't expect this movie to be quite so poignant - I didn't expect to be moved to tears.
Streep introduces Florence as a generous woman with a good heart. At the beginning of the film, Florence explains her love of music and why she feels it is so important. Her passion is palpable, her enthusiasm infectious. She has courage and conviction to spare.
However, Frears makes us wait quite some time before we hear Florence actually sing - the delay giving the revelation of her unique voice even more impact. We experience this moment at the same time as her pianist, Cosme McMoon (superbly played by Simon Helberg).
When Florence started to sing, my cinema audience erupted into laughter. Streep's performance is unquestionably funny. It is also extremely impressive. You can only sing badly if you can sing well - and we know (from films such as Mama Mia and Riki And The Flash) that Meryl can sing very, very well.
Yet something stopped me from laughing. I suddenly realised that I didn't want to laugh at Florence. Laugh with, perhaps, but I just did not want to laugh at Florence Foster Jenkins.  
The film never quite resolves this issue. Instead, it allows us to enjoy Florence's passion and her unwavering conviction - and appreciate the fact that she brought joy to a world at war.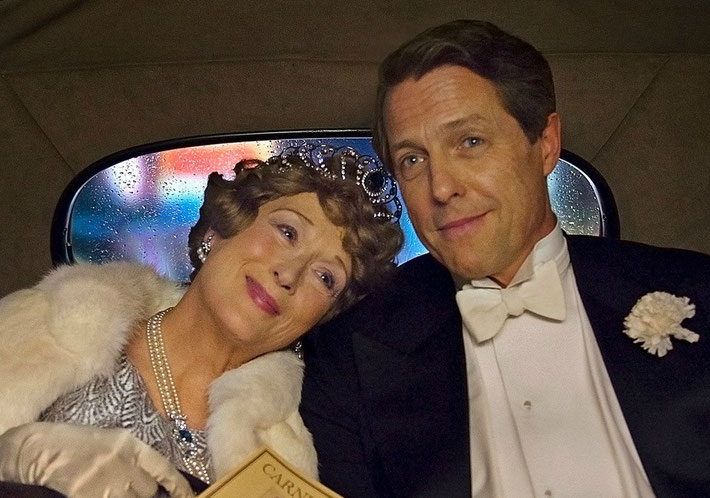 While Streep is just glorious as Florence, Hugh Grant is superb as her husband, St Clair Bayfield. This is his best performance in a very long time. Grant's role is brimming with warmth, love and devotion. He is extremely funny, his comic timing perfect.
Florence's relationship with St Clair is really the heart of this story. While their relationship may be complicated, theirs is certainly a very happy world.
I had a lot of fun watching Florence Foster Jenkins and I would recommend this film.
She may not have been able to sing, but no one could say that she didn't sing. Nothing was going to stop Florence from doing what she loved and that really is rather inspiring.
Random Observations
The fabulous costumes in Florence Foster Jenkins were designed by Consolata Boyle, a Bafta award winner who has worked on films such as The Queen, The Iron Lady, Philomena and Testament Of Youth. Florence always looks fabulous but Bayfield and McMoon's suits are also gorgeous. 
Interestingly, this is the second film inspired by Florence Foster Jenkins to be released in recent months. French film, Marguerite (directed by Xavier Giannoli and starring Catherine Frot), adapted Florence's story for a 1920s opera singer in Paris. 
Finally, here for your listening pleasure is the real Florence Foster Jenkins:
Have you seen Florence Foster Jenkins? If so, what did you think of this film?
Do let me know - why not leave me a comment in the box below?