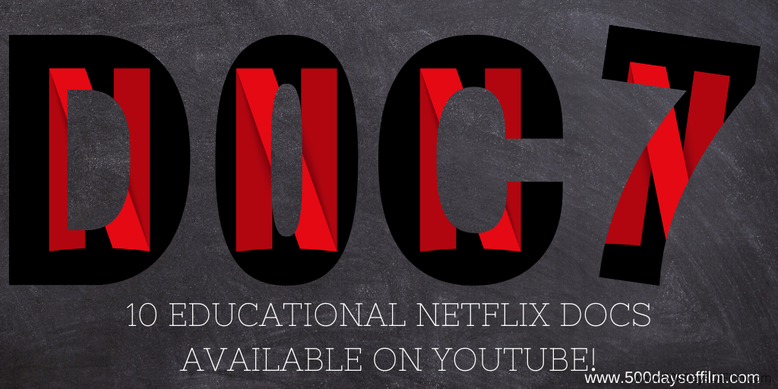 Lockdown has, of course, presented us all with challenges - large and small. The need to homeschool children is high on the list of tricky tasks, leaving many of us scrabbling around for online resources.
Documentaries have fast become a key teaching tool. In response to the ever growing demand for educational docs, Netflix has made ten of its documentary films and series available to watch for free on YouTube.
Each title comes with educational resources and Netflix also plans to organise Q&As with some of the creators behind the projects.
Let's take a look at what is on offer!
13th - Film
13th starts by addressing a truly stunning statistic. The US - often called the land of the free - has the highest incarceration rate in the world. Even more shocking is the fact that one in three black males in America will go to prison at some point during their lives. That's compared to one in 17 white men.  
Ava DuVernay's documentary looks at what lies behind this discrepancy. A series of fascinating experts and academics explain how, after years of fighting for freedom and equality, black communities are still waiting for change.
Click Here For Educational Resources
Abstract - Series Season 1
Abstract: The Art of Design journeys beyond blueprints into the art, science, and philosophy of design. The series explores the minds of the world's greatest designers, showcasing the most inspiring visionaries from a variety of disciplines whose work shapes our culture and our future.
Click Here For Educational Resources
Babies - Series (select episodes)
Filmed over three years, Babies examines the first full year of life through the pioneering work of leading scientists from across the world. The series looks at the epic journey every person takes - from helpless new-born to independent toddler. 
Click Here For Educational Resources
Chasing Coral - Film
After the success of Chasing Ice, his stunning film about photographer James Balog's Extreme Ice Project, director Jeff Orlowski turned his attention to the ocean. He wanted to raise awareness of and document the disappearance of the world's coral reefs.
Chasing Coral is the result of over three years of work for Orlowski and a team of divers, photographers, engineers and scientists. They developed innovative filmmaking technology and captured more than 500 hours of underwater footage.
"It is really hard to wrap your head around charts and numbers," Orlowski explains. "But when people see visuals that tell us that story they get it in a completely different way." 
Click Here For Educational Resources
Explained - Series (select episodes)
Explained looks at current events and social trends. The series explores a range of topics including politics, science, history and pop culture and features interviews with some of the most authoritative experts in their respective fields.
Knock Down The House - Film
Knock Down The House is a powerful documentary about four remarkable and inspiring women.
At a moment of historic volatility in American politics, these four women decide to fight back, setting themselves on a journey that will change their lives and their country forever. Without political experience or corporate money, they build a movement and challenge powerful incumbents in Congress.
Their efforts result in a legendary upset.
Click Here For Educational Resources
Our Planet - Series
This eight-part series, superbly narrated by Sir David Attenborough and made in partnership with World Wildlife Fund, explores the wonders of our natural world. Expect stunning photography, impressive technology and a never-before-filmed look at the planet's remaining wilderness areas and their animal inhabitants. 
Click Here For Educational Resources 
Period. End Of Sentence - Documentary Short
Period. End Of Sentence is a moving, inspiring and Oscar winning documentary short. In a rural village outside Delhi, India, women are involved in a quiet revolution. They are fighting against the deeply rooted stigma of menstruation. 
Rayka Zehtabchi's film tells their story. Period. End Of Sentence reveals that for generations, a lack of access to pads has led to health problems and girls missing school or dropping out of educational entirely. 
However, when a sanitary pad machine is installed in the village, the women learn to manufacture and market their own pads. Their journey empowers the women in their community. 
Click Here For Educational Resources 
The White Helmets - Documentary Short
Orlando von Einsidel's Oscar winning documentary short takes place amid the daily devastation of airstrikes on civilian targets in Syria. The film follows a group of brave and resilient first responders - called The White Helmets - as they risk their lives to rescue victims from the rubble.  
Click Here For Educational Resources
Zion - Documentary Short
Zion is a gripping documentary short about Zion Clark, a young wrestler born without legs. Floyd Russ's film reveals how Clark, who grew up in foster care, began wrestling in second grade against his able-bodied peers. The physical challenge became a therapeutic outlet and gave him a sense of family. Moving from foster home to foster home, wrestling became the only constant thing in his childhood. 
Click Here For Educational Resources
Over To You...
What do you think of these educational documentaries? What other films (on Netflix or available elsewhere) would you add to this list? Let me know in the comments section below or over on Twitter. You can find me @500DaysOfFilm