500 Days Of Film Reviews Animated Feature, Your Name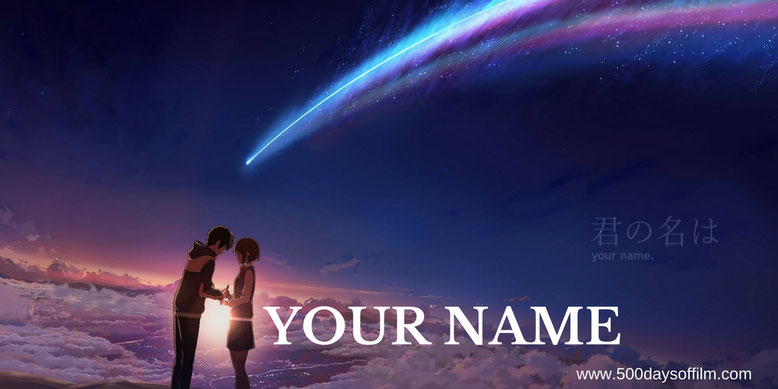 Mitsuha, a teenage girl from the country, and Taki, a teenage boy from Tokyo, embark on an epic journey to find each other after they magically swap bodies.
Is It Any Good?
Makoto Shinkai has often been hailed as the "new" Hayao Miyazaki. With the release of Your Name, the director's fifth feature, Shinkai can surely now move out of the Japanese animation master's shadow. 
Your Name is a wonder. One of those rare films that transcends the bounds of genre. It is a heartbreaking love story, an entertaining adventure and a body swap comedy - all within the foreboding environs of a gripping disaster movie.
A lesser director might have become overwhelmed but Shinkai, a superb storyteller, never once loses focus. He uses the different elements in his film to explore time and loss, humour and sadness, modern science and ancient superstition, love and longing, separation and community. 
The results are stunning - particularly as they are portrayed with such utterly gorgeous animation. Your Name is a really beautiful film - from the realism of Taki's Tokyo to the dreamlike sequences in Mitsuha's mountain town of Itomori.
Mitsuha and Taki's body swapping experiences are only the start of their journey. The teenager's magical meeting both changes and enriches their lives - their different perspectives (male versus female, country versus city) help them to understand their place in the world and suggest the answer to their sense of longing.   
The teenagers communicate (of course) by leaving messages on their mobile phones. In this way and others (for example, the film's score), Your Name maintains a modern feel within its timeless narrative. 
Your Name is a wonderful animated film - one that is destined to become a true classic.
Random Observations
Your Name was rated 12 by the BBFC for moderate bad language and sex references. For this reason and because the story becomes quite complex, I wouldn't recommend this film for anyone younger.
Your Name is the highest grossing anime of all time.
Have you seen Your Name? 
If you have, what do you think of this film? Let me know in the comments section below or via Facebook or Twitter (@500DaysOfFilm).