500 Days Of Film Reviews The Must-Watch Films Of Winter 2017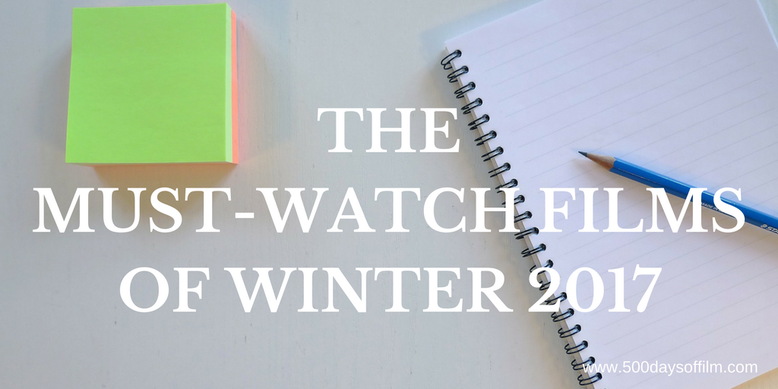 What better way to drown our end of summer blues than to look ahead at the exciting new films on the horizon? Well, there's no better way if you ask me. 
This is a great time of year to visit the cinema as the movie industry gears up once again for awards season.
Before we start, I should mention that my criteria for the following list is two-fold: these are all films that I am excited about (or at least intrigued by) and they all have September-December UK release dates. 
So, let's take a look at winter 2017's must-see films. 
September
1st September
God's Own Country
Director: Francis Lee
Starring: Josh O'Connor, Alec Secareanu, Ian Hart and Gemma Jones
Why The Excitement: Some have called Francis Lee's debut feature Brokeback in Yorkshire. However, perhaps more importantly, others have compared it to Hope Dickson Leach's The Levelling… and I loved The Levelling.
Patti Cake$  
Director:  Geremy Jasper
Starring: Danielle Macdonald, Bridget Everett and Siddharth Dhananjay
Why The Excitement: I've seen Patti Cake$ and would certainly recommend this film. It follows a somewhat familiar, fairytale path but the relationship between the movie's central characters is charming and Danielle Macdonald's performance as a wannabe rapper desperate to prove everyone wrong is fabulous.
8th September
Wind River
Director: Taylor Sheridan
Starring: Jeremy Renner, Kelsey Asbille and Elizabeth Olsen.
Why The Excitement: I have also seen Taylor Sheridan's icy thriller, Wind River. It's not perfect but it is definitely worth a watch - not least for its noble desire to raise awareness about life on Native American reservations.
IT
Director: Andy Muschietti
Starring:  Bill Skarsgård, Jaeden Lieberher and Finn Wolfhard
Why The Excitement: Any adaptation of a Stephen King novel is cause for cautious excitement and that goes double for his iconic horror creation - Pennywise The Clown. Here's hoping that we will all float out of the cinema after watching this film (keeping a wary eye on storm drains of course). 
14th September
American Assassin
Director:  Michael Cuesta
Starring: Dylan O'Brien, Taylor Kitsch and Michael Keaton
Why The Excitement: Lame as it may sound, my interest in this action film was peaked by its trailer. Plus, these days, anything starring Michael Keaton is worth a watch. I hope.
15th September
Mother!
Director: Darren Aronofsky
Starring: Jennifer Lawrence, Michelle Pfeiffer, Javier Bardem, Ed Harris and Domhnall Gleeson 
Why The Excitement: Take a stellar cast, an unsettling trailer and marinate via the direction of Darren Aronofsky and you have a divisive and controversial film. I'm in. I think... 
Victoria & Abdul
Director: Stephen Frears
Starring: Judi Dench, Olivia Williams, Michael Gambon and Ali Fazal
Why The Excitement: I must admit to feeling uncertain after watching the trailer for Stephen Frears' new film. However, who can resist the movie's stellar cast or, more to the point, another chance to see Dame Judi Dench play Queen Victoria? 
20th September
Kingsman: The Golden Circle
Director: Matthew Vaughn
Starring: Taron Egerton, Colin Firth, Mark Strong, Channing Tatum, Julianne Moore and Jeff Bridges
Why The Excitement: I appreciate that I am in the minority, but I didn't love Matthew Vaughn's first Kingsman movie. However, Kingsman: The Golden Circle is another film with a fabulous ensemble cast and has the potential to be a whole lot of action-fuelled fun.
22nd September
Borg V McEnroe
Director: Janus Metz
Starring: Shia LeBeouf Stellan Skarsgård and Sverrir Gudnason 
Why The Excitement: Can Janus Metz get under the skin of great rivals Borg and McEnroe and recreate one of the most famous tennis matches of all time? We will see...
29th September
Brimstone
Director: Martin Koolhoven
Starring: Dakota Fanning, Guy Pearce and Kit Harrington
Why The Excitement: Early reviews suggest that this bleak and brutally violent Western is a gripping watch with powerful performances (particularly from Fanning) and a genius storytelling structure. Just take my money.
Flatliners
Director: Niels Arden Oplev
Starring:  Nina Dobrev, Ellen Page, Diego Luna, James Norton and Kiefer Sutherland
Why The Excitement: To be frank, I'm in no real hurry to see a remake of the 1990's classic horror/drama, Flatliners. However, the cast looks good and I'll admit to being interested to see what Niels Arden Oplev does with this tale of foolish medical students dicing with death.  
Goodbye Christopher Robin
Director: Simon Curtis
Starring:  Margot Robbie, Domhnall Gleeson and Kelly Macdonald
Why The Excitement: It's a Pooh Bear origin story! Seriously though, I'd watch pretty much anything featuring Domhnall Gleeson these days. The man can do no wrong in my eyes.
October
5th October
Blade Runner 2049
Director: Denis Villeneuve
Starring: Ryan Gosling, Harrison Ford, Jared Leto, Robin Wright, Ana de Armas
Why The Excitement: Two words: Denis Villeneuve. I cannot wait to see what one of my very favourite directors will do with this sequel to Ridley Scott's 1982 classic Sci Fi. Oh and here are two more words: Roger Deakins. If this film's trailer is anything to go by, the cinematography in Blade Runner 2049 is going to be stunning. Let's hope (after 13 nominations) that Oscar is watching.
6th October
The Mountain Between Us
Director: Hany Abu-Assad
Starring: Kate Winslet and Idris Elba
Why The Excitement: I'm looking forward to this film because of its two leads. Idris Elba and Kate Winslet are always worth watching.
13th October
Loving Vincent
Directors:  Dorota Kobiela and Hugh Welchman
Starring:  Jerome Flynn, Saoirse Ronan and Aidan Turner 
Why The Excitement: I am intrigued by this film and particularly how it brings the paintings of Vincent van Gogh to life in order to tell his remarkable story. Every one of the 65,000 frames of the film is an oil-painting, hand-painted by professionals - pretty impressive.
The Party
Director: Sally Potter 
Starring: Patricia Clarkson, Timothy Spall, Emily Mortimer and Kristin Scott Thomas
Why The Excitement: A real time drawing room farce, I am looking forward to Sally Potter's 71 minute, black and white film. It boasts an impressive cast and also got great reviews after its screening at the Berlin International Film Festival. 
The Snowman
Director: Tomas Alfredson
Starring: Michael Fassbender, Rebecca Ferguson and J.K. Simmons
Why The Excitement: Based on the novel by Jo Nesbo, The Snowman looks (from its trailer) like a superior crime thriller. With a great cast and a top rate director in Tomas Alfredson, this film is certainly worth a look.
20th October
I Am Not A Witch
Director: Rungano Nyoni
Starring: Gloria Huwiler, Chileshe Kalimamukwento and Travers Merrill
Why The Excitement: For several months now, I have been hearing buzz about Rungano Nyoni's debut film, I Am Not A Witch. If these reports are to be believed, it sounds like there is another exciting female filmmaker on the block.
The Death Of Stalin
Director:  Armando Iannucci
Starring: Jason Isaacs, Andrea Riseborough, Rupert Friend, Paddy Considine and Steve Buscemi
Why The Excitement: The trailer for this film looks utterly bonkers but, given Armando Iannucci's experience in the comedy genre (creator of Veep and The Thick Of It) and the acting talent involved we should be in safe hands. Hello to Jason Isaacs.
27th October
Breathe 
Director: Andy Serkis
Starring: Andrew Garfield and Claire Foy 
Why The Excitement: This true story about a couple who refuse to give up despite facing the devastating impact of polio is Andy Serkis' directorial debut. Breathe was chosen to open this year's BFI London Film Festival.
Call Me By Your Name
Director: Luca Guadagnino
Starring: Armie Hammer, Timothée Chalamet and Michael Stuhlbarg 
Why The Excitement: I love Luca Guadagnino's previous work (particularly A Bigger Splash and I Am Love) and so am very excited for his next film. A coming of age story about a young man (played by Timothée Chalamet) who falls in love with his father's intern (Armie Hammer), this film is an absolute must-see.  
Thor Ragnarok
Director: Taika Waititiir
Starring: Chris Hemsworth, Tom Hiddleston, Cate Blanchett, Idris Elba, Mark Ruffalo, Jeff Goldblum and Sam Neill
Why The Excitement: I have a real soft spot for Marvel's Thor films. I have just always enjoyed the inherent sense of fun. With Taika Waititi at the helm, Thor Ragnarok looks set to be an absolute blast and (just look at the trailer!) an utter feast for the eyes. 
November
3rd November
Good Time
Directors: Benny Safdie and Josh Safdie 
Starring: Robert Pattinson, Benny Safdie and Taliah Webster 
Why The Excitement: I am looking forward to this crime drama mainly following reports about Robert Pattinson's superb performance. 
Murder On The Orient Express
Director: Kenneth Branagh
Starring: Kenneth Branagh, Daisy Ridley, William Dafoe, Michelle Pfeiffer, Penelope Cruz and Johnny Depp 
Why The Excitement: Any film by Kenneth Branagh is, of course, worth a watch. Combine this with a wonderful cast and a classic story by Agatha Christie (adapted by Michael Green) and you have all the ingredients for an brilliantly entertaining film.
Thelma
Director: Joachim Trier
Starring: Eili Harboe, Okay Kaya and Ellen Dorrit Petersen
Why The Excitement: One watch of the trailer for this sci fi romance had me hooked. Thelma tells the story of a girl who discovers that she has supernatural powers after falling in love. 
Marjorie Prime
Director: Michael Almereyda
Starring: Jon Hamm, Geena Davis, Lois Smith and Tim Robbins 
Why The Excitement: Marjorie Prime looks like a fascinating film with an intriguing premise. In the world of this melancholy sci fi, a service that has been created that allows people to resurrect their loved ones in holographic form. Marjorie (Lois Smith) chooses to bring back her husband at the age at which she met him. 
10th November
Paddington 2
Director: Paul King
Starring: Brendan Gleeson, Sally Hawkins, Julie Walters, Hugh Grant and Ben Whishaw 
Why The Excitement: Who could resist another cinematic outing to watch the adventures of this marmalade-loving bear? Not me. However, after the success of the last film, it has a big act to follow. 
Professor Marston And The Wonder Woman
Director: Angela Robinson
Starring: Luke Evans, Rebecca Hall and Bella Heathcote
Why The Excitement: This story of the life and relationships of Dr William Moulton Marston, the creator of Wonder Woman, certainly looks looks interesting. Plus it stars Rebecca Hall, which is more than enough reason for me to anticipate Angela Robinson's film.
The Florida Project
Director: Sean Baker
Starring:  Willem Dafoe, Brooklynn Prince and Valeria Cotto
Why The Excitement: I am so excited to watch this film about a little girl growing up in the shadows of Florida's Magic Kingdom. It looks so wonderfully poignant. Plus Willem Dafoe! 
17th November
Film Stars Don't Die In Liverpool
Director: Paul McGuigan
Starring: Annette Bening and Jamie Bell
Why The Excitement: So, I'll watch pretty much anything starring Annette Bening but this film (a true story about a young actor who falls in love with a Hollywood leading lady) looks charming.  
Ingrid Goes West
Director: Matt Spicer
Starring: Aubrey Plaza, Elizabeth Olsen and O'Shea Jackson Jr.
Why The Excitement: Love Aubrey Plaza so am looking forward to this stalkery tale for our social obsessed media times.  
The Killing Of A Sacred Deer
Director: Yorgos Lanthimos
Starring: Nicole Kidman, Alicia Silverstone and Colin Farrell
Why The Excitement: Since the release of his brilliant film, The Lobster, any film by Yorgos Lanthimos is a must watch for me.
24th November
Battle Of The Sexes
Directors: Jonathan Dayton, Valerie Faris 
Starring: Emma Stone, Steve Carell and Elisabeth Shue
Why The Excitement: Another true story about a famous tennis match - this time between world number one, Billie Jean King, and ex-champion and serial hustler, Bobby Riggs. I'm intrigued by the themes of discrimination that this film may well explore.
Suburbicon
Director: George Clooney
Starring: Matt Damon, Julianne Moore and Oscar Isaac
Why The Excitement: Written by the Coen brothers (and you can tell this just by watching the trailer), this film looks very entertaining indeed. 
December
3rd December
Happy End
Director: Michael Hanake
Starring:  Isabelle Huppert, Jean-Louis Trintignant and Mathieu Kassovitz
Why The Excitement: A new Michael Hanake film is always a noteworthy event… particularly one starring Isabelle Huppert.
Wonder
Director: Stephen Chbosky
Starring: Julia Roberts, Owen Wilson and Jacob Tremblay
Why The Excitement: Having not read the bestselling book on which it was based, I watched the trailer for Wonder unaware at how much of a wreck I would be at the end. I think this film may well destroy me but, hey, I've heard that it's healthy to cry at the movies. 
8th December
Stronger
Director: David Gordon Green
Starring: Jake Gyllenhaal, Tatiana Maslany and Clancy Brown 
Why The Excitement: David Gordon Green directing Jake Gyllenhaal in a tremendously powerful true story. Need I say more? I think not.
15th December
Star Wars: The Last Jedi
Director: Rian Johnson
Starring:  Daisy Ridley, John Boyega, Mark Hamill, Laura Dern, Oscar Isaac, Domhnall Gleeson and Adam Driver
Why The Excitement: Of course a new Star Wars film is cause for excitement. However, Rian Johnson could well bring something fresh to this franchise. My prediction… it will do jolly well at the box office.  
20th December
Jumanji: Welcome To The Jungle
Director: Jake Kasdan
Starring:  Dwayne Johnson, Karen Gillan, Kevin Hart and Jack Black
Why The Excitement: I toyed with adding this film to the list… I'm not exactly desperate to watch Jumanji: Welcome To The Jungle but, in the spirit of keeping an open mind, a family film at Christmas is always worth noting.
29th December
Molly's Game
Director: Aaron Sorkin
Starring: Jessica Chastain, Kevin Costner and Idris Elba
Why The Excitement: Another film based on a true story, this time about Molly Bloom (played by Jessica Chastain) an Olympic-class skier who ran an exclusive, high-stakes poker game and became an FBI target. This film has quite the pedigree - featuring an impressive cast and with Aaron Sorkin responsible for directing and writing the screenplay. Could be a great way to end the year!
What Films Are You Most Looking Forward To?
What do you think of this list? Have I missed anything? Please do let me know if I have. 
What films are you most looking forward to this winter? Let me know in the comments section below or via Twitter or Facebook (@500DaysOfFilm).