500 Days Of Film Reviews What Keeps You Alive Starring Brittany Allen and Hannah Emily Anderson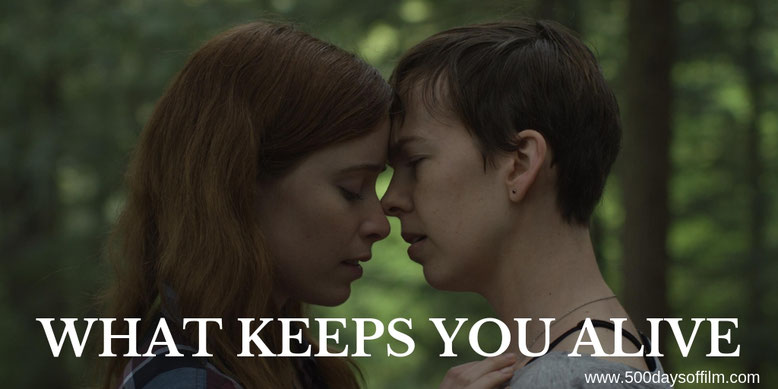 Majestic mountains, a still lake and venomous betrayals threaten to engulf married couple, Jules (Brittany Allen) and Jackie (Hannah Emily Anderson), as they attempt to celebrate their one-year anniversary.
Is It Any Good?
The first moments of What Keeps You Alive feel like familiar territory. A remote, lakeside cabin in the woods? Surely more than enough to set alarm bells ringing for anyone who has ever watched a horror movie… ever.
However, director Colin Minihan's tense and thrilling film explores far more interesting and, often, genuinely surprising terrain. Every time you guess the path the film is about to take, it follows a different bloodsoaked route.
What Keeps You Alive begins as a story of a married couple celebrating their first anniversary. However, the past soon intrudes. Secrets are revealed and things take a turn for the decidedly dark and twisty.    
Both Brittany Allen and Hannah Emily Anderson give impressive emotional and physical performances as Jules and Jackie. Engaging our interest from the start, they draw us in and take us down into a shocking and often brutal nightmare.
I thoroughly enjoyed What Keeps You Alive. Colin Minihan's film is a surprising, suspenseful and entertaining horror gem.
Random Observations
Have you seen What Keeps You Alive? 
If you have, what did you think of this movie? Let me know in the comments section below or over on Twitter. You can find me @500DaysOfFilm :)