500 Days Of Film Reviews Vox Lux Starring Natalie Portman, Jude Law And Raffey Cassidy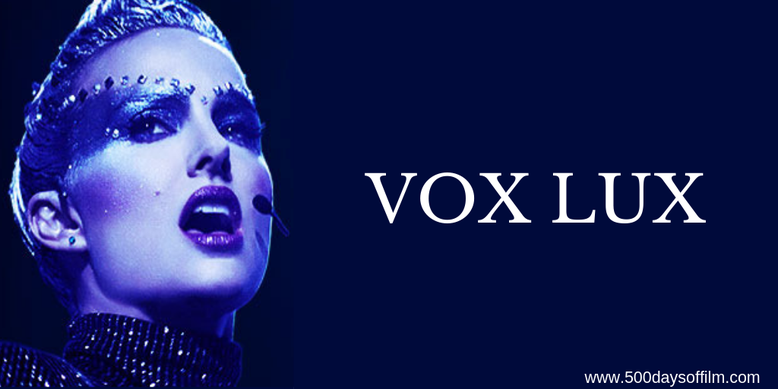 In 1999, teenage Celeste (Raffey Cassidy) survives a violent tragedy. After singing at a memorial service, Celeste transforms into a burgeoning pop star with the help of her songwriter sister, Eleanor (Stacy Martin), and a talent manager (Jude Law). 
Celeste's meteoric rise to fame and concurrent loss of innocence dovetails with a shattering terrorist attack on the nation, elevating the young powerhouse to a new kind of celebrity: American icon, secular deity, global superstar.
By 2017, adult Celeste (Natalie Portman) is mounting a comeback after a scandalous incident that derailed her career. Touring in support of her sixth album, a compendium of sci-fi anthems entitled "Vox Lux", the indomitable, foul-mouthed pop saviour must overcome her personal and familial struggles to navigate motherhood, madness and monolithic fame in the Age of Terror.
Is It Any Good?
Vox Lux is a gripping account of society's unsettling relationship with celebrity. Brady Corbet's film looks at the ever growing need to be seen, the desire for attention and the pursuit of fame whatever the cost.
While the film failed to connect with me at times, it is nonetheless extremely powerful and thought provoking. Split into three acts, the first is the most effective - thanks in large part to Raffey Cassidy's superb performance. 
Cassidy convey's Celeste's loss of innocence perfectly. Accompanied by an impressive performance from Jude Law, her portrayal is sensitive and reserved. This is in stark contrast to 2017's Celeste. Natalie Portman revells in playing the monstrous product of years of celebrity.
The second and third acts of Vox Lux lean into the toxic nature of fame. Everyone is implicated in the vacuousness that characterises Celeste's life and, despite its heartfelt and honest beginning, career. 
It may not be perfect, but Vox Lux is certainly an powerful cinematic experience. Aside from the disturbing nature of its story and central themes, this is a stunning film to look at and listen to - a feast for both our eyes and ears.
The movie features several original songs by Sia (wonderfully performed by Portman) and a truly fantastic score by composer Scott Walker, who very sadly died aged 76 in March this year. 
Meanwhile, I also loved Lol Crawley's cinematography in Vox Lux. This is a movie (shot on 35mm film) that uses an impressive variety of textures and tones. Each help to tell Celeste's story. All are visually striking. 
As he was in his debut feature, The Childhood of a Leader, Corbet is fascinated in Vox Lux by the power of fictional storytelling within the context of real-life events. "One is able to access the past without questioning the author about how they could provide such a detailed account of an event without having been present for the event themselves. Or if they had been present, in the case of a memoir, has their memory of past experiences not betrayed them," the director explains.
As a result, Corbet sees Vox Lux as a historical melodrama that, through the Celeste's gaze, chronicles the key events and cultural moments in America that have, so far, defined the 21st century. 
Random Observations
Have you watched Vox Lux?
If you have, what did you think of this film? Let me know in the comments section below or over on Twitter. You can find me @500DaysOfFilm.