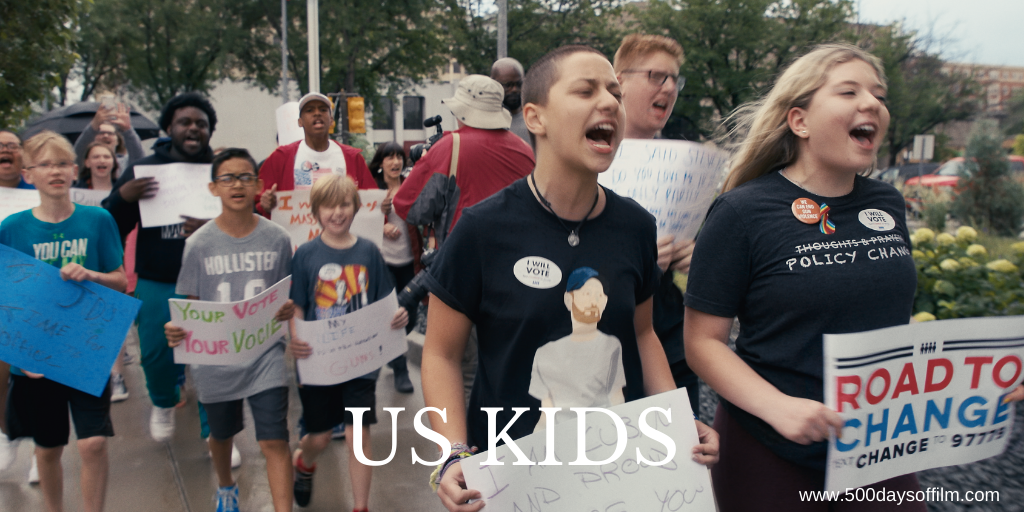 In Kim A Snyder's powerful documentary, Us Kids, we watch as a group of teenagers come together in an attempt to turn the unfathomable tragedy of 2018's school shooting in Parkland, Florida into a powerful movement against gun violence.
The devastating mass shooting at Marjory Stoneman Douglas High School claimed 17 lives. Those that made it out alive were left with lasting injuries - both physical and emotional - and the overwhelming burden of survivor's guilt. As a result, many took it upon themselves to try to make change.
Many of the survivors gave a series of high profile speeches, took part in media interviews and organised marches and events - including a summer tour of the US featuring 50 stops in more than 20 states. Their energy and determination, as documented in Snyder's film, is extremely inspiring. They are incredibly smart and endlessly eloquent - calling out the lack of progress (and protection) afforded by their country's leaders.  
Many of the 'kids' featured in Synder's documentary are now familiar faces. We go behind the scenes with Emma Gonzalez (who explains that part of her grieving process was to actually do something), David Hogg and Cameron Kasky. Protest by protest, we follow them. Theirs is a steep learning curve and much (too much) is asked of them as they fight for a cause that goes far beyond Parkland.
The teenagers that we follow in Us Kids believe passionately that their actions will make a difference. However, it is hard to watch their efforts without a growing sense of dread. We know now that, for all they achieved (and they have achieved much), the battle has not been won and there is still a very long way to go.
Synder, of course, understands that Us Kids will not conclude with a 'happy ending'. As a result, she focuses on the burden that each survivor carries. The pressure to solve an issue that is not their responsibility to fix takes a heavy toll. (Simply moving forward in life after such an unimaginably horrific event takes a heavy toll.)
As a result, some of the documentary's most powerful and compelling scenes explore the more personal and intimate consequences of the Parkland shooting. Suffering from depression, Cameran Kasky describes how he envies those who live in blissful ignorance of the devastating impact of gun violence.
Samantha Fuentes was left with significant injuries after Parkland. She has bullet shrapnel permanently embedded in her legs and behind her right eye, overwhelming survivor's guilt and symptoms of Post-Traumatic Stress Disorder (PTSD). Us Kids follows Fuentes as she tries to move forward in a world that may forever feel unsafe. She displays incredible bravery and strength - showing us the inconvenient and devastating face of trauma. 
Us Kids may not leave us with a happy ending. However, these kids - all kids - should inspire us to keep working towards a solution.