500 Days Of Film Reviews The Top Films Of Director, Kathryn Bigelow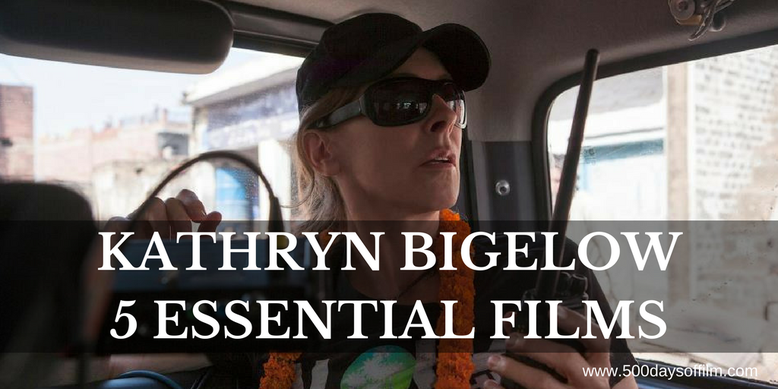 In 2010, The Hurt Locker won six Oscars at the 82nd Academy Awards. One made history. Kathryn Bigelow was awarded the prize for Best Director - the first woman to be awarded an Oscar in this category. In her acceptance speech, Bigelow described receiving the award as "the moment of a lifetime".
This moment was certainly well deserved and long in the making. Bigelow's first (solo directed) movie, Near Dark, was released back in 1987. Since then, she has made a number of impressive films - many becoming genre classics - and, with the release of Detroit, she shows no sign of slowing down. 
Struggling to rank my favourite Kathryn Bigelow films, I instead decided to list, in chronological order, her top five essential films. 
Near Dark - 1987
Starring: Adrian Pasdar, Jenny Wright, Lance Henriksen and Bill Paxton
Synopsis: In the dusty heat of the American southwest, innocent country boy Caleb Colton (Pasdar) is seduced by a beautiful girl (Wright) into joining a roving pack of vicious drifters, led by the enigmatic Jesse (Henriksen).
However, this is no ordinary band of outlaws. Caleb is now trapped in a nightmare of soulless evil that waits in the shadows, hellish mayhem that thrives on blood.
I love Near Dark - it is one of my favourite vampire movies and always rewards regular repeat viewings. Indeed, on every watch I find something new to enjoy in this film - 30 years on and it still feels fresh and innovative. 
Of course, one of the joys of Near Dark is Bill Paxton's portrayal of Severen. Boy did he have fun in this role. He steals every scene and is given some of the film's best lines: "Howdy. I'm gonna separate your head from your shoulders. Hope you don't mind none." Genius.
Point Break - 1991
Starring: Patrick Swayze, Keanu Reeves, Gary Busey and Lori Petty
Synopsis: After a string of masked bank robberies in Southern California, federal agent, Johnny Utah (Keanu Reeves), infiltrates the suspected gang. However, he soon finds that this is no ordinary group of robbers. Led by the charismatic Bodhi (Patrick Swayze), they are all surfers who, while addicted to the rush, view the robberies as an attack against the "system". 
Matters become more complicated when Utah begins to fall in love with their lifestyle and female surfer, Tyler (Lori Petty).
News of a remake of Bigelow's action film, Point Break, was met with utter dismay. How could such a film ever hope to compare with the sheer brilliance of the original? No one was surprised, therefore, that the remake failed to set the box office alight.
While 1991's Point Break also had a lukewarm financial and critical reception, it has since become a cult classic. I adore this movie. It is so much fun and features high energy stunts that still impress. Meanwhile, I love how Bigelow's film subverted the rules of action films and reinvigorated the genre. Totally awesome.
Strange Days - 1995
Starring: Ralph Fiennes, Angela Bassett, Juliette Lewis, Tom Sizemore, Michael Wincott, Vincent D'Onofrio, Glenn Plummer and William Fichtner
Synopsis: December 30th, 1999… is it the end of the world or the beginning of a new one? Lenny Nero (Ralph Fiennes) stalks the streets of Los Angeles, a street hustler, an ex-cop, a seller of stolen dreams.
Lenny deals in "clips", digital recordings of real-life experiences packaged for a vicious thrill. He doesn't deal in "blackjacks" - recordings of death - but when a close associate is murdered by a ruthless killer, Lenny gets drawn into a sleazy and psychotic world of wealth, power and paranoia.
Trying to protect his ex-love, Faith (Juliette Lewis), Lenny is aided by the only two people he can trust, personal security expert, Mace (Angela Bassett), and ex-cop and former colleague, Max (Tom Sizemore), as he tries to stay alive to see the next millennium.
While over 20 years old, Strange Days feels as fresh today as when it was released. Sure the hardware has changed (ah, mini disks), but the movie's concerns about the addictive dangers of virtual reality (and the idea of plugging ourselves into technology) remain 
absolutely relevant.
Sadly, the film's depiction of racial discrimination, tensions and violence are also all too familiar.
A Blade Runner-inflected neo noir, Strange Days (written by James Cameron) is an utterly gripping ride. Visually stunning and impressively edited, it also features a standout performance from Angela Bassett. 
The Hurt Locker - 2009
Starring: Jeremy Renner, Anthony Mackie, Brian Geraghty, Guy Pearce, Ralph Fiennes and Evangeline Lilly
Synopsis: When renegade Sergeant William James (Jeremy Renner) takes command of a highly trained bomb disposal unit, he frequently risks the lives of himself and those around him with his suicidal methods and complete disregard for danger. 
Caught in the middle are his subordinates Sergeant J.T. Sanborn (Anthony Mackie) and Specialist Owen Eldridge (Brian Geraghty) who can only watch as their leader descends further into addiction: an addiction to war.
The Hurt Locker is a stunning, tension-fueled film. It features incredibly powerful performances (Renner is superb) and is also remarkably authentic thanks to the first hand embed experiences of writer, Mark Boal.
Bigelow shot her film in Jordan to ensure that the locations were as realistic as possible. She created 360 degree sets where she placed four unobtrusive cameras. Meanwhile, Jeremy Renner had to wear a real bomb disposal suit during many of his scenes. These heavy suits were a real challenge in Jordan's summer heat.
The Hurt Locker is a film that has stayed with me - both because of its authenticity and also because of its fascinating exploration of war addiction.  
Zero Dark Thirty - 2012
Starring: Jessica Chastain, Jason Clarke, Reda Kateb, Kyle Chandler, Jennifer Ehle and Chris Pratt
Synopsis: On 2nd May 2011, a team of US special forces operatives based in Afghanistan climbed on board two stealth helicopters and traveled to a compound 120 miles inside Pakistan. 40 minutes after they arrived, five men from the compound were dead. One of those men was Osama bin Laden.
Following CIA agent, Maya (a brilliant performance from Jessica Chastain), Zero Dark Thirty portrays the obsessive dedication of those responsible for finding Osama bin Laden. The idea for the film came soon after the completion of The Hurt Locker. Bigelow and writer/producer Mark Boal were both interested in making a film about the search for bin Laden. This was, of course, an ongoing hunt at the time. 
They were about two thirds of the way through their screenplay when bin Laden was killed. As a result, they decided to refocus their film on the intelligence operation that led to the killing. 
Zero Dark Thirty caused some controversy over its depiction of torture in intelligence gathering. In an interview with ABC, Bigelow explained that the torture was "part of the story and to have eliminated it would have meant we would have been whitewashing that story... Could the investigators have found that compound in Abbotttabad without it? No one will know. Or perhaps that will be debated for quite a long time. 
"As a filmmaker, I think if this is something that is a controversial issue (which it is) a healthy debate is helpful. If a film has stimulated a debate and a conversation about something that is very important I think it is a real testament to the power of the medium."
Your Thoughts?
What do you think of this list? Are your favourite Kathryn Bigelow movies among this five? If not, what film would you add? 
Do let me know in the comments section below or let's chat over on Twitter or Facebook (@500DaysOfFilm).