500 Days Of Film Reviews The 5 Best Tom Cruise Action Movies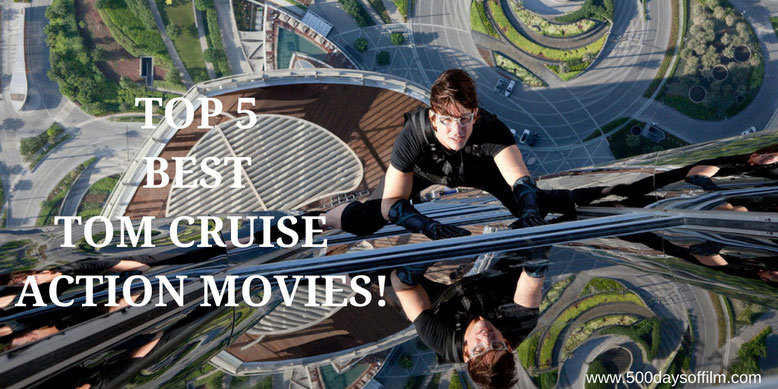 Think about high-adrenaline action movies with death defying stunts and one actor comes to mind - Tom Cruise. Since he first took flight in Top Gun (in 1986!) and assumed the role of Ethan Hunt in Brian De Palma's Mission Impossible (in 1996!), Cruise has become one of cinema's most bankable and exciting action heroes.
Of course, Cruise is more than just a blockbuster favourite. His long career reveals impressive acting performances in films such as Oliver Stone's Born On The Fourth Of July and Paul Thomas Anderson's Magnolia. He also has a great ear for comedy - who could forget his portrayal of Les Grossman in Tropic Thunder.
However for the time being at least (surely a day will come when he doesn't fancy all those risky stunts), Cruise has made his home in the action genre. Here are five of his best adrenaline-fuelled performances:
5. Jack Reacher - 2012
When news broke that Cruise would play the titular role in Christopher McQuarrie's adaptation of Lee Child's best selling book, fans were dismayed. For a start, on the page Reacher is over six foot tall. Cruise is not. However, the actor more than made up for this by delivering a smart and thrilling performance.
4. Minority Report - 2002
In Steven Spielberg's thought provoking sci fi, Cruise plays John Anderton. Anderton is the head of a police unit specialising in 'pre-crime' - the arrest and conviction of murderers before they commit their crime. He is well respected in his field. However, one day, Anderton finds himself accused of a future murder. 
Amid all the runny, jumpy stuff, Cruise gives a powerful and compelling performance. He really sells the film's fascinating (and terrifying) concept - based, of course, on the short story by Philip K. Dick.
3. Mission Impossible Series - 1996-2018
Okay, okay, so I've seriously cheated here but I'm going to gather all Cruise's Ethan Hunt performances together. Of course, some of the films in this franchise are better than others. However, when you review it as a whole, you cannot help but marvel at all the incredible action set pieces. Cruise really has limitless energy and a boundless appetite for terrifying stunts.
2. Edge Of Tomorrow - Live, Die, Repeat - 2014
I love Edge Of Tomorrow - I really could watch it on endless repeat. Cruise plays against type here as Cage a reluctant soldier fighting aliens who gets to relive the same day over and over again, the day restarting every time he dies. Doug Liman's film is action-packed and consistently funny with a superb performance from Emily Blunt.
1. Top Gun - 1986
Way back in 1986, Tom Cruise donned aviator sunglasses and felt the need for speed. Tony Scott's classic film turned Cruise into a screen legend. I can't wait to see him reprise his role as Maverick in Joseph Kosinski's sequel (called, well, Top Gun: Maverick).
Over To You...
What do you think of this list?
What are your favourite Tom Cruise action films? Let me know in the comments section below or over on Twitter. You can find me @500DaysOfFilm.