500 Days Of Film Reviews 15 Of The Best Films To Watch On Shudder - The Online Horror Streaming Service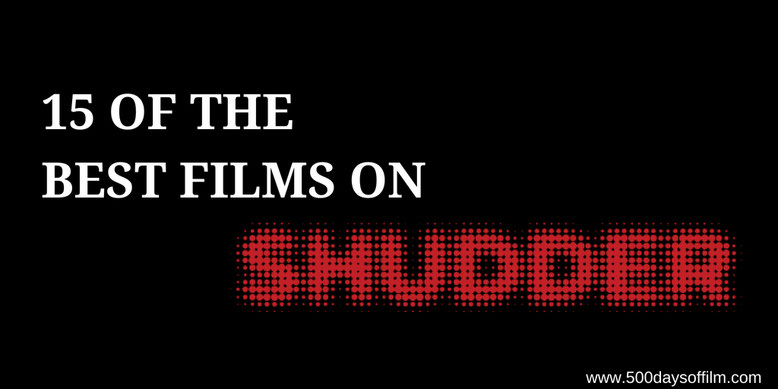 A few weeks ago, after listening to another brilliant episode of the Evolution Of Horror podcast, I found myself desperate to watch Lake Mungo - Joel Anderson's 2008 found footage film.
Too impatient to order a DVD copy of this movie, I searched online and soon found it on Shudder. While I have long been aware of this platform (devoted exclusively to horror movies, suspenseful films and thrillers) I had yet to take the plunge and explore what the streaming service had to offer.
A seven day free trial sealed the deal and off I went down an unnerving and thought provoking rabbit hole. My first film was the aforementioned Lake Mungo (which has since become my favourite found footage movie and, for me, one of the best cinematic examinations of grief). 
Little did I know that seven days would not be nearly enough time to explore all that Shudder has to offer. This collection of movies more justifies the platform's reasonable monthly fee (I pay £4.99 per month via Amazon Prime).
Now if I am in the mood for a film from the horror genre (which, let's face it, I often am), Shudder is my one-stop shop for all things dark and unsettling. However, a warning - don't expect a familiar line-up of scary movie classics. While it offers many horror greats, Shudder does not (at the time of writing) host all your Freddies, Jasons and Michaels.
No, in some respects Shudder's library is (as many platforms are) limited. However, the fact that this platform cannot rely on the top, best known horror staples means that it has to offer something else - a selection of (perhaps) lesser known genre gems and Shudder original movies. 
What I love the most about Shudder is its curated lists of films - including Alien Intruders, Bad Genes & Killer Kids, Hexes And Ooohs and Spectral Encounters. Each collection features a selection of movies to suit your mood.
In addition, Shudder has invited several horror experts to curate their own list of film favourites from its library. I particularly love Alice Lowe's selection or the brilliant list from The Final Girls.  
15 Great Movies To Watch On Shudder
It was (as is ever the case with these darn things) hard to narrow my list down to just 15 great movies to watch on Shudder. However, in no particular order, here are some of my favourites (from my Amazon subscription) along with Shudder's tempting descriptions…
Lake Mungo
Joel Anderson's terrifying faux documentary chronicles a grieving family's strange, inexplicable experiences after the death of their daughter, Alice. Profoundly unsettled, they seek the help of a psychic and parapsychologist and discover Alice had been living a disturbed life, hiding dark secrets. Something haunted their daughter and the terrifying truth awaits at Lake Mungo. Initially released as one of After Dark's 8 Films to Die For, Lake Mungo has rightfully garnered a cult fan base, recognising it as one of the eeriest films of the young century. 
Dark Water
In the midst of a divorce, Yoshimi moves with her daughter Ikuko into a shabby apartment to start a new life. But there's something strange about this building. There's water leaking from the ceiling that doesn't seem to have any natural source and then other creepy H20-hauntings occur. What supernatural secrets does this building hold? Director Hideo Nakata cemented his position as the godfather of J-Horror after adapting another scary tale by author Kôji Suzuki, who wrote the source material for Nakata's breakout 1998 smash Ringu.
The Texas Chainsaw Massacre
The Texas Chainsaw Massacre not only changed the face of horror in 1974 but still remains one of the most shocking, powerful and terrifying films ever made. Widely banned on its release its notoriety has not diminished and this harrowing tale of a depraved Texan clan, and its chainsaw wielding icon of horror, Leatherface, continues to stun and disturb audiences like no other film. This new director-supervised restoration brings new life and detail to the film and immerses the viewer as never before.
Audition
A man begins a relationship with a very deadly female killer in Takashi Miike's ultra-gory masterpiece. Widower Aoyama falls for the radiant and mysterious Asami. But as he delves into her past, he learns her former acquaintances have either gone missing - or have missing limbs. Will he be next? Thanks to its heart-stopping final act, Miike's chilling tale put him in the pantheon of great horror directors, and led to the J-Horror genre becoming a worldwide phenomenon. If you haven't seen it, be warned: when the needles come out, there's no turning back....
Let The Right One In
A bullied boy befriends, then falls for a vampire girl in this recent horror hit from Sweden. When 12-year-old Oskar meets Eli he feels his wish for a friend has come true. But why can't Eli come out to play during the day? And why's her dad running a down-low blood drive in the woods? Once Oskar figures it out, a subtle romance begins. But murders soon begin to attract attention, and Eli knows she has to hit the road. LTROI mixes a touching story of two outsiders who find each other with some truly vicious vampire thrills to create a modern horror classic. 
The Mist
After a mysterious mist envelopes a small town, a group of locals trapped in a supermarket must battle a siege of otherworldly creatures...and the fears that threaten to tear them apart.
An American Werewolf In London
David Kessler and Jack Goodman arrive in Northern England for a walking tour. One night, a beast attacks them, killing Jack. Weeks later Jack returns to warn David that a werewolf was their assailant, and that he is now the last of the werewolves!
May
Nobody knows what to make of May (Angela Bettis). Born with a lazy eye, for which she wore a patch while growing up, she became a loner oddball whose only friend was a perfectly kept doll. She moves to L.A. and takes up with a filmmaker (Jeremy Sisto), but the relationship sours quickly - and dangerously.
Battle Royale
In a world where teenagers have no respect and adults are losing control there can be only one solution: Battle Royale! Now, see what happens when you let a high school class loose on an island, arm them and then give them a simple choice… Kill your friends or have them kill you; with poison, crossbows, machetes and dynamite. 'Beat' Takeshi Kitano (Violent Cop, Zatoichi) is a teacher pushed to the edge by his unruly charges. Kidnapped and gassed, his class wake up with exploding metal rings around their necks. If they rebel, they could lose their heads. Now they have three days and only one is permitted to survive this grisly battle to the death.
Triangle
When the passengers of a luxury yacht find themselves in troubled waters off the coast of Bermuda, they take refuge on a derelict ocean liner. Upon boarding the ship, the group find that the vessel has long since been abandoned and all clocks have stopped. Feeling an overwhelming sense of déjà vu, the passengers slowly realise that something hostile is waiting for them below deck. Will they escape or succumb to terror on the high seas? This psychological horror by Christopher Smith (Creep, Severance) was described by Empire magazine as a "satisfying mind-twister, with an unexpectedly poignant pay-off". 
American Psycho
Patrick Bateman is a Wall Street yuppie, obsessed with success, status and style, with a stunning fiancée. He is also a psychotic killer who rapes, murders and dismembers strangers without provocation or purpose.
Ginger Snaps
Two death-obsessed sisters, outcasts in their suburban neighborhood, must deal with the tragic consequences when one of them is bitten by a deadly werewolf. Morbid and singular in their small town, Brigitte and Ginger vow to live and die together, but when Ginger is attacked by a werewolf, she grows detached from her sister and embraces a vicious new lifestyle. Written by Karen Walton and directed by Orphan Black creator John Fawcett, Ginger Snaps packs dark, affecting themes of family, feminism and oncoming womanhood into a grisly creature feature. A favorite upon release, Ginger Snaps only grows more ferocious with age, as it takes its rightful place as one of our great werewolf stories.
Teeth
In this satirical feminist horror from director Mitchell Lichtenstein, high school student Dawn (Jess Weixler) struggles to suppress her burgeoning teenage desires when she falls for classmate, Tobey. Vowing to stay celibate at her weekly chastity meetings, Dawn continues to struggle with teenage hormones when her lustful step brother makes sexual advances towards her. When Dawn becomes the victim of a sexual violent encounter, she discovers that she suffers from a rare affliction: she's living proof of the vagina dentata myth. Exploring her body for the first time, Dawn learns the pain and power that comes from her unique anatomy. 
Absentia
A woman's missing husband returns after many years, but something is wrong with him. Days before Tricia's finally ready to file a document declaring her husband Daniel legally dead, she encounters a mysterious tunnel and a terrified man inside. Soon after the encounter, Daniel shows up, bloodied and scared to death of the tunnel. What happened to Daniel? And where does the tunnel lead? Variety called Mike Flanagan's (Oculus) crowdfunded indie horror film, "very creepy" and "non-formulaic", and the film won over 20 awards at US horror film festivals.
Troll Hunter
A group of young investigative journalists meet a man who claims to be a troll hunter in this Norwegian twist on Blair Witch-style found footage horror. The government says it's just bears making trouble in the mountains and forests of Norway. But when the students meet the hunter, he shows them the real cause. They soon find themselves documenting every move of this grizzled, unlikely hero, risking their lives to uncover the secrets of creatures only thought to exist in fairy tales. Worth watching for the stunning - and very scary - special effects alone.
Over To You...
Do you subscribe to Shudder? 
If you do, what are your favourite films on this platform? Let me know in the comments section below or over on Twitter. You can find me @500DaysOfFilm.