500 Days Of Film Reviews Thoroughbreds Starring Anya Taylor-Joy And Olivia Cooke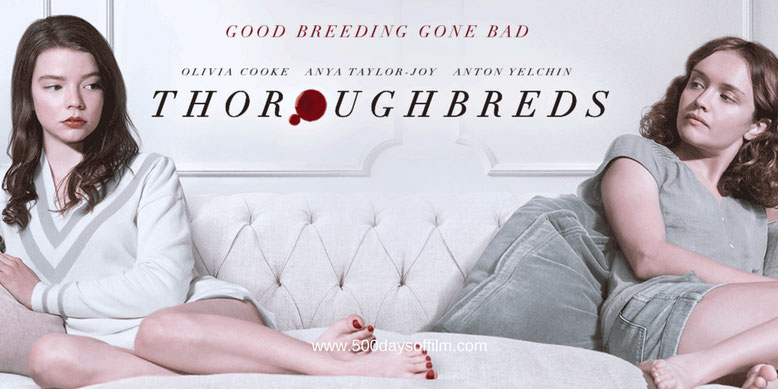 Childhood friends Lily (Anya Taylor-Joy) and Amanda (Olivia Cooke) reconnect in suburban Connecticut after years of growing apart. Lily has turned into a polished, upper-class teenager, with a fancy boarding school on her transcript and a coveted internship on her resume; Amanda has developed a sharp wit and her own particular attitude, but all in the process of becoming a social outcast. 
Though they initially seem completely at odds, the pair bond over Lily's contempt for her oppressive stepfather, Mark (Paul Sparks). As their friendship grows, they begin to bring out one another's most destructive tendencies. Their ambitions lead them to hire a local hustler, Tim (Anton Yelchin), and take matters into their own hands to set their lives straight.
Is It Any Good?
Gripping and disturbing from its opening scenes to its final moments, Thoroughbreds is a dark and twisted tale about frustration and revenge. Superbly portrayed by Anya Taylor-Joy and Olivia Cooke, Lily and Amanda are two deeply unsettling characters whose friendship soon becomes horrifyingly toxic.
Crucially all emotions are kept in check as Thoroughbreds explores a deadly desire for control. Indeed, this is a key theme both in front of and behind the camera. Every aspect of Thoroughbreds is meticulously controlled - from the precise camera shots to the jarring soundscape, from the deliberate script to the brilliant performances.
Amazing, then, that this is writer/director Corey Finley's debut feature. "From the second he stepped on set, it was like he's been here his entire life," recalls Anya Taylor-Joy. "He's incredibly insightful, very smart, very collaborative. Also, as a writer, he's phenomenal." 
Exploiting an icy cold colour palette, Thoroughbreds is a visually stunning film. The movie also employs a number of horror tropes to build an impressively heavy atmosphere full of tension and suspense.
Meanwhile, an undercurrent of the darkest humour runs through Thoroughbreds, giving us permission to sympathise with Lily and Amanda. However, we never forget that these are two nightmarishly disturbing characters who display few redeeming features (a fact that may well turn some audiences off Finley's story).
Lily and Amanda's interaction with small time drug dealer, Tim, (wonderfully played by Anton Yelchin - he is very much missed) is both gripping and entertaining. While in most movies Tim would be a danger to the two girls, here the roles are reversed. 
The power of Taylor-Joy and Cooke's deliciously dark performances (both relish their cold, emotionless roles), was enough to keep me on board Thoroughbreds. However, I did find the story's conclusion somewhat flat and the film's power soon abated. 
Nonetheless, this is an incredible debut from Finley - who first envisaged Thoroughbreds as a play. It didn't take Finley long to realise just how inherently cinematic his story was. "All along I had been thinking in close-ups and wide shots," he explains. "As soon as I started seeing it as a film, visual aesthetics started clicking much more easily."
While its theatrical roots are clear, Thoroughbreds is an impressively cinematic, darkly comedic thriller - marking the arrival of an intriguing new filmmaking talent.
Random Observations
Have you watched Thoroughbreds?
If you have, what did you think of this movie? Let me know in the comments section below or over on Twitter. I'm @500DaysOfFilm.