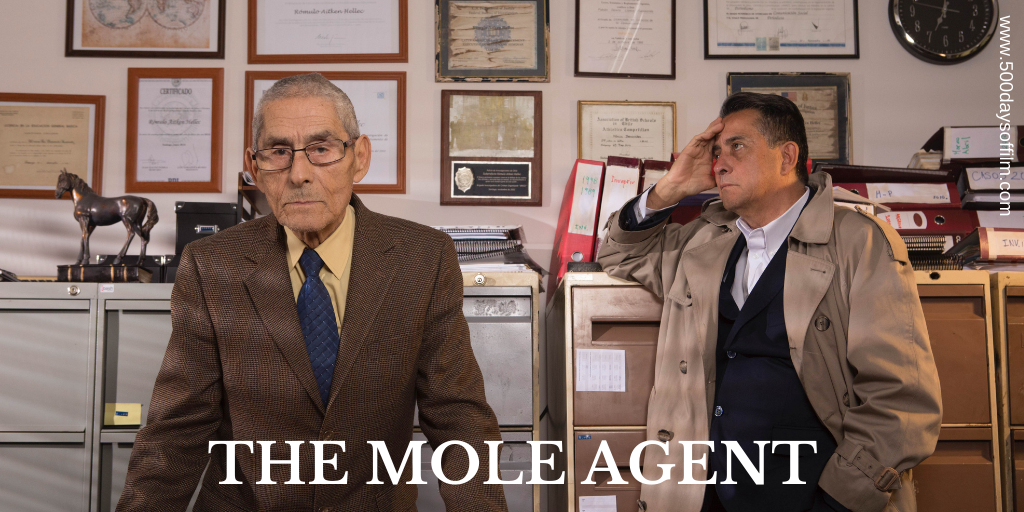 Part charming film noir, part heartbreaking portrait of loneliness and old age, Maite Alberdi's The Mole Agent is a tender and deeply moving film that expands the boundaries of traditional documentary storytelling.
The story takes place in Chile. A private investigator called Romulo has been hired by a family to look into the care of their mother at a retirement home. Romulo needs a 'mole' to live inside the home for three months and investigate their concerns.
To find his mole, Romulo places an advert in a newspaper. He is seeking a retired man between 80 and 90 years old who is "independent, discrete and competent with technology". We join the search as Romulo begins his selection process. Alberdi includes snippets of these interviews in her film - highlighting the difficulties of finding work after a certain age. "You go somewhere for a job interview," says one man, "and as soon as you say how old you are it's over. It's an impediment".  
All candidates appear enthusiastic. However, one interviewee stands out from the crowd - 83 year-old Sergio. Recently widowed, he is endearing, amusing and fiercely independent. "If I get this job, I won't have any trouble," he explains " because I'm the one who makes decisions about myself." The camera loves him and, in no time at all, so do we.
Once hired, Romulo explains Sergio's task - in scenes captured by Alberdi in the style of film noir. Their relationship is entertaining and full of warm, comedic moments. For example, in the face of Romulo's increasing exasperation, Sergio proves that his technical competence is, well, rather lacking. Regardless, Sergio (and his haul of surveillance gadgets) moves into the home.
Thankfully, we do not have to rely on Sergio for all the footage of his mission. Under the pretext of filming a documentary about old age, Alberdi and her small crew are already filming in the home when he arrives. As a result, they are able to follow Sergio without blowing his cover.
Sergio does not make their job easy, however. He is a hopeless spy (cue more shots of a frustrated Romulo). He often ignores his instructions and neglects the aim of his assignment. We fear that he will be discovered - particularly when he asks potentially compromising questions and is woefully (and wonderfully) indiscrete while filing his reports.
However, Sergio's delightful incompetence is a gift for Alberdi. As he gets to know the residents at the home, so The Mole Agent starts to move away from its investigative film noir beginnings. Thanks to Sergio's insight and empathy, the film becomes a thought-provoking and deeply poignant exploration of loneliness, connection and the heartbreaking reality of old age.
The Mole Agent more than stands on its own as a funny, tender and extremely moving documentary experience. However, it also left me with many questions about its creation. Was it all real? How did the film crew capture so much of Sergio's mission? Who knew what was really going on between Romulo and his mole? Why did the film's focus shift away from Romulo's investigation?
Alberdi's initial idea was to make a documentary film about a private detective. "I realised that detectives worked cases where distrust was widespread in relationships," the director explains. "I was not interested in what exactly happened in the outcome of each case. Instead, I wanted to ask why there were these investigations, why there is such distrust and what is behind that lack of communication or disconnection."
After working for a few months as an assistant to a private detective, Alberdi noticed a number of cases involving nursing homes. "This was the kind of case that interested me the most," she says, "because it allowed me to reflect not only on the nonsense of these investigations but also to explore and reflect on old age and what happens to people inside these places."
The project needed careful planning, of course. Alberdi did not want to raise any suspicions over Sergio's true identity and so asked permission to film her documentary at the home weeks before his arrival. "We also said that if a new resident arrived, we would be interested in focusing on them," she explains.
Filming continued for three months. By the end, Alberdi and editor, Carolina Syraquian, were left with 300 hours of footage.  They really have done a phenomenal job curating a collection of small moments that give The Mole Agent such a powerful emotional punch. 
The Mole Agent leaves you thinking about how society treats its eldery. "I  would like people who watch this movie to leave the movie theatre wanting to call their parents or grandparents," Alberdi says. "It is an invitation to look within yourself and ask what you can do better."